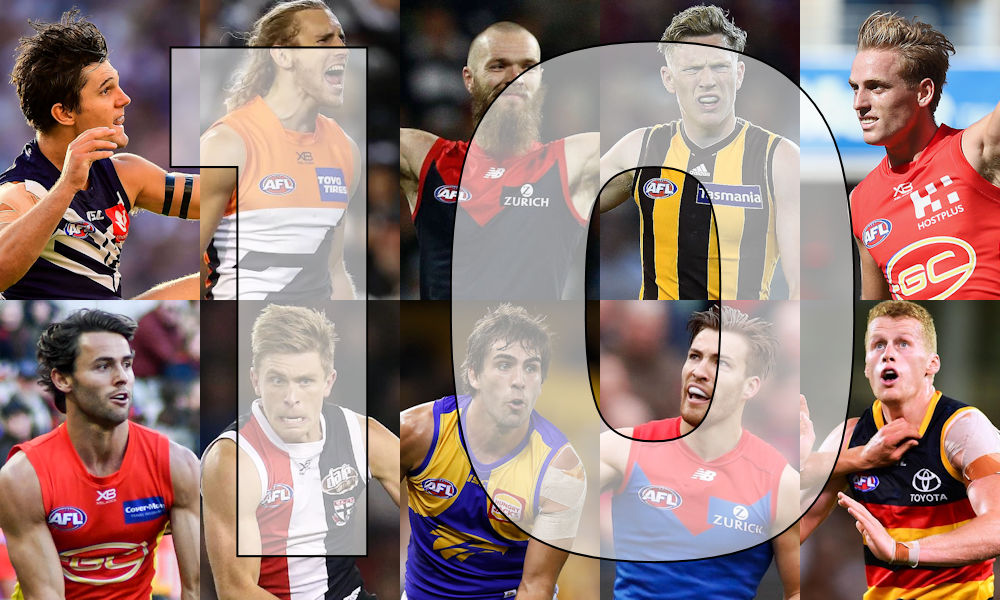 Coaches often look for a point of difference for their team. This can be via selecting a premium player with upside who should be one of the top guys for their position. Or it could be taking the punt on a mid-pricer or bolter that others may jump on following a big effort first up and you can be a week ahead.
Here's 10 players with ownership of 10% or less that could easily be options for your Fantasy Classic team when lockout rolls around.
Max Gawn (RUC, $826,000) – 9.7%
Last year the correct answer (unless you got lucky with a switch to ROB), was set-and-forget. While most are looking for value for their R2, or even R1, you could quite easily have Gawn as your R1 or R2. A pre-season knee injury had him crossed off plenty of coaches' lists but his return in the last Marsh weekend, where he scored 50 from 41% TOG, was enough to say he'll be good to go. Two years of 110+ and Preuss on the sidelines for a few weeks, there's minimal stress in picking big Maxy.
Darcy MacPherson (MID/FWD, $648,000) – 9.2%
Marsh MacPherson was a star in his two pre-season games. Off the back of scoring 131 (79% TOG) and 117 (83% TOG) at 1.24 points per minute, his ownership has risen due to plenty of coaches getting keen including Jon Harmey. Played 22 games last season after spending a lot of time racking up in the NEAFL in his first three years on the list to breakout big time and average 87. While this prices him as the 12th most expensive forward, he could end up being a top 6 forward if his form continues from the Marsh. MacPherson doesn't need the midfield time to score, so be confident that role is here to stay and the points should continue to flow.
James Sicily (DEF, $620,000) – 7.6%
Priced at 83.6, SicDawg has plenty of upside if he can get back to the 95.5 he averaged in 2018. He ticked all of the boxes in that season averaged 24 disposals and 7.5 marks. The addition of Frost and McEvoy's move to the backline should free him up to rack up plenty of +6's and his that mid-90s average he has done in the past, and also achieved on extended periods last season before being switched around – which shouldn't happen this year. SicDawg scored 109 in his only Marsh game.
Reilly O'Brien (RUC, $709,000) – 6.3%
A lot of coaches in the pre-season have predicted ROB to improve on his outstanding 2019. He averaged 95.5m but if you do Calvin's old "take out his lower scores" type thing, you'll see that he was well into the 100s. Could he add 10 points per game? Considering from rounds 15-20 he went at 111.5, there's a decent chance. O'Brien is looking at being a solo ruck, but there is the possibility that Frampton/Himmelberg could affect his scoring… only really the point that he may not offer as much value because he wouldn't hit the 105 you'd want from him to be thinking he's a value pick.
Andrew Gaff (MID, $824,000) – 5.8%
A certain top 8 midfielder. This is a perfect play if you're looking to find a POD in the engine room. Scored 120 from 87% TOG in the Marsh game vs Freo and all signs are pointing towards Kelly helping his Fantasy game – even to the point of Brander rolling on the other wing playing defensively, Gaff should be looking good this year. Back-to-back 110+ seasons and generally durable, enjoy his low ownership.
Jack Viney (MID, $611,000) – 5.5%
There aren't too many midfielders in this price range that coaches are realistically keen on. Viney was one of the players of the Marsh Series knocking out 110 and 114… going at 1.33 points per minute. Super-value priced at 82 after hitting up averaged of 101, 91 and 91 in the three years prior. A good option for M5 or M6.
Lachie Schulz (FWD, $320,000) – 4.4%
Shot onto the scene as an option following his 101 and 76 in the Marsh Series. These were especially handy returns as there were plenty of mid-priced forwards who put up their hands but for only slightly more than other rookies. This would be a big and gutsy call to start him considering his seven game last year he went at just 47.4 (top score of 83… the other six were in the 30s and 40s). New coach, new game plan may see Schulz play a Fantasy friendly role on the half-forward flank.
Nick Haynes (DEF, $589,000) – 3.2%
He's been my poster boy for Draft sleeper but he's worth considering in Classic. Priced at a career high 79, he offers value after averaging 91 in his last six game. This went into the finals with scores of 118 and 119 in the preliminary final and grand final. In the GF he took 15 marks. In the Marsh, he took plenty of marks once again and scored 113 from 82% TOG.
Lachie Weller (DEF, $612,000) – 1.3%
Old mate Matt Craig copped a bit of shit about his team he posted mid-Marsh when he had Weller in it. 63 (48% TOG) and 89 (82% TOG). The winner is that his DEF status has no indication on his role for this year. His CBAs (centre bounce attendances) were in the top 3-4 in both Marsh games for the GCS onballers. Weller will be a midfielder. This is exactly what we look for with any of our defenders or forwards and looks to be an astute pick with super-low ownership.
Seb Ross (MID, $700,000) – 0.9%
There's a few things that make Ross an option for this season. He averaged 107 back in 2018, but his numbers decreased significantly last year to go at 94. Under-priced based on previous output – especially when you take into account that he averaged 107 when Brett Ratten took over the coaching role. Ross is a durable player, missing just one game in the last four years. Only played the one Marsh game for a solid 65 from 63% TOG. Hard to make a true judgement from this. I'm not too keen due to St Kilda having that early bye and not seeing a whole heap of Ross in the Marsh Series with their new look side.