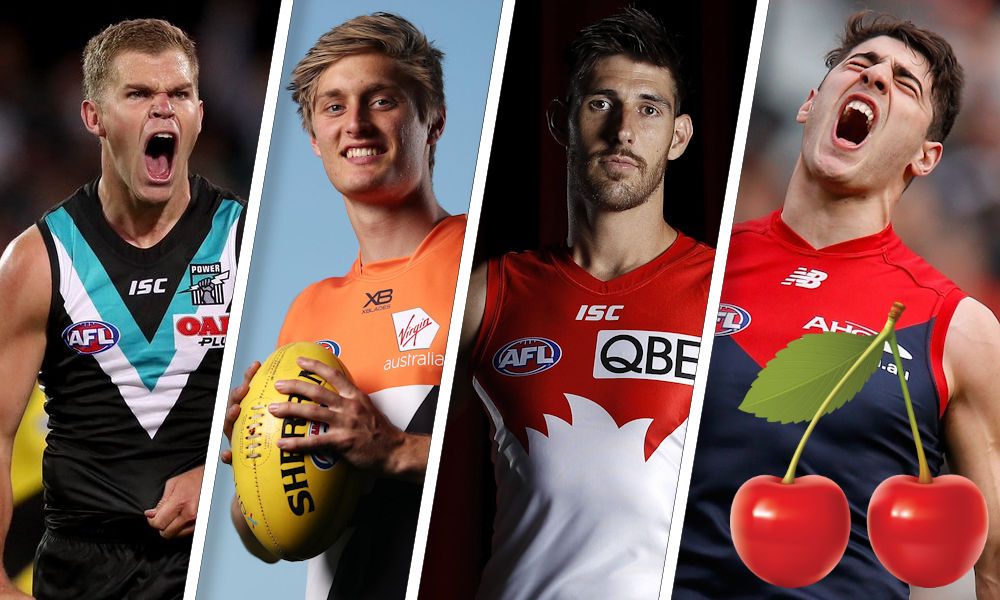 The 2020 AFL Season is upon us! Or is it…? At the time of writing this article, I have no idea whether the season will go ahead or not, but it's better to be safe than sorry and assume Round 1 starts on Thursday. For those of you who don't know me, I'm Sparksy and I've been writing articles on DT Talk for a few years now. My Ripe for the Picking series comes out every four Rounds and focuses heavily on the value players in AFL Fantasy – the under-priced ball magnets who will earn you cash and score you points. I've changed the format slightly this season to keep up with the times. There will still be a Top 3 in each position, all of which will have more prominent write-ups. However, instead of doing a Next 5 section like in previous years, I'll be doing a small write-up for a bunch of other players who show potential value, quite similar to the format of the Deck of DT articles you all love. So, without further ado, here are the players I think provide the best value to start this season with.
Defenders:
Sam Docherty (DEF $563,000) – Honestly, the number one and two options in this section could be switched either way, but I believe Coaches should have both and this man deserves the spot. Just. Docherty spent 2019 and 2018 on the sidelines after an incredible 2017 where he averaged 116.8 as our number one Defender for the season which included some huge scores. This alone is enough to pick Docherty, Carlton may have changed their game style since 2017 but Doc should still score very well and having a Defender capable of averaging 100+ in your team to start the season is truly the stuff of legends. This isn't the only upside to Docherty, however. Due to his injuries causing him to miss two years of football, he comes with a heavily discounted price tag, which is perfect for Fantasy Coaches. There is a small amount of risk considering the man has come off two consecutive knee injuries and hasn't played football in two years, however he is priced 40 points below his 2017 average, so even if he disappoints on the scoreboard, you'd still think Doc will make it to his BE easily which makes him the first player you should pick in your backline.
Dan Houston (DEF/MID $596,000) – As I said, Dan has almost as much right to be in that number one Defender spot as Docherty does, but he is probably a little bit riskier for a few reasons. Starting with the positives though, at the end of the 2019 season Houston made a move into the Port Adelaide Midfield thanks to other players getting injured and he really grasped the opportunity. In the last five games of the season, Houston averaged 103 which is a 30-point increase on the 16 Rounds before that where he averaged just 73 as a Defender. Thanks to these last few games, Houston has gained DPP status and comes to us as a cheapish Defender with huge upside. He's also confirmed to be playing a Midfield role this season, with Ken Hinkley saying repeatedly in the pre-season that he wants Houston in the guts and that's where we should expect him to play. The low price tag combined with the extra Midfield time is great for all Houston owners, but it does bring up a couple of questions. Firstly, despite Hinkley saying Dan will absolutely play through the middle, you have to wonder if he will get as much time there as last season. With all the injuries they had last year, Port were actually quite strapped for midfielders, hence leaving plenty of time for Houston to run through the guts and accumulate. This season, Port seem to be at least slightly healthier with only Wines still missing, and they also have players such as Duursma and Rozee who will need to rotate through a bit more for their development. I'm just slightly concerned we're being led on here. Secondly, I'm also quite worried about Houston's output. I know he averaged 103 in the last five games of the season, but that's only 23 points above what he's priced at right now and I think it could be a bit generous as it was such a small portion of games. Across a whole season I'd expect a few more 80 scores, which could be concerning, especially for Coaches that have him at D1. In saying all of this though, I currently have the man in my Defenders, and I don't plan on moving him. Expect upside, but just be realistic with your expectations.
Dylan Roberton (DEF $327,000) – He's a pretty big step down from the other two, but so is his price tag so we'll still pick him. Roberton has had a rough run these past couple of years with heart problems cutting 2018 short after just four games and then causing him to miss the whole 2019 season. It seems like he's back now however, and I'd be hoping he's healthy otherwise questions definitely need to be asked of the doctors at St Kilda. Roberton had his best ever season in 2017 where he averaged 90.3 and played every game for the Saints. This made him a mainstay in most backlines and benefitted greatly the Coaches who saw this trend and got on before his price increased too much. Fast forward to 2020 and Dylan is heavily discounted due to his injuries, it makes it too difficult not to pick him up. There are a few issues with having Roberton in your team, excluding the fact that his heart may cause him issues again. Firstly, even without his heart problem, Roberton has never been a consistent presence on the field. In fact, he's had multiple season where he's played ten or less games, with 2017 being the only season that he played every game possible. Secondly, Roberton has never actually been that much of a scorer in the AFL Fantasy realm. As I mentioned before, his highest average is 90, his second highest was 82 in 2015, and after that he's never averaged above 70 in his other seven seasons. Honestly, I can see reasons to avoid Roberton at all costs, mostly due to his injuries, but if he averages just over 60 then it's a 20-point increase to his price, which should make some money at the very least. Similar to Houston, maybe taper expectations a little, but Dylan's still a solid player to have in your team.
The Others
At the moment there are three GWS boys who everybody is looking at and wondering about their role. Nick Haynes (DEF $589,000) and Isaac Cumming (DEF $314,000) both had pretty stellar pre-seasons and brought themselves into contention for our Round 1 teams off the back of that hype. Haynes' hype was slightly more warranted as he ended the 2019 season fairly well and had been talked about before, but Cumming was very subpar in his five games last year and did something similar in the 2019 pre-season from memory. Unfortunately for both of them, Zac Williams (DEF $688,000) didn't play in the Marsh Series and that means that roles will likely change. If you add young Lachie Ash into the mix, I don't think there's room for all four of these guys in the same team, but I think Ash will likely get the cut to start the season. Despite being the best option due to such a small price tag, I think Cumming's role will suffer the most with Williams back in the team, so expect his scores to be similar to last year's. Haynes is a strong POD in my opinion and could actually be a premium Defender by the year's end, but it relies on him keeping his current role. Finally, there's every chance Williams gets a bit more Midfield time with the loss of Taranto, so he could provide a bit of value too and this might be the year he gets back to his best.
Young Docker Adam Cerra (DEF $451,000) has also been hyped up this pre-season and I think we could see a small improvement. Obviously, Cerra is quite young and it requires him to transition into the Midfield to see more of the ball, but priced at 60 means I can see at least a 10-point increase in his price. I don't think that's enough, and Cerra is in the price bracket where it makes more sense to save money and pick a rookie, but if we don't get enough young blood, Cerra could definitely be an option.
He's old, he's barely played in years, and he's at a new club, but Grant Birchall (DEF $428,000) is also a potential money-maker this season. The new Lion has settled in and played a bit of pre-season, seemingly a lot healthier than the Birch of previous years. Similar to Cerra, he's a bit expensive, but if we don't get many rookie Defenders named, we may need to take actions like these.
Finally, he may not be getting any attention this pre-season but I think Michael Hartley (DEF $336,000) could be a genuinely good option provided he gets a game. Not the highest scorer in the world, but Hawthorn tend to play a more possession-based game than what Essendon do, which should suit Hartley more. As long as he keeps a spot in the 22, I'd say Hartley increases his price by at least 20 points.
Midfielders:
Tom Mitchell (MID $671,000) – There isn't a lot of strong, mid-priced options in the Midfield this season, but the few good ones we do have could be a gold mine, starting with the best player in the competition. There isn't much I need to say about Mitchell, everybody knows the story: Shackled at Sydney for years before being traded to Hawthorn where he averaged almost 130 Fantasy points for two seasons in a row and won a Brownlow before breaking his leg and missing the entirety of 2019. Titch is back though, and his price tag has dropped considerably after having a year off. Provided he's healthy, Titch is likely the first picked in a Fantasy team at his full, $900k price, so it absolutely baffles me why he's currently only in 51% of teams. If you're not picking him, not only are you missing out on a premium who's average the last time he played was 129.2, but you're also missing out on a stack of cash, it truly is non-sensical not having him in your Midfield going into Round 1. That's all I have to say about Mitchell, the man's a gun and has no downside right now. If you're not convinced enough to pick him, enjoy chasing literally half the competition.
Dan Hannebery (MID $622,000) – He may have burned us last year by only playing five games, but Hannebery was actually a solid Fantasy scorer in those five games and I'm a bit shocked he's not receiving more attention. With just 2% ownership, Hannebery is flying under the radar a lot this pre-season, most likely due to people putting him on the 'never again' list. Dan has averaged well over 90 in five of his last six years, with 2018 being the year he forgot how to play football, so I think it's harsh to completely overlook a man who can definitely score well, including a highest average of 110.7 in 2015. Hannebery silenced doubts about his health by playing in the pre-season and had a fairly solid outing, so hopefully this is his year. Obviously the main concerns about Dan are his health and his output, after playing only 19 games in the last two years and averaging just 60 Fantasy points in 2018, his lowest average since his rookie year in 2009. The main reason Hannebery becomes an option this year is because of people's midfield structures. Usually you'd want to pay up on somebody in Dan's price bracket to get the extra points in, but a lot of Coaches are trying to combine four premium options with four expensive rookie options, which means money likely needs to be saved on the premiums. Therefore, having two players in the $600k bracket that should average 100+ seems like a much better idea with this structure. A lot of people are also deciding to go with Viney, who I'll touch on later, but for $11k more I think Hannebery is a much better option.
Jackson Hately (MID $456,000) – Despite being in an extremely awkward price bracket, Hately needs a mention thanks to the Taranto injury. Hately was one of the many players that looked to benefit from the vacant Midfield spot at the Giants and, using a bit of logic and the pre-season competition as judgement, it would seem he's the likely successor to Taranto for the start of this year. Hately only played seven games in his rookie year, most of them in a role outside of what he would like to play, causing him to average 67.6 with a BE of 61. That's already a 6-point improvement from the discount. Combine that with Hately putting up 90+ scores in the pre-season whilst auditioning for the role of Tim Taranto and you can see Hately's price greatly increasing before Taranto comes back at the Byes. Although his upside is clear with an improved role, which should equal improved scoring and job security, Jackson has one big downside and that's his price. Coaches would much rather pay rookie prices for a guy to average 60-70 than pay halfway between rookie and premium prices for a player that should average 75-85, which makes it incredibly difficult to justify the extra $200-300k you'll need to spend for Hately to see play in your team. There's definitely cash to gain though and, whilst I personally can't justify it, if you can find the cash to upgrade a rookie spot to Hately without losing many points elsewhere, it could genuinely make your season.
The Others
I mentioned him before, but injury riddled Demon Jack Viney (MID $611,000) has seemed to be getting a lot of attention lately. Viney's ownership has increased to 7% in the past few weeks and I think Coaches are a bit misguided here. He's priced at his 82 average from last season which, judging by his previous averages, means Coaches can expect at most an 8-point price increase unless Viney finds his 2016 form which is still only a 19-point increase. Whilst the extra 19 points is a good outcome, Viney has only done that once in seven seasons in the competition. Not only that, but the man struggles to stay on the park, and even when he only missed one game last season, he still only managed to average 82. I don't understand the hype, and I'd be seriously reconsidering if I were an owner.
Speaking of players who can't stay on the park, Taylor Adams (MID $706,000) provides insane value if he can stay healthy, which is looking unlikely at this point. Despite a few niggles throughout the pre-season, it seems that Adams will be named for Round 1, provided Round 1 actually gets played. He doesn't get an injury discount thanks to playing exactly 10 games last year, but you would think Adams is a good 10 points better than his 95 average the past two seasons, and he could provide a cheap premium option and save you $100k.
Other than that, there aren't a whole lot of convincing options in the Midfield. North Melbourne cameo players Aaron Hall (MID $527,000) and Dom Tyson (MID $450,000) could provide a bunch of value if they get a game and get back to their best, but that seems unlikely with how North finished their season.
Also, young Cat Charlie Constable (MID $563,000) could improve on a strong rookie season where he averaged 83.4 from just seven games, but he'd need to get a regular opportunity in the Geelong Midfield to be worth it, and I don't think he'll get that, even with the exit of Tim Kelly.
Rucks:
Sam Jacobs (RUC $514,000) – There are three main value options in the Ruck, all of them viable, however Jacobs definitely takes the cake as the best option. Old Sauce made the move to GWS in the off-season after ROB rudely stole his sole ruck position at the Crows while Sauce recovered from injury. This works out very well for us Fantasy Coaches though, as we not only got ROB as a great rookie last season, but we also get Sauce super cheap this season. Priced just under 70 and seemingly healthy this season, I expect Jacobs to improve at least 15 points on his price, possibly even more. Having watched the second GWS pre-season match, Jacobs was pushing right back for the Giants and playing as a link up man through the middle. He'd use his tank to outrun his less experienced opponents and provide an option for the Giants to rebound defensive 50, which they used a lot of the time. Sauce's output isn't the appealing factor however, it's the money he saved Coaches going to him instead of Gawn. Ideally, Coaches need the Ginger Giant to average 90+ for this move to work, and they'd need to use the money wisely elsewhere too. But, I have to admit, this is the first season in a long time where I've considered starting without the to premier ruckmen in the competition, and Sauce currently sits at my R2.
Tim English (RUC $572,000) – He's young, he's a great ruckman, and he seems to be improving with every year in the AFL, but is this the year Tim English will take it to the next level? Fantasy Coaches are going to need to hope so in order for a gamble on English to pay off. Honestly, English is in a similar position to Sauce in terms of being a reasonable option. He's improved all three years in the AFL, he's under-priced taking into account the fact he should be significantly better than last season, and he's an integral part of the Dogs' game plan. There are two main issues with picking English, however. Firstly, his Round 1 matchup is against the Pies, which means young Timmy is set to be absolutely monstered by the best ruckman in the competition for the very first Round. In 2019, English managed just 84 and 70 against his Magpie counterpart, and that's not going to be enough to justify picking him over Gawn. Secondly, I don't see a reason to pick English over Jacobs if you don't believe English is going 100+ this season. Jacobs should be good for at least a 90 average, which is similar to what I expect from English, yet Sauce is $60k cheaper. I'm not saying English is a bad option, he's just not a better option than Sauce. Maybe you could pick both…?
Sam Naismith (RUC $284,000) – The final big man of the article, and one we've been waiting on for a few years now. Naismith has finally decided to get himself healthy and fight for the number one ruck spot at the Swans. I'm going to keep this short and sweet because there is only one reason to have Naismith in your team. He's not worthy of an R2 spot, the highest Naismith has averaged in the past is 63 and, whilst I expect him to be around that mark, that's not even close enough to have on your field over Gawn or one of the two mentioned above. Naismith is also very injury prone, having played just 22 games in his eight years since being drafted, missing five seasons completely. If you run with Naismith at R2 and he gets injured early in the season, you're going to need to find some serious cash to trade him up to a reasonable option. The only reason to pick Naismith is to have a playing R3, and this is an extremely viable option if you have the cash. Naismith should definitely make money, he looks set to hold his spot, and I expect somebody like a Xerri will play a few games later in the season, making a viable downgrade target once he's maxed out. Once again, please don't start Naismith on your field, you will be severely disappointed.
Forwards:
Andrew Brayshaw (MID/FWD $516,000) – There are so many risky mid-priced options up Forward that it's extremely difficult to order them, but I think Brayshaw definitely takes the cake as number one. After a stellar two years in which he would have played every game if not for Gaff's fist, Brayshaw solidified himself in the Docker's half-forward line with a consistent rotation through the Midfield. Judging by the pre-season, it seems this is the year Andy takes the next step and plays a key role in the Fremantle's engine room. The young gun seems to have increased his tank, which was a huge issue for his scoring in previous seasons. Brayshaw played limited minutes in his first two seasons with Freo, averaging around 70% TOG and spending a fair part of that forward. Obviously, if Brayshaw can see more time on the field and play in the midfield for more of that time, he should see a huge jump in scoring, especially considering he can average 70 with the split he had last season. If the man can average 90 than he's priced very reasonably and, considering the severe lack of consistent Forward premium players we have this season, he could genuinely hold his spot in our teams until the final Rounds. I'm not expecting a 100+ or anything, but Brayshaw has found himself in my team currently, and I don't see him going anywhere before the season starts.
Hugh Greenwood (MID/FWD $581,000) – His second pre-season game concerned me a fair bit, but at the moment Hugh has a spot in my team and I think it's justified. Greenwood struggled for a game at Adelaide, which I believe was severely unwarranted except when he suffered from injury. Even then, whenever he did get a game, he spent a significant chunk of it Forward of the ball, and yet he still managed to average 78 last year. Enter the reason all Fantasy Coaches love the AFL Trade Period – the Gold Coast Suns. With the abysmal team they've managed to put together since Ablett left (and arguably before), Gold Coast have so many deficiencies, allowing fringe players like Hugh to come into the team and immediately be given the role they prefer. Therefore, I'd expect to be seeing Greenwood play a much more inside midfield role this year, which means a lot more time around the ball, which translates to a lot more Fantasy scoring. I'm actually looking to Greenwood as more of a keeper, rather than a stepping stone, which mildly concerns me as 78 to 95-100 is a big jump to make, but I think he's capable given he's average high 70's and low 80's in an unfavourable role at the Crows. As I said, Marsh Series 2 did scare me a little bit where Greenwood struggled to score despite sufficient TOG, but I'm hoping to chalk that one down to a bad day and keep praying he will be alright. Greenwood definitely has the power to ruin 16% of Coaches' seasons though, so it's definitely a gamble having him in your team.
Christian Petracca (FWD $563,000) – The man has seen more turnover in my team than my local Woolworths, and yet I still keep considering going back, as does everybody else apparently. Petracca would genuinely be an insane Fantasy player given the opportunity which is why we all keep considering him – we know that upside is there. The worst part is Melbourne won't tell us where he's going to play and, when they give us a glimpse of him destroying opposition midfields, they send him back to the forward line to think about what he's done. It's the most frustrating relationship in AFL Fantasy for me, because the good is so tantalisingly close, but deep down I know we're going to be stuck with another Marcus Bontempelli or Dustin Martin, both insane Fantasy players through the midfield, but just don't quite score enough up Forward. The good news with Petracca is that he's low risk. He definitely shouldn't average any less than his 76 BE, so if he does end up flopping, Coaches can trade him and another mid-priced flop in a one-up, one-down manoeuvre. So at worst, the man is costing you two trades to take a chance on, and with the upside that he could give if Melbourne unleash him, it genuinely might be worth it.
The Others:
As I mentioned earlier, there are so many Forward mid-pricers that provide a high risk, high reward scenario. I'll try and touch on as many as I can, as succinctly as I can.
Firstly, Andy Brayshaw's teammates Blake Acres (MID/FWD $501,000) and Lachlan Schultz (FWD $320,000) have been getting a lot of attention. Acres would be an absolute no-brainer, except for the fact he twinged his hamstring in training after Marsh Series 1 and doesn't seem to be on track to play Round 1 or 2. If he's named, I'd probably actually consider him over Brayshaw as my number one Forward mid-pricer, so watch closely. Schultz is very popular because of his price tag and a potential move further up the ground. The main issue I have is that Fremantle don't have unlimited midfield spots and, with Brayshaw taking up one of these and Acres another when he comes back, it means Schultz will struggle to get much time, especially if Cerra is fighting for the same spot. Cheap, but probably not the real deal.
Greenwood's teammate Darcy Macpherson (MID/FWD $648,000) also looks set to push for premium status this year. Macpherson has been a player I've considered for years now, including in my Keeper's League team, but he's just never taken that step up consistently enough to make my Classic team. I know he's expensive, but with the lack of Forward premiums and his performances this pre-season, the man could definitely be a viable option all year.
Chad Wingard (MID/FWD $582,000) received a bit more time in the middle of the ground at the end of last season and turned that into some respectable Fantasy scores, but with midfielders coming back in I'm not convinced Wingard is worth the punt. Expect a 100 average if he plays midfield all year, but I doubt that will come close to happening and the gap between his midfield scores and forward scores makes him a worse target than Petracca. Teammate Jonathon Patton (RUC/FWD $366,000) has also gained a bit of interest and I see where it's coming from. The big man is cheap, has Ruck DPP which could definitely be a blessing, and he looks to be firing in the Hawthorn forward line. The main issue I have is that, whilst he should average around 60, it will be with a mix of 40's and 80's which can be very frustrating to have in your team. He costs too much to sit on the bench, so if you can deal with having an inconsistent F6 that costs you over $300k, then he's the man for you.
Power players Brad Ebert (MID/FWD $594,000) and Connor Rozee (FWD $539,000) both had a lot of attention at the start of this pre-season but it seems to have waned slightly since the Marsh Series. Ebert definitely has potential, but his price is a bit high for my liking and he found his way out of my team last week to make room for a second premium. Rozee also found his way out of my team for Brayshaw at some point in the pre-season and I don't regret either move. I don't think the improvement is there for either player to justify their price tag, but I hope they prove me wrong.
That is it for this week Coaches, I hope you all have had great pre-seasons, it should be one of the great seasons, especially with all of the content supplied already. Fingers crossed we get through the 17 Rounds unscathed and we can watch some good football from the couch until this pandemic blows over. I have an AFL Fantasy Classic League that needs to fill before tomorrow night, so if you'd like to try your hand against me then join using R94UAVVY this code. In the meantime, if you have any questions feel free to comment them below or hit me up on Twitter @SparksyDT. Until then, goodluck with the season!