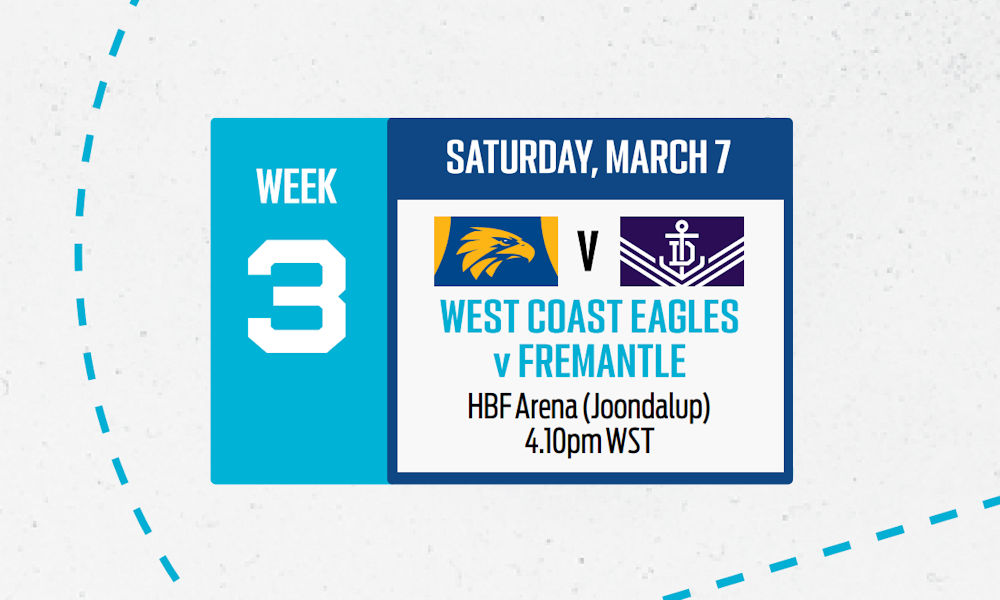 This Preseason Derby was played at Joondalup with a 2-3 goal breeze blowing consistently to one end. Fremantle came into this one with a few missing from their best 22 due to injury.
Acres, Hamling, Wilson, Hogan, Pearce, Aish, Mundy and Ryan were the most notable omissions which means we take some of the below scores with a grain of salt.
West Coast were only missing Darling and Allen from their best 22 but continued to manage minutes and move the magnets around. In the end the Fremantle players got a roll on and West Coast couldn't stop their momentum, kicking 5 goals in the last quarter to win by a point.
Team as named
B: J.McGovern 20 W.Schofield 31 S.Hurn 25
HB: L.Jetta 23 T.Barrass 37 B.Sheppard 5
C: A.Gaff 3 E.Yeo 6 D.Sheed 4
HF: J.Redden 8 J.Waterman 2 J.Cripps 15
F: L.Ryan 1 J.Kennedy 17 N.Vardy 19
Foll: N.Naitanui 9 T.Kelly 11 L.Shuey – C 13
I/C: J.Brander 10 L.Duggan 14 T.Hickey 16 J.Petruccelle 21 H.Edwards 42 J.Nelson 30 M.Hutchings 34 B.Ah Chee 41
Elliott Yeo (MID, $762,000)
Scoring 126 Points from 78% TOG, Yeo played pure midfield and attended 15 of the 19 centre bounces. Found the ball 33 times and got involved in plenty of attacking transition plays using his run and carry. At 2% Ownership Yeo could be a decent POD this year.
Andrew Gaff (MID, $824,000)
The inclusion of Kelly could see Gaff's fantasy score impacted for the better.
Attending only 4 centre bounces for the game, Gaff spent the majority of the game back in his element on the wing, finishing with 32 touches and 120 Points from 87% TOG. Currently only at 5% Ownership
Other notes
Jarrod Brander (DEF/FWD $217,000) While a score of 57 Points from 77% TOG isn't something to get too excited about, this year it could be just what we need. Brander is playing as a defensive wing. This means it is his job to sit wide and discourage the opposition from switching into the corridor or using the 'fat side' of the ground. While this generally isn't a high possession job, the factor to keep in mind is that it is a very important job for the way West Coast plays. Brander is playing this role well and I wouldn't be surprised if he's named in round 1 to do just that. Could be the perfect heartbeat on our bench in a season where rookies are hard to find.
Josh Kennedy (FWD $401,000) Crashing back to earth after last week's 6 goal haul, Kennedy was well and truly beaten by Logue. Only managed 32 Points from his 64% TOG before being put on ice in the 3rd quarter. Currently sitting at 4% Ownership.
Liam Duggan (DEF $495,000) Only mentioning Duggan here because 124 Points from 85% TOG next to his name warrants an explanation. Simply put, Duggan played his usual role across half back but happened to find a fair bit of ball when West Coast were chipping it around their defensive 50. Got his tail up after that and ran by for a few more handball receives than usual. Duggan had 91 points from 22 touches at half time, then normal services resumed.
Tim Kelly (MID $719,000) Played a split of 60/40 midfield and half forward for his 101 Points from 81% TOG. Attended 11 of 19 centre bounces but wasn't hit to this week as much as last. Currently sitting at 8% Ownership.
Shannon Hurn (DEF $678,000) Handed off the captaincy, grew out his beard and looks to be really enjoy.ing himself across half back. Looks to use his booming kick whenever he has it with 18 of his 22 touches kicks. Definitely what you want from a fantasy perspective resulting in 97 Points tonight from 79% TOG Only at 2% Ownership if you're looking for a POD in your backline.
West Coast @AFLFantasy Grades 2:
Shuey ✅?, ?, ?
Kelly ?, ?
Gaff ?, ?
Yeo ?, ?
Sheed ?, ?
Redden ?
Naitanui #️⃣1️⃣?, ?‍♂️, ⏱
Vardy #️⃣2️⃣?, ⏱
Hurn ?
Sheppard ?‍♂️
Duggan ?, ⚡️?
Jetta ?
Brander ?, ?, 2️⃣2️⃣❓
McGovern ?
Kennedy ?, ?
Hutchings ?, ?
Barrass ?

— Tbetta (@Tbetta9) March 7, 2020
Team as named
B: L.Ryan 13 B.Cox 36 T.Duman 44
HB: S.Hill 32 G.Logue 2 R.Conca 6
C: B.Bewley 34 A.Cerra 5 J.Aish 11
HF: D.Tucker 18 M.Taberner 20 C.McCarthy 23
F: L.Schultz 28 R.Lobb 37 S.Sturt 27
Foll: S.Darcy 4 N.Fyfe – C 7 M.Walters 10
I/C: B.Banfield 41 E.Hughes 15 A.Brayshaw 8 C.Serong 22 T.Watson 45 H.Dixon 17 M.Crowden 12 T.Colyer 33
Andrew Brayshaw (MID/FWD $516,000)
Can the breakout be real? 118 Points from 82% TOG says it's a strong possibility but knowing he attending a team high 14 centre bounces says he's going to get every chance! Only 24 touches but boosted his score with his usual 8 tackles. As long as Brayshaw is playing as an inside mid he's an absolute lock!
Michael Walters (MID/FWD $694,000)
An interesting option here is Walters, scored 101 Points from 86% TOG but only attended 6 centre bounces. Even when he played forward it was as a high half forward so he was never far from the action. Could JLo have found the answer to the question of where to play Walters Forward or Midfield? Why not as a high half forward, best of both worlds! His 12% Ownership is higher than I expected but is still looking like a decent POD.
Other notes
Nathan Fyfe (FWD $779,000) Scored 92 Points from 84% TOG and honestly looked like he was in cruise control for most of the game. If you're one of the coaches sharing in his 11% Ownership I wouldn't be worried, Fyfe will turn it on when there's Brownlow votes up for grabs!
Adam Cerra (DEF $451,000) Bit of a disappointment for Cerra owners tonight, while his 69 Points from 82% TOG isn't terrible for his price, the news that will concern the 6% of coaches who currently have him and anyone who is considering him is that he only attended 5 centre bounces of a possible 19. Getting less midfield time isn't what we hoped for!
Rory Lobb (RUC $588,000) Saw a slight bump in scoring when he shifted into the ruck while Darcy was injured but then went back forward to finish with 79 Points from 85% TOG. When playing forward he leads up high but just doesn't get involved in the play enough to justify paying the cash for him. Currently at 3% Ownership but I think that'll drop after tonight. Remember to keep an eye on him in your draft side if Darcy does get injured however.
Sean Darcy (RUC $511,000) Went down in the second quarter after seemingly rolling his ankle, went to the rooms and came back on to finish with 62 Points from 80% TOG. Not sure I'd be trusting him as an R2 if you're considering it. Only 1% Ownership currently.
Stephen Hill (DEF/FWD $428,000) Played across the half back line and took the kickouts in Luke Ryan's absence. Has been reported that he has strained his quad so keep an eye on that and adjust your draft rankings accordingly. Finished with 35 Points from only 56% TOG. Currently owned by 5% of coaches who should be trading him out now.
Sam Sturt (FWD $170,000) Hidden deep in the forward line for the majority of the game. Couldn't get to the right spots but should be better for the run. Unfortunately can't see him getting a round 1 gig unless more injuries hit Fremantle. Only 27 Points from 77% TOG. 
Caleb Serong (MID $256,000) Ok, while Serong only scored 17 Points from 20% TOG there's more to the story here. He was kept on the bench practically the entire game before being unleashed in the last quarter. Attended 2 centre bounces, had 2 inside 50's and was one of the biggest cogs in lighting the fire that got the Dockers on the 5 goal run to win the game. Massive impact for minimal game time could see him rewarded and gosh we hope so! We need rookies!!!
Lachlan Schultz (FWD $320,000) Easily Fremantle's most dangerous forward again. 76 Points from 85% TOG he is definitely ahead of Matera and allowing Walters to play further up the ground when forward. Only 1% Ownership but could be a genius POD player. Maybe think of him as a really expensive rookie?
Fremantle @AFLFantasy Grades 2:
Fyfe ?, ?, ?
Walters ?, ?
Brayshaw ???
Cerra ??, ?
Darcy #️⃣1️⃣?, ?, ?
Lobb #️⃣2️⃣?, ?
McCarthy ?, ?
Schulz ?, ?
Conca ?, ?
Bewley ?, ?
Logue ?, ?
Hill ?, ?, ?
Watson ?, ?
Sturt ❌2️⃣2️⃣
Serong ❌2️⃣2️⃣

— Tbetta (@Tbetta9) March 7, 2020