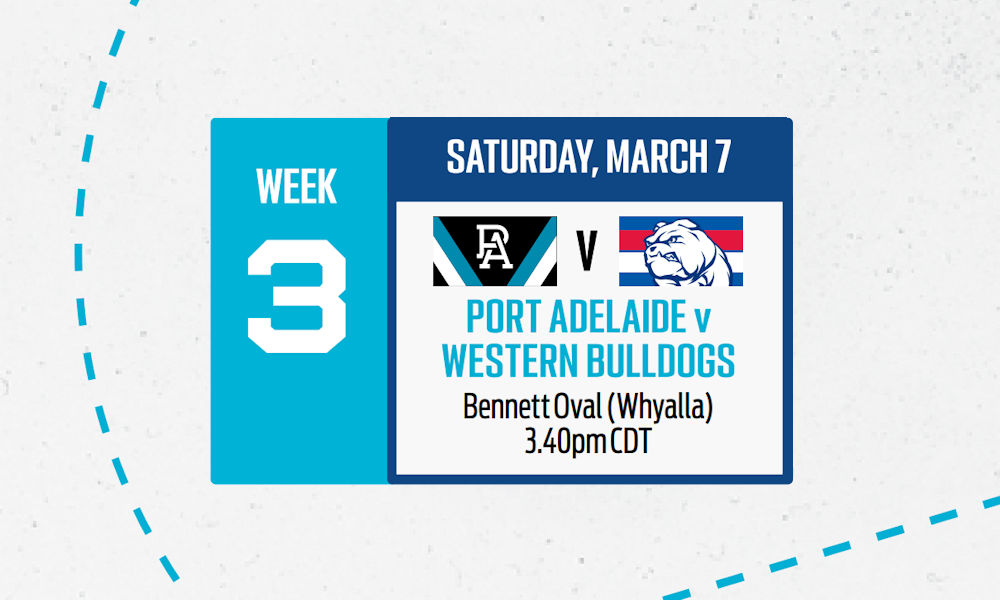 The Power and the Doggies met in the South Australian country town of Whyalla in what was a fairly entertaining game. The ball was pinging around and the players certainly knew they had played a game by the end of it. There was a fairly solid breeze that made goal kicking into it fairly tricky.
The Dogs had the better of the first and third quarters and the first half of the last quarter but the Power did enough in the second quarter and the last 10 mins of the game to eek out a win. Both teams were at near full strength with some players being managed by not playing full games.
From a Fantasy point of view there was plenty on offer in both sides with eyes keenly on players like Houston, Rozee, Bontempelli, Dunkley and Macrae.
Team as named
B: R.Burton 3 T.Jonas – C 1 R.Bonner 26
HB: H.Hartlett 8 T.McKenzie 12 D.Byrne-Jones 33
C: X.Duursma 21 T.Rockliff 11 K.Amon 15
HF: S.Powell-Pepper 2 M.Georgiades 19 C.Rozee 20
F: Z.Butters 18 C.Dixon 22 R.Gray 9
Foll: S.Lycett 29 D.Houston 5 T.Boak 10
I/C: T.Marshall 4 S.Motlop 6 B.Ebert 7 T.Clurey 17 K.Farrell 24 W.Drew 28 J.Westhoff 39 J.Lienert 40
Dan Houston (Def/Mid, $596,000)
Believe the hype, Port looked better when Houston was in the middle with Connor Rozee alongside him. He was great running through the middle and pumping the ball inside 50. Thanks to @baked_beams he attended 15 of 16 centre bounces in the first half. I like what I have seen and he should be a lock for your defence. His run and carry is something that the midfielders looked for. He only played the first half after a slam tackle in the opening minutes of the game but he was fine after that and was just rested for the second half.
Connor Rozee (Fwd, $539,000)
Rozee was explosive in the first half and spent plenty of time in the middle but in the second half he did drop out of the game as he was stationed up forward. Certainly nothing to worry about as the Power ran a few others through the middle. He did enough and you should have nothing to worry about if you are banking on some midfield time from him.
Other notes
Scott Lycett (Ruc, $619k) should be ruled out of your R2 calculations. He had a shocker against Tim English and just looked all out of sorts with his day ending half way through the third quarter with ice on the back of his left foot/achillies area. He won't play this badly each week but you can't afford games like this one from your R2. Unfortunately another guy that had a poor outing was the pig Tom Rockliff (Mid, $737k). He just didn't see enough of it. The Power looked at their best with the young guns and Boak in the centre square. Rocky was handy but he isn't worth that sort of investment.
Travis Boak (Mid, $784k) showed us that last year was no fluke, he had a fantastic game and looked really good as he spent plenty of time through the midfield.  He should be certainly considered fairly highly in your draft team. Hamish Hartlett (Def $567k) was damaging with his long kicking during the game and finished with a handy 74 points. Another that must be considered for draft if not classic. Justin Westhoff (Mid/Fwd $574k) took over the ruck duties when Lycett's day was done and he showed his versatility by doing a great job and being the only Power player to crack 100. I think that he will be used as the second ruck instead of Ladhams. He just offers so much more around the ground.
Sam Powell-Pepper (Mid/Fwd $559k) had a very solid game and was hard at it and finished the game with 93 points, not a classic selection but if you pick him up in the mid to late rounds in a draft then he will serve you very well. Mitch Georgiades (Fwd, $236k) had a quiet first half but did look a lot better after half time. He is no certainty to be in the side in round 1 but he will get a game at some stage during the season. Zac Butters (Fwd $421k) found himself playing as a permanent forward for much of the game which stifled his scoring. Brad Ebert (Fwd, $594k) played just 36% of the game as he was held out of the first half. This is a huge concern for those looking to pick him and he shouldn't be in your starting squad.
Port @AFLFantasy Grades 2:
Houston ??, ?, ?
Boak ?
Rockliff ?‍♂️, ⏱
Gray ❌?, ?
Ebert ?, ?, 2️⃣2️⃣❓
Rozee ?, ?, ?
Lycett #️⃣1️⃣?, ?, ?, ?
Dixon ?, ?
Westhoff #️⃣2️⃣?, ?, ?
Powell-Pepper ⛓, ?, ?
Byrne-Jones ?, ✅
Hartlett ?, ?
Georgiades ?, ??‍♂️
Drew ?, ❌2️⃣2️⃣

— Tbetta (@Tbetta9) March 7, 2020
Team as named
B: A.Keath 42 Z.Cordy 12 B.Williams 34
HB: H.Crozier 9 J.Johannisen 39 C.Daniel 35
C: W.Hayes 32 M.Bontempelli – C 4 L.Hunter 7
HF: P.Lipinski 27 J.Schache 13 J.Bruce 17
F: M.Wallis 3 B.Dale 31 S.Lloyd 22
Foll: T.English 44 J.Dunkley 5 J.Macrae 11
I/C: M.Suckling 1 Le.Young 2 B.Smith 6 E.Wood 10 T.McLean 16 R.Smith 37 J.Sweet 41 R.Gardner 43
Tim English (Ruc, $572,000)
English got the better of Lycett and looked every bit a viable R2. Yes you are reading this correctly, he was great at the centre bounces and also took some grabs around the ground. If you have picked him up late in your draft then you would have been very happy with what you saw in this game. His tap work and his play around the ground was fantastic, he looks to have really come of age as a ruckman and he should be right up there this year.
Marcus Bontempelli (Mid, $777,000)
Bont just plugged away all day and a few times I wondered why the hype, but he just kept popping up and accumulating the footy and ended up on 100 points. If that is what he can do on a day where he has what can be considered a standard game then look out when he has a massive game. He looked fantastic through the midfield with English dropping the ball down his throat. Bont must be in heavy consideration for your team.
Other notes
Throughout the game many people, myself included were worried that Josh Dunkley (Mid, $824k)  was spending too much time up forward but when we all looked at the end of the game he attended 23 of the 30 centre bounces. The only negative on his game was the 9 kicks to 19 handballs. His score was a little lower than we wanted to see, but I'm not too concerned about this. The other key dog Jack Macrae (Mid, $858k) had a quieter day with 'only' 23 touches for a 72. He attended just over half of the centre bounces but I am very confident that number will bump up once the season proper gets underway.
Josh Bruce (Fwd, $433k) had a great debut game for the Dogs with 4 goals and he simply looked very lively and a great target up forward. This is a bonus for the Bont as it means he doesn't have to be that target. He is certainly a good option for you in draft as a later forward pickup. Bailey Williams (Def, $575k) had a great game and looked really good when he had the footy, 9 marks was certainly a highlight of his day. The other Bailey, Bailey Smith (Mid/Fwd $513k) also had a good outing puting on a handy 10 tackles with 20 touches. He was in everything and looks like he is also in for a great season.
Caleb Daniel (Def, $696k) played across half back with a pretty handball heavy game going at a rate of 2:1. His role looked like it hadn't changed but he just wasn't getting as much of it as normal. Hopefully when he gets back under the roof at Marvel he will be back to his possession heavy game.
Western Bulldogs @AFLFantasy Grades 2:
Macrae ?‍♂️, ?
Dunkley ?, ?
Bontempelli ?‍♂️, ?
Hunter ?‍?, ?
Lipinski ✅?
English #️⃣1️⃣?, ?, ?, ?
Bruce ?
Williams ?, ?
Daniel ?, ?, ?
Crozier ?
Wallis ❌?, ?
Johannisen ?
McLean ❌?, ⏱, ??‍♂️
Hayes ❌2️⃣2️⃣
B Smith ?, ?, ?

— Tbetta (@Tbetta9) March 7, 2020