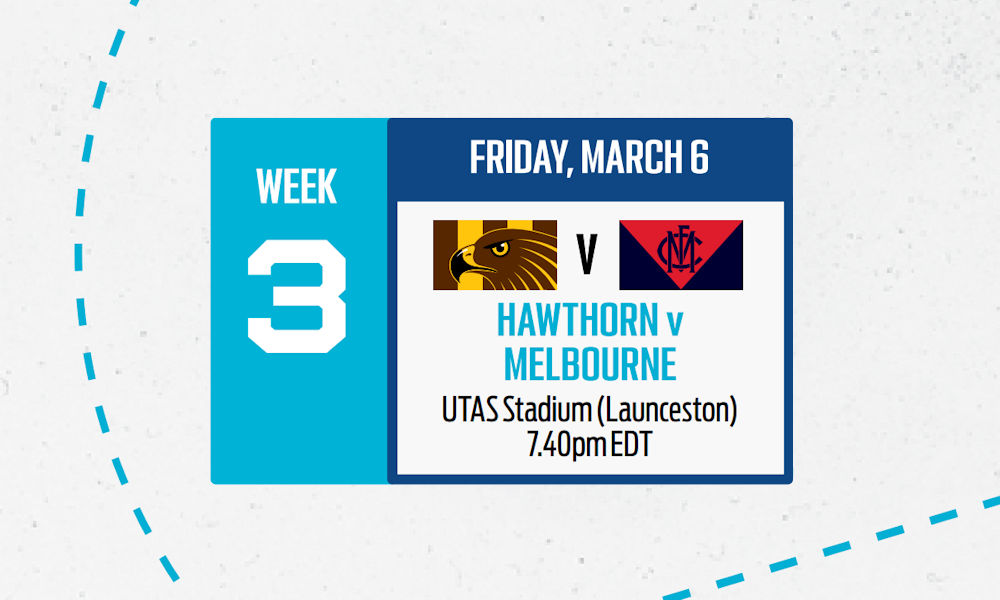 The last hit-out of the preseason is the first or the final box we need ticked for our speculative Fantasy players.
I favour role and TOG over a monster score here and there were plenty of those mid-pricers we're favouring early in 2020 to watch. Freako's Tweet below highlights my thinking… Both Petracca and Wingard had the roles we wanted, I know it's hard because we get carried away with scores but #staystrong!
A game-high 11 CBA's for Petracca, but only 11 disposals this week. Has 38 #SuperCoach and 36 #AFLFantasy points. Wingard with 8 CBA's (2nd most for Hawks), but only 25 SC and 15 AFLF points. #MarshSeries

— Fantasy Freako (@FantasyFreako) March 6, 2020
Team as named
B: B.Stratton – C 24 J.Frawley 12 J.Sicily 6
HB: S.Frost 8 B.McEvoy 7 I.Smith 16
C: H.Morrison 1 C.Wingard 20 T.Scully 21
HF: P.Puopolo 28 M.Lewis 2 J.O'Meara 10
F: L.Breust 22 J.Patton 25 O.Hanrahan 41
Foll: J.Ceglar 18 T.Mitchell 3 J.Worpel 5
I/C: J.Scrimshaw 14 S.Burgoyne 9 C.Nash 11 L.Shiels 26 C.Jiath 29 J.Cousins 46 D.Greaves 44 C.Glass 13
Emerg: M.Hartley 27 E.Jeka 39 T.O'Brien 23 H.Jones 40
In: J.Sicily, J.Scrimshaw, S.Burgoyne, C.Nash, C.Glass
Out: D.Minchington (Omitted), B.Hardwick (Injured), M.Walker (Injured), R.Henderson (Rested)
James Sicily (DEF, $620,000)
Mitch Lewis looked to badly roll his ankle in Q4, which would make me nervous as a Sicily owner… Not saying he'll be thrown back forward as a result but we know how volatile his role was last year when Hawks get desperate for a marking target. Gunston's still to come back though… This is the issue I have with Sicily, I just don't have any confidence at all in his consistency, and I'd rather just get some sleep at night. I lose enough sleep to Fantasy, I don't need James Sicily's mug in my head all night.. My opinion aside, Sicily had great patches tonight, he racked up at times and went missing at others. Had a team high 32 disposals and 10 vintage interceptions. Finished with 103 from a big 91% TOG and is a value pick for you insomniacs out there!
Chad Wingard (FWD/MID, $582,000)
Started at the center bounce, and played a pure midfield role all night. Unfortunately (or fortunately…) this didn't translate to a score with 43 from 78% TOG. BUT, watching the game he was around every contest, and he was throwing his arms out for every tackle but just wasn't making them stick unfortunately (or fortunately…). He's on the dearer side of the popular crop of mid-priced forward options… BUT, referring to my opening comment, I tend to favour role and TOG over scores in Marsh, and the former two were certainly there… He looked lively without actually taking over the game, and a massive tick for me here was even when Hawks were down, and Lewis was injured, Wingard just kept bobbing up with CBA's. I liked enough of what I saw. His highest ever average has been 92 though. Might just be enough for his current price mark.
Other notes
Damon Greaves (DEF, $170,000)
Was a player I was hoping to watch tonight as a potential to get some early game-time with the news of Hardwick's injury. He unfortunately only played 12% TOG which is extremely low leading up to the opening round, to go with 8 fantasy points. Huge concerns over DEF bench options at the moment. Might have to pay up in that line!
Tom Mitchell (MID, $671,000)
Mitchell doesn't get a headliner here purely for the fact his selection is a no brainer. He tracked along and ticked the boxes he needed to. 100 points from 81% TOG. First 100 of many for the year. NEXT!
Jaeger O'Meara (MID, $739,000)
Has strung together 2 solid years now, after missing a significant amount of football. He's also teased us with really good patches of form (and scoring) to then revert back to being inconsistent which is a huge concern for a premium midfield position. Here's a block of rounds below from 2019:
| | | | | | | | | | | | |
| --- | --- | --- | --- | --- | --- | --- | --- | --- | --- | --- | --- |
| 93 | 134 | 83 | 72 | 117 | 56 | 112 | | 74 | 113 | 136 | 79 |
At that price… You have to ask your self if he can be a top 8 midfielder? I have my doubts. Was solid again tonight though for 102 points from 81% TOG.
James Worpel (MID, $718,000)
Could a 3rd year break-out be on the cards for one of the mid-priced forwards of last year? One issue a lot of Fantasy coaches have is selecting a player in the MID's that they previously could select in the FWD's. You've got to seperate your thinking from things like this, and look at the facts, the numbers. He finished the year with a 110 average in his last 5, which is +13 on his 97, 2019 average. Another fact we know is the Pig (Titchell), loves to get a handball out, and Worpel was there for the receives. Slowed down late in Q4 to end with 81 points from 81% TOG, was the leading scorer for Hawks majority of the game though.
Jonathon Patton (FWD/RUCK, $366,000)
Played a deep full-forward role out of the goal square. He's an amazing set shot, so if he can clunk them within 50m you'd be confident in a +12, but his role also means he's going to be reliant on +12's. He was unlucky to not hold a mark on the siren at the half, so you can almost add an extra +12 to his score tonight if the coin landed on the other side. Had 35 from 52% TOG, so if he played regular TOG he'd be closer to his predicted (by most) 70 average.
Hawthorn @AFLFantasy Grades 2:
Mitchell ?, ?
O'Meara ?
Wingard ?, ?
Shiels ??‍♂️
Worpel ?
Smith ?
Ceglar #️⃣1️⃣?, ?
Patton ❌?, ?
McEvoy ??, ??‍♂️
Sicily ?, ?
Breust ?
Scrimshaw ?
Morrison ?, ?
Scully ?, ?
Cousins ?, ❌2️⃣2️⃣
Greaves ?, ❌2️⃣2️⃣

— Tbetta (@Tbetta9) March 6, 2020
Team as named
B: M.Hibberd 14 O.McDonald 28 N.Jetta 39
HB: J.Lever 8 S.May 1 J.Harmes 4
C: E.Langdon 15 J.Viney 7 A.Tomlinson 20
HF: C.Petracca 5 B.Fritsch 31 A.Neal-Bullen 30
F: S.Weideman 26 T.McDonald 25 J.Melksham 18
Foll: M.Gawn – C 11 N.Jones 2 C.Oliver 13
I/C: L.Jackson 6 C.Spargo 9 A.Brayshaw 10 T.Bedford 12 A.vandenBerg 22 M.Hore 34 M.Brown 38 J.Lockhart 41
Emerg: J.Jordon 23 J.Hunt 29 T.Sparrow 32 J.Wagner 42
In: S.May, M.Gawn, A.Brayshaw, T.Bedford, M.Hore
Out: C.Salem (Illness), K.Pickett (Managed)
Christian Petracca (FWD, $563,000)
Similarly to Wingard he ticked every box required for his role but finished closer to his current average with a 78 from 89% TOG. So last week Petracca famously dominated Marsh one, and a comment I took from Goodwin was "I've never seen him play a better game in his life". He went large, but does Petracca have that level of consistency? He's never been known for it. Can he better the "best game of his life" during the season proper? He was around the contest, played midfield, had high CBA's, but is the consistency there to become a top 6 FWD?
Max Gawn (RUCK, $826,000)
How would you feel if I said you could pick a guy who averaged 111 for the year, 117 in his last 5, and has absolutely no pressure of sharing duties with Pruess injured? And want some sugar on top? He's unique at 9%! Compare that to Grundy's 55% ownership, it's disrespect! Gawn wrapped up his first hit out for the season at halftime after a strong 50 points, and didn't look hampered by his knee at all. He'll be good to go for round 1, forget the preseason setback, he's an elite athlete and just assumed the role of captain. He'll lead from the front and he's a worth selection if you're looking for a UNIQUE 110+ ruckman.
Other notes
Clayton Oliver (MID, $786,000)
Had his knee strapped in Q2 and seemed to trot around like it was a Marsh game with 76 points from 82% TOG. He showed enough in Marsh1 to still be in heavy consideration  and in an improving Melbourne outfit could increase his average from his 106 to become a top 8 mid like he was in 2018. I also like here that Gawn is back and they have the best synergy of any ruck-midfield combination in terms of taps received.
Adam Tomilson (MID, $574,000)
Tomilson was super imposing tonight and looked great! Such a big body for a winger! He was solid last year for GWS with an average of 77 which was due to the fact he often played a 'Mr. Fix It' role and was thrown around the field which created erratic scores. A top of 117 and a low of 49 highlights that (in 2019). He's durable, having only missed 1 game in 3 seasons, which is a tick. And his role looks locked, which is another tick. And he tackles, which is a rarity for someone who plays a on a wing, that's another tick. His price and his MID only are big crosses unfortunately, but looks unders! Finished with 134 from 94% TOG.
Jack Viney (MID, $611,000)
Want a smokie? Look no further. 110 from 70% TOG in Marsh1, 114 from 73% TOG tonight in Marsh2. He's going into round 1 as the forgotten warrior of Melbourne. In his best year where he averaged 101 he played 81% TOG so if he can get back there, on his current price of 82… 20 points is really all we're looking for from these sorts. Interesting…
Angus Brayshaw (MID, $653,000)
Worked his way into the game. To start looked like he was standing a row a players back to get the handball receive. Then as the game wore on attended more center bounces. Had 81 points from 72% TOG which had a really positive 16:4 – kick:handball ratio, but this also suggests (as mentioned above) he's playing a step back and receiving the handballs.
Melbourne @AFLFantasy Grades 2:
Oliver ?, ✅?
Brayshaw ⏱, ?
Petracca ?, ?
Viney ?, ?
Langdon ?, ?
Tomlinson ?, ?, ?
Neal-Bullen ??, ?
Gawn #️⃣1️⃣?, ?, ?
Harmes ?, ?
Lockhart ?, ?
Jones ⏱, ?‍♂️
Vandenberg ?, ?
May ?, ?
Jackson ?, #️⃣2️⃣?, ?, 2️⃣2️⃣❓

— Tbetta (@Tbetta9) March 6, 2020