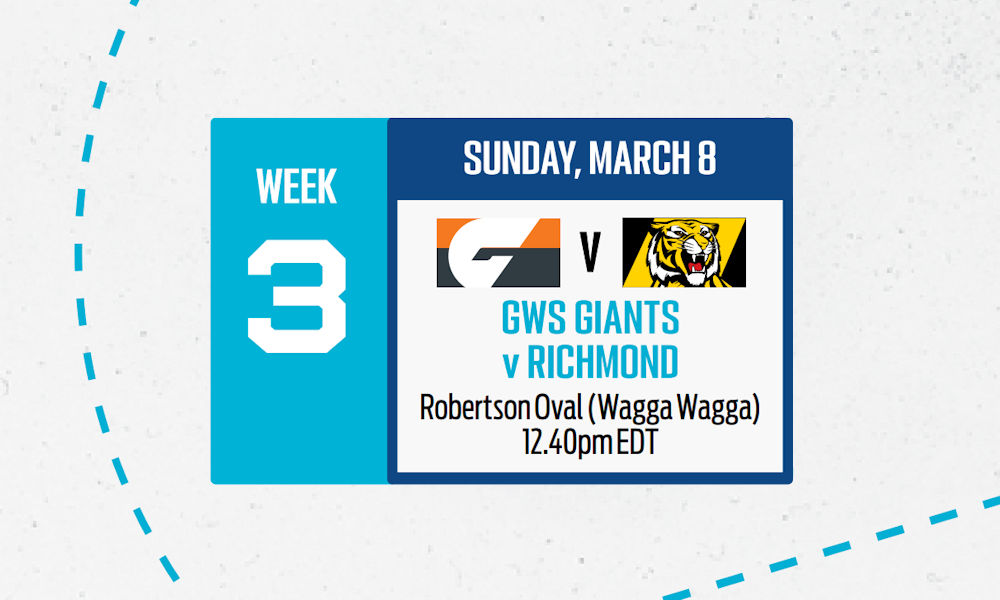 This afternoon I endured two hours of David King's commentary to watch what was a surprisingly solid pre-season hit out between the Tigers and Giants over in Wagga. With Tim Taranto being ruled out for at least the first half of the season, there is a hotly contested midfield spot up for grabs at the Giants, so this game was particularly prevalent for Fantasy Coaches to get a glimpse of who will fill that spot.
Team as named
B: H.Shaw 23 P.Davis 1 S.Taylor 15
HB: L.Ash 7 N.Haynes 19 I.Cumming 13
C: A.Kennedy 40 J.Hopper 2 L.Whitfield 6
HF: H.Perryman 36 H.Himmelberg 27 T.Greene 4
F: B.Daniels 16 J.Cameron 18 Z.Langdon 17
Foll: S.Jacobs 10 S.Coniglio 3 J.Kelly 22
I/C: J.Finlayson 31 D.Lloyd 38 A.Corr 35 J.Hately 9 M.de Boer – C 24 T.Green 12 S.Reid 50 J.Caldwell 5 T.Hutchesson 20 K.Briggs 32 N.Shipley 34 M.Buntine 21
Stephen Coniglio (MID $769,000)
If the man isn't a lock in your Fantasy Classic team already, then better luck next year. Coniglio had a day out in Wagga, netting 32 disposals, 11 marks and 2 goals to give him a casual 149 Fantasy points from 85% TOG. The new captain was genuinely everywhere, even despite a quietish second quarter, and he truly seemed to relish being a leader in the midfield. There was a huge amount of Sauce tapping straight down the throat of Cogs and the Tigers almost disrespectfully showed him no respect through the middle. When they did start to pay a bit closer attention to him, Coniglio bobbed up in the Forward line to be gifted a few easy goals, just to keep the Fantasy scoreboard ticking over. The only issue I have with Cogs is that teams might choose to tag him a bit more come the regular season, but with Josh Kelly in the same midfield, choosing which one to tag could be quite the task.
Sam Jacobs (RUC $514,000)
I know he only had Soldo and a young fella as competition, but Sauce would have given his owners a small smile this afternoon. The man towelled up his measly competition, not only amassing 27 hit outs, but adding 18 disposals and 9 marks to ton up with a 109 (83% TOG). The big man really covered the ground well all game, popping up in the defensive 50 regularly as a link up option. If you've got him in your team, I'd be very happy with his performance, and with Tim English putting up solid numbers earlier this Round, we could have two solid mid-priced Ruck options this year.
Other notes
I won't keep you waiting any longer, let's touch on the coveted midfield spot left open by Taranto's injury. In my eyes there were three people pre-match that I was looking at filling the role: Toby Greene (FWD $730,000), Jackson Hately (MID $456,000), and Tom Green (MID $252,000). Starting with Greene, I don't think he's going to be the one, despite a wonderful game of Fantasy scoring. Toby played almost exclusively on the half-forward line and absolutely dominated there. He was the second highest Fantasy scorer on the day with 121 points from 84% TOG, helped along by his five-goal haul.
This leaves Hately and Green, who interestingly couldn't really be split. Much to my surprise in the second half, the Giants threw both of these young bulls into the middle and sent Josh Kelly to a wing. Both players took their chance as you'd expect, making big impressions and a few little mistakes. Hately definitely had the better day in terms of AFL Fantasy, scoring 94 points from just 72% TOG with a solid 29 disposals. Despite such a large outing, Tom Green actually seemed to have more of an impact. Even though he only had 68 Fantasy points from 74% TOG, the number 10 pick used his big body to influence the game through pure effort. Green was obviously a little bit messy at times, as you'd expect most draftees to be coming into the big league, but he definitely seemed to fit in very soundly. I can see the Giants switching between both of these players in the coming season, which makes it difficult for Coaches to pick one.
A player who took some of that extra midfield time in his stride who I didn't really consider was Jacob Hopper (MID $695,000). Hopper played almost a 50/50 split between the forward line and the middle of the ground and was extremely influential, especially in the second half, with 87 Fantasy points (74% TOG). Unfortunately, in that price bracket I don't think you can pick him Fantasy, but watch for him sliding in Draft.
Lachie Whitfield (MID/FWD $844,000) played almost exclusively across the half-back flank and was pretty solid with 108 Fantasy points (84% TOG). Expect him to push up onto the wing a bit more when GWS don't have so many midfielders.
Speaking of half-backers, Isaac Cumming (DEF $314,000) and Lachlan Ash (DEF/MID $264,000) both had solid games, with 101 (61% TOG) and 54 (69% TOG) respectively. Unfortunately, Zac Williams still has to slot into that back six and I think Ash probably makes way for him. Cumming is a strong contender for the MCS Hype team though and should see his ownership rise a bit accordingly.
GWS @AFLFantasy Grades 2:
Kelly ?
Whitfield ?, ?
Coniglio ?, ?, ?, ?
Hopper ?
Greene ?, ?, ?
Jacobs #️⃣1️⃣?, ⛓, ?
de Boer #️⃣2️⃣?, ?
Green ?, ?, ?
Hately ?, ?
Shaw ?, ?
Haynes ?, ?
Ash ?, ?, 2️⃣2️⃣❓
Cameron ?
Perryman ?, ?
Cumming ?, ?, ?
Langdon ?

— Tbetta (@Tbetta9) March 8, 2020
Team as named
B: N.Broad 35 D.Grimes 2 D.Astbury 12
HB: B.Houli 14 N.Vlastuin 1 J.Short 15
C: J.Caddy 22 D.Prestia 3 L.Baker 7
HF: D.Rioli 17 S.Edwards 10 J.Castagna 11
F: T.Lynch 19 D.Martin 4 J.Riewoldt 8
Foll: I.Soldo 20 T.Cotchin – C 9 M.Pickett 50
I/C: K.Lambert 23 T.Dow 27 S.Bolton 29 C.Coleman-Jones 40 S.Stack 44 B.Nyuon 47 J.Ross 5 J.Higgins 13 N.Balta 21 T.Nankervis 25 R.Collier-Dawkins 26 R.Garthwaite 42
Marlion Pickett (MID $170,000)
Lock and load, the easiest cash cow choice of this season. I'm not going to lie, I barely noticed Pickett today. Yes, he popped up every now and then, but in a game dominated early by the smalls like Rioli, Stack, Short, and Bolton, Pickett kind of just got lost in the crowd. Fast forward to my shock when I check the Fantasy scores and see him as Richmond's fourth highest scorer with 88 (90% TOG). The Tigers clearly have a lot of faith in this man and he should be suiting up for the majority of the season. He's obviously a rookie that you can start on the field without too many worries, and the best part is that he had 8 tackles today. I love a player who can get enough points through tackling that he doesn't need to see much of the pill.
Dustin Martin (MID/FWD $721,000)
Richmond really didn't impress with their Fantasy scores, and Dusty is the epitome of this. Despite having a stellar game both in the midfield and forward line, he managed just 93 Fantasy points, which is nowhere near enough to justify his price tag. The reason I'm mentioning him is because he got to this number mostly in the forward line and with only two snags. In the final quarter when Richmond decided to have a proper crack at winning the game, Dusty was moved into the midfield and made his presence known. This gives me a bit of hope that the 36% of Coaches who own him won't be disappointed when there are premiership points on the line for the Tiges.
Other notes
There were very few other relevant Fantasy options from Richmond, either in Classic or Draft. Callum Coleman-Jones (RUC/FWD $367,000) was the second ruck option to big Soldo and was reasonably average, with 59 Fantasy points from 60% TOG. Whilst the Fantasy scoring isn't too bad, his price tag is extremely awkward, and he didn't do anything to make me believe they'll pick him over Soldo.
Trent Cotchin (MID $525,000) is no longer a viable choice in any format of the game, with 67 points from 73% TOG. Just stay away.
Other than those four players, there's just nobody who should be slightly considered on the Tigers team. Richmond seemed to be playing their usual, pressure at all costs style of football and that translates to stay away for Fantasy coaches.
Richmond @AFLFantasy Grades 2:
Martin ?, ?
Prestia ??‍♂️
Cotchin ?‍♂️
Pickett ?, ???
Caddy ??
Soldo #️⃣1️⃣?, ⏱
Coleman-Jones #️⃣2️⃣?, ⏱, ?
Houli ?‍♂️
Short ?, ?
Stack ?, ?
Baker ?, ?
Rioli ?, ⚡️?
Lambert ?, ?
Dow ?, ❌2️⃣2️⃣

— Tbetta (@Tbetta9) March 8, 2020