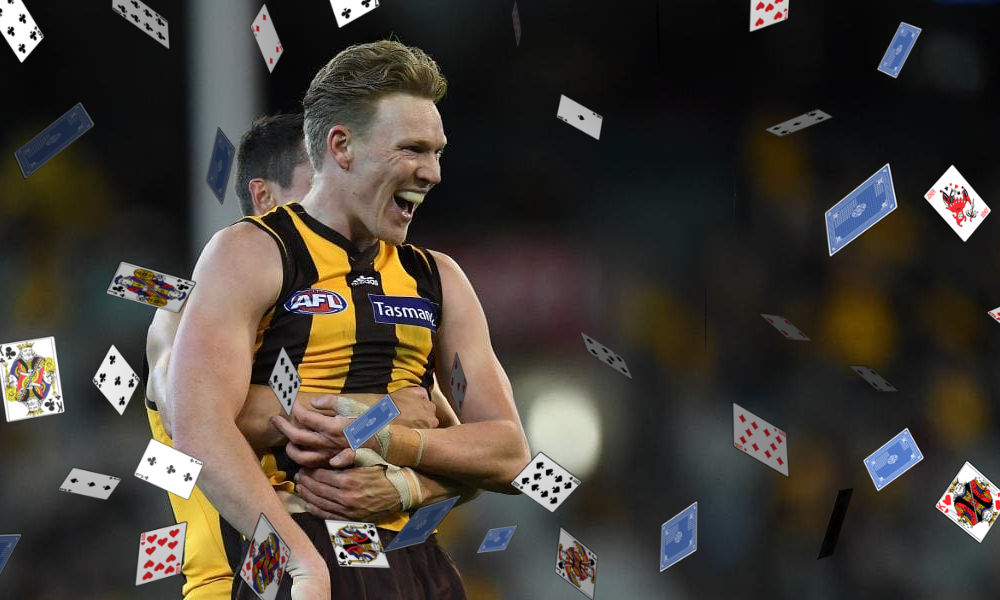 Name: James Sicily
Team: Hawthorn
Position: Defender
Price: $620,000
Bye round: 14
2019 average: 83.6
2019 games played: 22
Predicted average: 95
Draft range: Round 6 – 8
Click here for 2020 Fantasy prices.
Why should I pick him? 
Put simply, Sicily is discounted.
With Roughead struggling and Mitch Lewis still developing, Clarkson found himself in need of a marking forward. Sicily was seen as the man who could fill that spot and it was not a friendly outcome for his fantasy coaches.
In games where Sicily played as a pure forward he averaged 53.5 points.
Removing those games gives Sicily a 96.4 average for the season! What's more enticing is that I left in scores from the few games where Sicily switched between defence and forward during the game.
While only Clarko will know what he plans to do with Sicily this year, there's enough evidence to suggest Sicily will be left in his high scoring defender role.
Firstly, Sicily didn't set the world alight as a forward. Even though he was originally drafted as a forward/midfielder, Sicily has carved out his AFL career as a defender and has much more of an impact on games in that position.
Secondly, Sicily was being used as a stop gap to give the Hawks midfield a marking target up forward. Hawks has since picked up a few players capable of playing forward including Patton, Frost and Hartley.
If Sicily is kept at home in defence I don't think a 95+ average is too much to expect. Even if we don't trust my homework of his 96 average this year when in defence, he showed us he is more than capable of producing close to it with his 93 point average in 2018!
Why shouldn't I pick him?
Patton has never played a full season, Frost has played more defence than forward lately and Hartley will need to fight to get into the Hawks best 22. If all doesn't go well we could see Clarko swinging Sicily forward again to our horror.
Our next reason for perhaps looking at another option instead of Sicily is that he has earned his place quite high on the match review officer's watchlist.
Sicily is a hothead player who loves a scrap and is easily capable of producing epic brainfades moments that leave his fantasy coaches facepalming and scrambling for cover while he sits out on 1-2 week suspensions.
In round 2 last year, teams received an email from the AFL specifically stating that 'Sicily style' free kicks will be high on their agenda. This meant umpires were being instructed to watch for players who make 'contact to another player with a clenched fist, regardless of force'. Sicily was used as an example for this and wasn't as quick to learn his lesson as we'd like, being penalised for it a few more times throughout the season.
After averaging 95.5 in 2018, James Sicily (DEF, $620k) dropped off last year. Could the addition of some new players help his output this season?https://t.co/G2TtvsiErf#AFLFantasy pic.twitter.com/6sgJgok9bL

— AFL Fantasy (@AFLFantasy) January 6, 2020
Deck of DT Rating.
QUEEN
Top 5 defenders will be a raffle this year with a possible 10 players who could slide in/fall out. Sicily offers value and upside that can't be ignored when priced at $100k lower than his potential.
Just lock him in and use the time between now and round 1 to prepare yourself for another season of riding the highs and lows of being a 'SicDog' owner.
Loading ...
FOLLOW US  ON TWITTER: @DTTALK for all thing AFL Fantasy (and more). Got something to say about the deck? Use the hashtag… #DeckofDT.