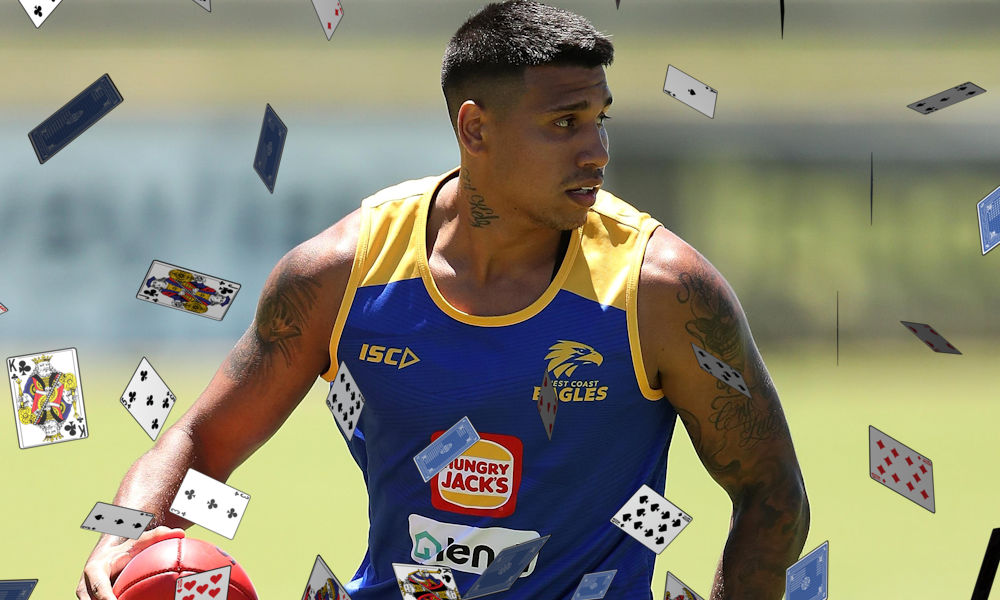 Name: Tim Kelly
Team: West Coast
Position: MID
Price: $719,000
Bye round: 12
2019 average: 96.9
2019 games played: 22
Predicted average: 103
Draft range: 6th Round
Click here for 2020 Fantasy prices.
Why should I pick him?
There are a few positives to picking Kelly in your classic side this year, but the main one is a big risk. With Kelly being traded to West Coast in the off-season, you'd be hoping that this leads to improvement, and there are a few reasons why this should be the case.
Firstly, last season Kelly increased his average by 10 over his rookie season, placing him probably just short of Premium status. Following a trend like that, you'd think Kelly would just naturally improve his game enough after another year in the AFL to average over 100, putting him in consideration territory. Kelly went over 100 nine times last season, including five 120+ scores, in comparison to six 100+ scores in 2018 (including one 120+ score). The fact that Kelly made this improvement whilst sharing a midfield with Dangerfield, Selwood, Duncan, and sometimes Ablett just goes to show he can keep improving.
Heading west to his new team could also provide a few areas of improvement, like role and personnel. One of the things that would stop Kelly from turning his 80-90 scores into 100+ scores last year was his necessity to rest forward. With such a stacked midfield, Geelong had to shuffle some of their stars around a bit, and with Kelly starting his career as a flanker, it made sense to shove him forward whenever it was somebody else's turn to be around the pill. At West Coast however, one would think Tim will play in the middle for the majority of the game. You don't give up next year's whole crop for an above average half-forward.
Kelly also has a whole new playing group to slot into, which he should do reasonably well. Tim has spent the whole pre-season talking up how good Nic Nat's ruckwork is, and a top-class ruckman is something Geelong never had. Who knows what Kelly will be able to do when reading the taps of his own ruckman, rather than roving off the opposition's hit outs. Kelly also doesn't have to compete with Dangerfield for contested possessions and has one of the best outside midfielders in the league in Gaff to link up with. Combined, this increased midfield time and fresh teammates should see Kelly improve on last season's average.
Why shouldn't I pick him?
Honestly, there are a lot of risks associated with picking Tim Kelly in your Fantasy Classic side, and I'm not sure he's worth it.
To begin with, there's always the new team risk for traded players. There is a reasonable chance that Kelly struggles to fit in with his new midfield and loses a fair bit of form purely because of this. It's difficult transitioning between teams, learning all your new teammates' habits and them learning yours can be difficult, so this could potentially impact Kelly's scores. Ideally, Kelly struggles the first few rounds, loses a bit of value, then comes good mid-season, but we'll see.
Also, despite not having to compete with Danger, Kelly still has quite a few inside midfielders to compete against. Shuey, Yeo, and Sheed all played in the middle at some point last season, and all three are contested ball fiends. As I mentioned before, you'd think West Coast have paid this much for Kelly to play him where he thrives, but the fact that he's now competing with three players instead of one means Kelly could find it even more difficult to get into gear at the Eagles. Adding onto this struggle for Midfield time is the fact that Kelly has lost his DPP status as a Forward, which is a huge hit to his viability in Fantasy. As a Forward, Kelly is likely a Top 6 player in his position, but without that status he is fighting for a Top 8 Midfielder position, which is a level above any Forward.
Finally, his price is in an awful bracket. Much like the Eagles did in the trade period, I think we'd be paying overs to bring Kelly into our side. Going on last years stats, Kelly is only $100k cheaper than a Top 8 Midfielder, and he would need to increase his average by a massive 15 points to have the output of a Top 8 Mid. The fact that you can get Tom Mitchell for almost $50k less means that Kelly would have to be the second player in this price category in your team, and I don't see why you would pay for two players who don't save you that much money.
Deck of DT Rating.
JACK
It may be harsh, but I just think Kelly has so much going against him this season that he's not worth the risk. His price is too high, he's treading a few unknown waters, and he's actually just not a top tier Fantasy player. For me, losing his Forward DPP status has probably cost him almost any relevance he had in Fantasy Classic, and he will really have to lift his game to become a contender for Top 8 Midfield status by season's end. I will add that I got this wrong last year with Taranto, a player who I didn't pick because of price and who really upped his game, so maybe Kelly is worth it? Ultimately, with great risk comes the potential for great reward, but don't be surprised if Kelly ruins your Fantasy season if you do pick him.
FOLLOW US  ON TWITTER: @DTTALK for all thing AFL Fantasy (and more). Got something to say about the deck? Use the hashtag… #DeckofDT.