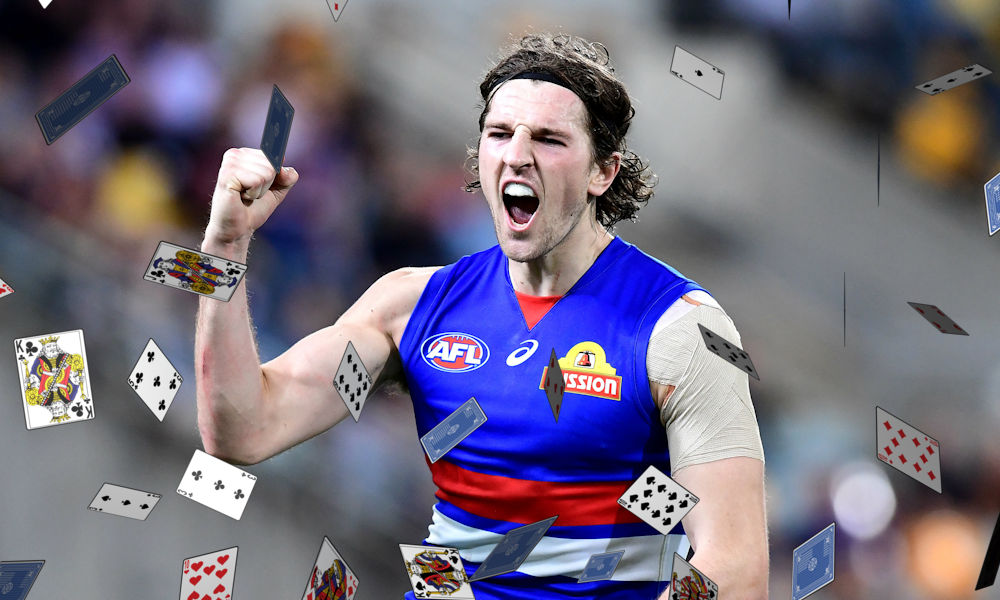 Name: Marcus Bontempelli
Team: Western Bulldogs
Position: Midfielder
Price: $777,000
Bye round: 14
2019 average: 104.7
2019 games played:  22
Predicted average: 108
Draft range: Before the end of round 4
Click here for 2020 Fantasy prices.
Why should I pick him?
2019 saw a couple of things that I really liked from The Bont. Firstly this was his best season average of his career. I know, this is very hard to believe but it is true, it was also just his second season averaging 100 in AF (he has now had 5 straight seasons averaging over 100 in Supercoach). Why did this happen you ask? Well we saw what we have always wanted from him, he spent what seemed to be a lot more time in the midfield and wasn't camped up front as the key forward target. Bevo finally released him.
Over the last couple of seasons we have seen that Bont is no longer the only player that opponents have to worry about. Jack Macrae has been on fire the last few seasons and we have had the emergence of Josh Dunkley in the last two years. This has meant that those two guys are getting the attention previously assigned to Bont which is leaving Bontempelli completely free for long periods of the game to just rack up the possessions and points. This triple threat in the side is allowing two of the three to get off the chain at any given time. Being that little bit taller than the other two guys he is also more of an aerial threat and also a little harder for the taggers to match up on.
He's the new captain! He will be out to impress! Look for him to lead from the front after taking the reigns from Easton Wood this season.
This is the role that we have been waiting for and if Bevo keeps playing him like he did towards the end of the season we can only expect a higher average from him. His last 5 weeks of the season saw him average 117 with 3 scores of 125+ in that group too. Throughout the season we saw Bont score over 110 on 9 occasions and 13 over 100. If that isn't enough to excite you then I don't know what else I can say about him!
Why shouldn't I pick him?
As I mentioned above, this is Bontempelli's best average yet in his career. This is always a red flag for us as we don't like paying for a fully priced player at the start of the season (but sometimes we do make an exception). The question is have we seen his best and can you wait and get him at a lower price after a few rounds? When you have a team that boasts guys like Macrae and Dunkley running around in that midfield it is going to be difficult for him to guarantee you that 104 average, throw in the Bevo factor and who knows what he will dish up.
Bevo. Alongside names like Ross Lyon and Longmire this is one of the names that Fantasy Coaches fear. We just never know how he will throw that side around week to week. We can only pray that he has found what he considers a winning formula for Bont, Macrae and Dunkley and he continues to go with it for season 2020.
Bont has often been overlooked in starting line ups and I am sure that 2020 will be no exception. Other players you can pick up around his price include Lachie Neale (for the same price), Nat Fyfe, Clayton Oliver, Stephen Coniglio and Scott Pendlebury. They are some tried and tested names that don't generally let you down.
Deck of DT Rating.
King
Whilst there are some concerns over his scoring, the guy is a superstar of the game and if he can keep his scoring at his 104.7 and above then we should look to cash in on him. There are plenty of players that will cost you more but he is only 10 points off the highest averaging midfielder from last season yet is $83,000 cheaper. I fully expect Macrae and Dunkley to get the majority of attention which will allow Marcus to do as he pleases and keep racking up the touches. I am expecting that he will beat that average as the Bulldogs improve this year and he gets more of that midfield time and is not that tall stay at home target.
In Draft he will go fairly early and probably won't be on the board after round 4 but don't be surprised if he is gone before the end of round 3.
FOLLOW US  ON TWITTER: @DTTALK for all thing AFL Fantasy (and more). Got something to say about the deck? Use the hashtag… #DeckofDT.