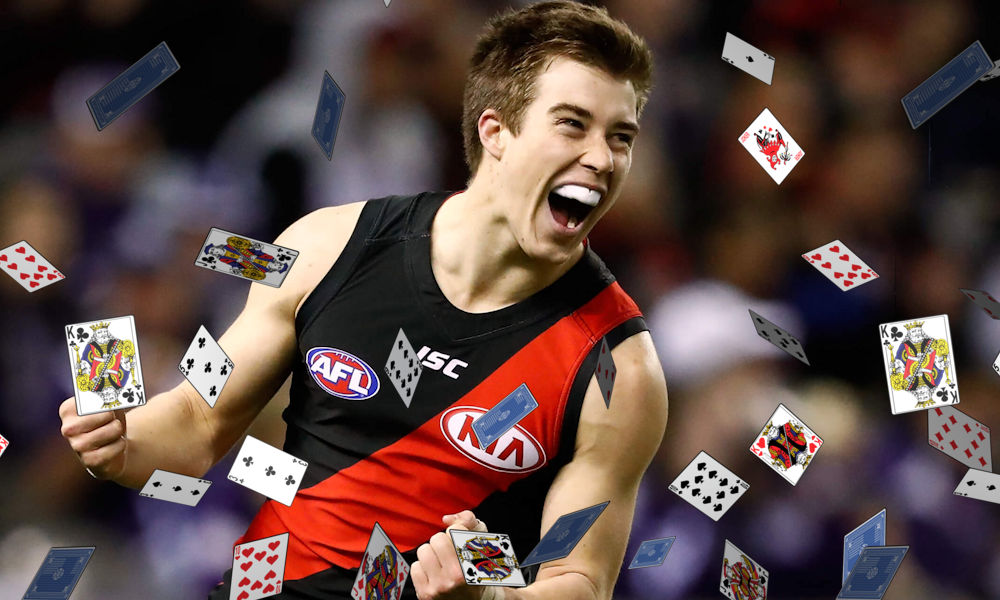 Name: Zach Merrett
Team: Essendon
Position: MID
Price: $803,000
Bye round: 12
2019 average: 108.2
2019 games played: 22
Predicted average: 114
Draft range: Pick 6-10
Click here for 2020 Fantasy prices.
Why should I pick him?
I'm not sure I can find anyone else who had a higher average in their third year of AFL.
Zach Merrett was solid in his debut season, averaging 67.7 for 19 games back in 2014. He then backed it up with a very impressive 90.4 (17 games) before an almight third year breakout; an average of 117.7.
117.7.
In his third year.
Incredible scenes. 2016 saw him post 11 scores of 120+ with three 140+ for a top score of 152. Let me reiterate, in his third year. This was the year of the replacements, so Merrett was fast tracked a bit here, spending bulk time in the midfield after a few games in the green vest in year one and building his numners as tje season progressed in year two.
But that year three 117.7 wasn't a flash in the pan, he backed it up with 117 average (21 games) in year four. He started in some cracking form in 2017, with all of the big boys back, albeit easing back into playing AFL footy. In the first 14 rounds, Merrett's lowest score was 97 while posting five scores of 134 or more and going at 125. A snout was forming. From round 15 he gained some close attention from taggers but still managed to average 105 for the remainder of the season and knocked out a couple of 144s.
A concussion in round one of year five (2018) on 23 brought his average down as he played the following weeks for lacklustre scores. Unable to shake a couple of tags, he was averaging just 86 across the first 10 rounds, but came home strongly – breaking a few heavy tags – with an average of 115 from the bye.
Last year (2019), year six, Merrett's round one score was 50 as the Bombers got pounded by the Giants. His lowest score between rounds 2-15 was 95, before concussion against the Swans limited him to 57. From then on, he averaged 116, arguably making him under-priced.
With a clear run, Merrett has proven to be a 115+ guy, and while he's shows glimpses of a ceiling, more importantly, he's been quite consistent with quite a high floor.
Why shouldn't I pick him?
How Merrett deals with a tag has been something that Fantasy coaches have been concerned with since he was first copping it towards the end of 2017. His 125 average to the byes dropped to 105 post-byes mostly due to the attention he was copping.
In 2018, his slow start was attributed to that round one concussion, but he was tagged in round two by Bailey Banfield who kept him to 78, which could have been a lot worst for owners watching the game. While he copped it from Brad Ebert, then Tom Rockliff (?!) in round four, he managed to score 121 thanks to eight tackles but it was the back-to-back James Cousins (64 v Hawthorn) and Ed Curnow (81 v Carlton) that had coaches trading him out.
This was one of those times that you needed to trust your premium. Merrett averaged 113 from that point on… in which he didn't really cop the tag, except for round 19 when George Hewitt went to him. He still scored 99.
A slight worry is Merrett's concussions. He's copped a couple of decent head knocks in the last two seasons, and while he's durable as anyone (missed just one game in the last four years), there is always the increasing risk with concussion.
Those 117 averages may have an asterisk next to them. The first was when the 34 Dons were suspended and the second came from the first half of the year when they were all back; many being eased in and not totally ready for the rigors of footy at that level. In saying that, his 2019 season looks pretty good on paper. Oh, but Devon Smith wasn't playing… (geez, I could be here all day!).
Zach Merrett (MID, $803k) averaged 108.2 last season. Let's not forget that he has missed just one game in the last four years with a couple of 117+ averages in there.

Where do you take him in Draft?https://t.co/xsSZU9xs0O#AFLFantasy pic.twitter.com/Cyu3uasSeU

— AFL Fantasy (@AFLFantasy) January 8, 2020
Deck of DT Rating.
KING
Priced at 108, many coaches may believe Merrett doesn't offer a heap of upside. The positives far out weigh the negatives when thinking about what he can do in 2020. 115+ isn't out of the question, which would make the 24-year-old some value. The question that needs to be asked, however, is whether not having him from the get-go will hurt you too much. You can always upgrade to him, like we can with most premiums, but as he's had prolonged patches of averaging 120+ he could move his price to a very hard to reach figure. The Bombers have a decent enough draw before the bye, but then that is an issue in itself. Essendon have the first bye, so making Merrett an upgrade target makes some sense.
As for Draft, I've got Merrett as my 3rd-4th midfielder. Assuming Grundy and Whitfield go before that, I'm going to probably pounce at around pick 5-6. Some may rank him further down based on the 108.2 average that will be next to his name (and the 101.5 from the year before) and the other, better performing players ahead will have some hype.
Loading ...
FOLLOW US  ON TWITTER: @WarnieDT for all thing AFL Fantasy (and more). Got something to say about the deck? Use the hashtag… #DeckofDT.