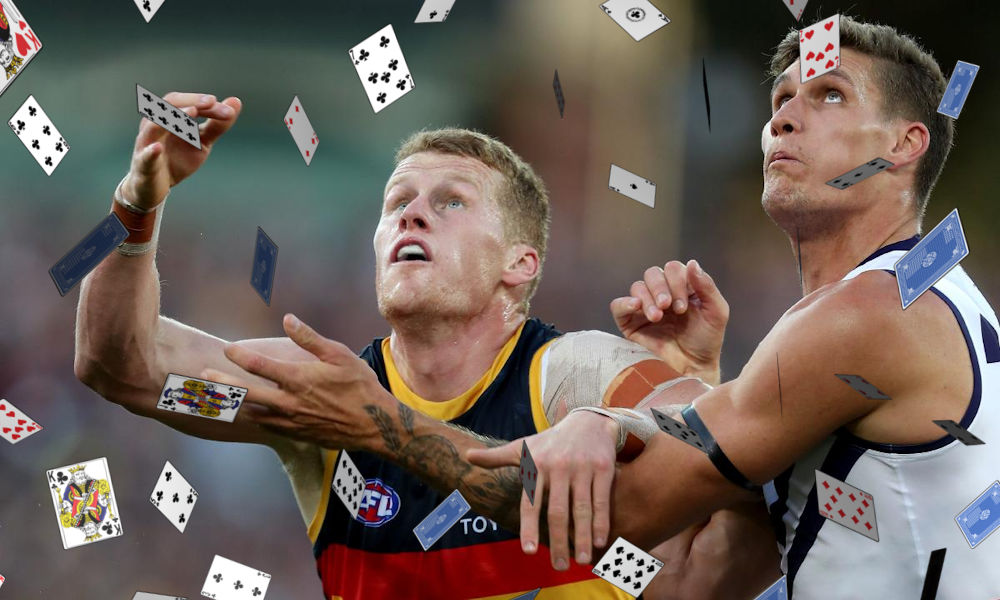 Name: Reilly O'Brien
Team: Adelaide
Position: Ruck
Price: $709,000
Bye round: 14
2019 average: 95.5
2019 games played: 18
Predicted average: 102
Draft range: Mid – Late rounds when the rucks start to go. Should be 4-6th ruck
Click here for 2019 Fantasy prices.
Why should I pick him?
Reilly has been hanging in the wings at the Crows for a couple of seasons now waiting for his chance and he showed us this season when Jacobs went down with an injury just why many Crows fans were keen for him to get his chance. His average of 95.5 was outstanding for a guy that had only played two games at the top level prior to last season. He was the solo ruck in all but one game which he shared duties with Jacobs and that was in round 22 where he had his lowest score of the season (48) and Jacobs also had his lowest of the year in that game with 59. If we take that game out of O'Brien's scoring then he would have put up an average of 98.3.
Whilst we are talking averages if we break down his season into three sections we see that not only did he have a good year he grew into it. For the purposes of this analysis I will discard that game that he shared with Jacobs because in season 2020 he will be the solo ruck at Adelaide as they simply don't have anyone else ready.
He simply kept building into the season and gained more confidence as the season went on and it became clearer that he would be the number one ruck at the Crows. When Jacobs was ready to return O'Brien was still selected ahead of him which was a massive show of confidence.
I can hear everyone asking why we aren't just going Set and Forget with Grundy and Gawn as we know that this is the way that we should go most seasons. Well by selecting O'Brien over Gawn in your R2 spot you can save yourself a whopping $117k. That is almost an extra rookie cost right there. He is certainly worth putting into a starting squad as we can see from the table above that he is slightly underpriced based on what he did in the last 11 weeks of the season (excl R22's score with Jacobs in the team) whereas on the other hand we have Gawn and Grundy who are fully priced and are highly likely to drop in value over the first month or so of the season.
With no other obvious ruck options at the Crows O'Brien will be the main man and will see a high time on ground percentage. The Crows are doing a mini rebuild on the go and with a new coach we may see some change in game plan, but no matter what happens, they still need to get their hands on the ball first. With an average of 7 kicks, 8.3 handballs, 3.3 marks and 4.2 tackles a game Reilly is a solid option as your R2.
Why shouldn't I pick him?
There are a few concerns that I have with selecting Reilly despite all the evidence above.
In 2019 he was an unknown to opponents. They have all had a chance to watch him through 18 games and he certainly won't be underestimated in 2020. His opposing ruck will have to put in a lot more time as they know how damaging he can be around the ground.
2020 sees a change in more ways than one at the Crows after a couple of poor seasons by their standards after making the 2017 Grand Final. 2020 will see a new Football Director and more importantly a new Head Coach in Matthew Nicks. We don't know yet what this will mean for O'Brien's role going forward. This may not be negative for him but it is a big unknown.
To a lesser degree and I don't think this one will really count but thought I would throw it in and that is that he won't be 'fighting' to hold his spot in the side this year. It is his role and as I mentioned earlier there is no obvious contender. This shouldn't, but it may, see him drop his intensity. Again, I don't think this will be the case but it is amazing what a bit of pressure on your spot in the side will do for you.
With Sam Jacobs out, Reilly O'Brien (RUC, $709k) could average more than 100 as the sole ruck for the Crows.https://t.co/9iDAxE72x4#AFLFantasy pic.twitter.com/NebI4OFQXL

— AFL Fantasy (@AFLFantasy) January 2, 2020
Deck of DT Rating.
QUEEN
Reilly had a breakout season and now the question is whether or not he can back this up. His best can see him average somewhere around 105+ which would see him up there with Witts as the third highest averaging ruck but for a much lower price tag. There are a lot of reasons why he should have a great season and with that in mind, starting with him as your R2 would not be the worst decision you can make this year.  Select him with a degree of confidence that he should score well and increase in value early in the season.
Loading ...
FOLLOW US  ON TWITTER: @DTTALK for all thing AFL Fantasy (and more). Got something to say about the deck? Use the hashtag… #DeckofDT.