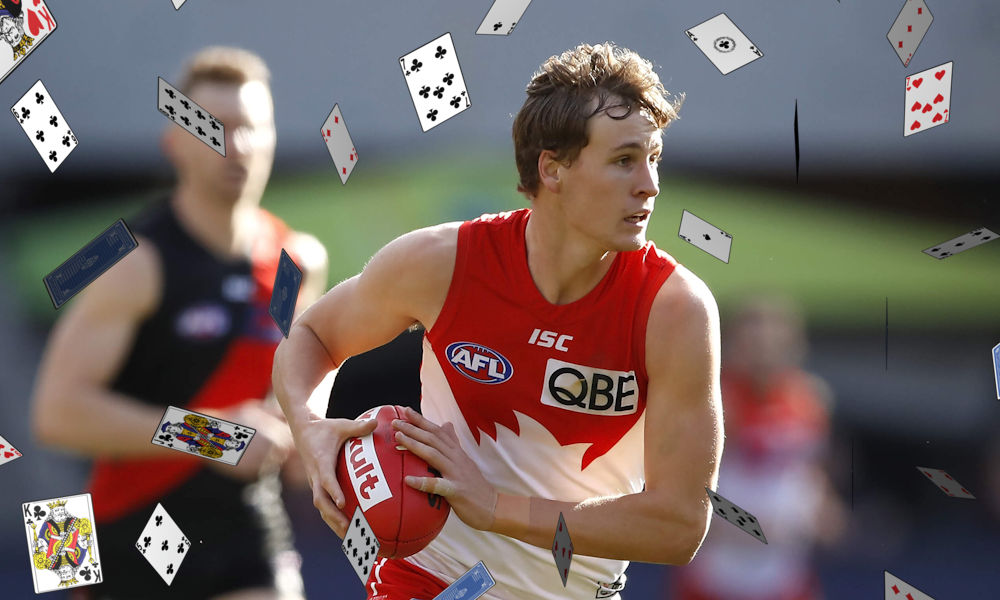 Name: Jordan Dawson
Team: Sydney Swans
Position: FWD/DEF
Price: $614,000
Bye round: 13
2018 average: 82.7
2018 games played: 20
Predicted average: 93
Draft range: 6th-7th round as a flexible DPP pick.
Click here for 2020 Fantasy prices.
Why should I pick him?
Like Shane Woewodin's famous peroxide locks or Pamela Anderson's bust in the 90's, the most eye-catching and enticing aspect of Jordan Dawson's 2020 prospects is his rare FWD/DEF status. While it's early days, it looks like we'll have a dearth of Premiums available in the forward line – so the ability to slot in a value pick like Dawson into one of the weakest lines we've seen in years is significant, while the trading flexibility it affords you throughout the year is potentially massive. Unlike midfield-eligible DPP's – where you always want them in their lower positions to maximise your access to the big name accumulators – Dawson's FWD/DEF eligibility will make him a legitimate swingman as you look to capitalise on the best value acquisitions over the course of the season by simply not limiting your options to just the forward or back lines respectively. 
So, he's got the DPP, but can he score? At an average of 82.7 last season, the short answer is yes, kind of. But taking a sneaky look under the hood, the numbers are much more promising (and arousing) than you'd think.
As a third-year player on the fringe at Sydney last year, Dawson was forced to win his spot in any way he could. This came in the form of a 'high half forward' role to start the season and he had mixed fortunes, being dropped once and producing scores of 43, 71 and 92; typically high-variance output for a forward. Then he caught his break.
With Nick Blakey omitted after a form slump and a few key veteran defenders out of the side, Dawson was thrust back into a half-back role and thrived, notching season-highs with 31 touches, 11 marks and 118 fantasy points. This set the tone for the remainder of his season, and while team balance meant he swung back forward on a few occasions, Dawson ended the year with an impressive 89-point average when playing as a nominal backman. Another classic third-year break-out was in the books.
Perennial Swans defenders in Jarrad McVeigh, Heath Grundy and Nick Davis have all retired this off-season, as well as sometimes-back flanker Zak Jones moving on to butcher the footy in greener pastures. This leaves a permanent role as Sydney's go-to user just begging to be snapped up by Dawson, much like an unguarded eski at a house party. 
Am I confident that he'll earn that role? Put it this way – if I'm Sydney's coaching staff and I'm looking for someone to take care of the footy in the back half, I'm looking directly at the guy who kicked an incredible 15.1 at goals over the 2019 season – the most accurate goalkicking season by any player over the last 20 years. I want the ball snug in the hands of the guy who kicked at a league-leading 70% accuracy on scoring shots from outside 50 in 2019. Basically, Jordan Dawson's left boot is a filthy pig and I'm in the mood for bacon. 
Just check out this pure pornography:
Jordan Dawson has been nominated for the AFL Goal of the Year for Round 19 for this amazing piece of work.

VOTE NOW: https://t.co/j75yp4TwKZ pic.twitter.com/I2PqhUBjn6

— Sydney Swans (@sydneyswans) July 29, 2019
Would this be a proper pre-season beat-up if we didn't have some juicy "burning up the track" content for you? Of course not, and we've got you covered. Dawson won both of Sydney's 2km time trials so far this off-season, the first with the 2nd-5th year players and the second with every player on the list on the track.
While I personally think he'll be deployed as a distributor off half back, my ultimate fantasy is Sydney opting to maximise his running talents by having him roll off a wing. After all, our mate Fantasy Freako reported that Dawson averaged a hefty 94 points when playing as a wingman last year… which is basically just dirty talk at this point.
He's come a long way from the kid who once rocked up to pre-season with skin-folds that were "a bit high", so with another full pre-season under his belt, the sky's the limit for this blossoming star of the competition. 
Why shouldn't I pick him?
An average of 82.7 in a break-out 2019 campaign means that you'll have to fork out over $600k of your hard-earned cash for a guy that's already ahead of his career arc. Is a modest 10-point increase enough to justify Jordan's selection? Can he finish the year amongst the top 6-8 forwards or defenders? At his price-tag, you're looking to essentially pick a keeper at a discount price and you can make the argument that he's not quite at that level just yet.
Versatility is a big strength of Dawson's real-life game; but in fantasy, it can be a major disadvantage. With a lethal left boot and a strong overhead mark, Dawson could easily be asked to move forward as a scoring threat throughout games in 2020, or even shifted forward for the dreaded 'team balance' for weeks at a time. We've seen this many times with talented utilities in the past; Yeo earned the nickname Yeo-Yo with his inconsistent output and role over the years, and James Sicily is a frustrating recent example of a man thrown forward because he's a gun and potential game-winner, but for drastically reduced fantasy scoring.
Deck of DT Rating.
QUEEN – It's no secret that Dawson makes my trousers tighten, so while I'll never be able to talk about this gorgeous man unbiasedly, I think I've laid out a convincing argument for his selection this year. 
It's true that he's pricey, but with meat on the bone when you remove his scores as a forward. It's also true that he has a left leg that rivals Jen Selter's in both beauty and power. 
But I keep coming back to his FWD/DEF status as a selling point because while we often hype up DPP's, the truth is that we rarely take advantage of the MID/DEF's or MID/FWD's (outside of rookies). That's not the case with Dawson, as there's every chance you'll flick him between either ends of the ground as you maximise your trading over the course of the year.
I'll be watching Sydney games with the need for cold showers in 2020. Will you?
Loading ...
FOLLOW ME  ON TWITTER: @Tbetta9 for assorted AFL Fantasy musings and DFS content. Want to abuse me for being blinded by my man-crush on Dawson? Use the hashtag: #DeckofDT.