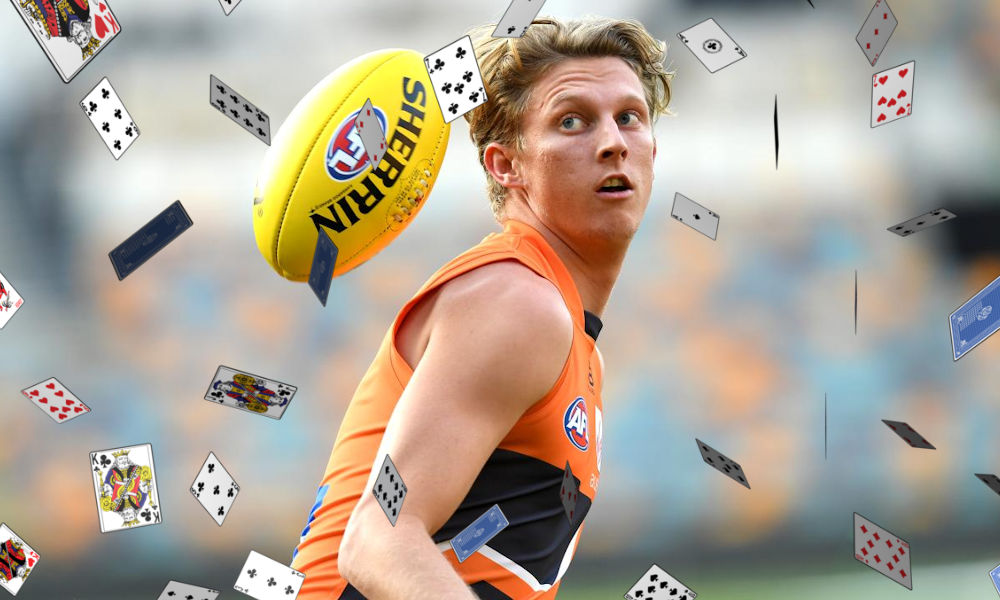 Name: Lachie Whitfield
Team: GWS
Position: MID/FWD
Price: $844,000
Bye round: 14
2019 average: 114
2019 games played: 16
Predicted average: 120
Draft range: Round 1
Click here for 2020 Fantasy prices.
Why should I pick him?
190 points. Just to jog everyone's memory, that was the score Whitfield knocked out in his return from injury in round 9 last year.
That alone isn't enough to justifying paying his exorbitant price tag but it certainly helps! While we know he won't be scoring that every week, his history shows he'll at least be scoring over 100. Of his 16 games last year he only went under 100 three times. Twice were injury affected which resulted in missing the next few games and the other was a 95.
Being eligible as a forward this year is another massive reason to be locking Whitfield into your sides. Last year the top 5 forwards ranked by their averages were Dunkley 111, Dangerfield 108, Boak 106, Marshall 99 and Billings 99. If Whitfield were eligible as a forward last year he'd be sitting first with his average of 114.
One concern I'm seeing with people considering Whitfield is that teams will look to tag him.
West Coast were asked this question after round 2 when Whitfield picked up 33 touches with 27 uncontested, scoring 133 points. Luke Shuey mentioned later that when researching GWS and deciding who to tag they put time and thought into considering Whitfield. Their issue was they found Whitfield seems to have a licence to play and move wherever he feels he can impact the game without impacting the Giants structure. He starts on the wing, moves behind the ball if they're losing clearances and pushes a defender up to cover the wing, or slips forward and pushes a forward into the middle. Occasionally he'll even decide to move into the square. In West Coast's position they decided it was too damaging to their own structure to have a player tag Whitfield as if he moves forward or back and Hutchings goes with him, they'll lose one of their own defenders or forwards. Instead, Hutchings went to Coniglio and West Coast backed it's team defence to try minimise to damage Whitfield did with the ball. While not every team takes this approach to GWS, as evidenced by Brisbane tagging Whitfield with Roberston in the Finals last year, most teams seem to have come to the same conclusion and sent their tagger to Coniglio or Kelly before Whitfield.
Why shouldn't I pick him?
POD. When we think of our 'Point of Difference' players we're often talking about players that not every other team has, however Selby famously showed us that this can also mean going against the trend and not selecting one of the more popular players. In his case, it was Tom Mitchell, the most expensive player in the competition. While we all were happy taking Mitchell's score and playing rookie roulette, Selby used that cash to go for a slightly cheaper premium and an established player on his field instead of a random rookie. Hard to deny the merit behind it, especially considering that was the second year in a row Selby finished top of the rankings.
As mentioned above, Whitfield has managed to escape the tag pretty well so far but the Lions may have shown opposition teams the blueprint in the finals last year. They used Nick Robertson who is a runner capable of playing multiple positions to shadow Whitfield wherever he went, keeping him to a low score of 43 points. While it should be remembered that Whitfield had surgery for appendicitis the week before and it may not be seen as successful as the Lions still lost, there's no denying that his output was diminished and other teams may look to do the same this season.
At $844,000 that's a lot of cash used to pull a score in the 40's if Geelong decide to tag him in round 1.
Deck of DT Rating.
KING – The second Whitfield received his FWD status he became one of the biggest locks of 2020. My advice is don't overthink it, if he's not the Number 1 forward by the end of the year he'll certainly feature in the top 5, starting with him will be a lot easier than trying to trade him in as the season progresses, just set and forget.
Loading ...
FOLLOW US  ON TWITTER: @DTTALK for all thing AFL Fantasy (and more). Got something to say about the deck? Use the hashtag… #DeckofDT.