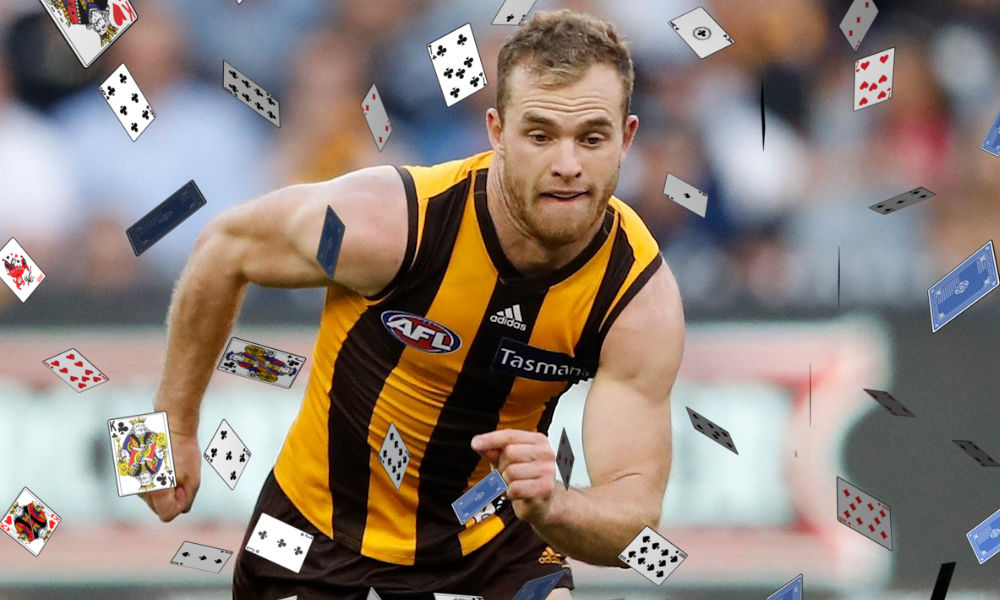 Name: Tom Mitchell
Team: Hawthorn
Position: MID
Price: $671,000
Bye round: 14
2019 average: –
2019 games played: 0
Predicted average: 125.8
Draft range: #1 Pick
Click here for 2020 Fantasy prices.
Why should I pick him?
I swear I leave myself pointing out the obvious in Deck of DT every year, but there really isn't a reason to leave Titch out of your side this season.
He's a certified Fantasy Pig, beanie and all, and for a good reason too. The man almost averaged 130 in 2018 along with a 127.2 in 2017, making him the highest averaging player in both those seasons by a long margin. This alone is enough to warrant making Mitchell your first picked player in every format for the 2020 season, but wait, there's more.
The man has the highest and most consistent ceiling of any player in the league. Not only has he averaged 120+ in consecutive seasons, he has a highest score of 195. Add to that the fact he's been above 150 six times in those two seasons and above 120 a whopping 27 times in the same time period, and you can see why this man is the best. That's a score greater than 120 in 61.36% of his home and away games since being at the Hawks, truly ridiculous. I know you're probably sick of his numbers by now, but on the other end of the scale, Titch has gone below 100 in just seven total games since moving clubs, and that includes two scores in the 90's. The man is just the most outrageous accumulator in the league.
Finally, Mitchell's price makes him non-negotiable as a starter in every Fantasy team. I completely understand the logic behind Selby leaving him out of his starting team due to the price tag a couple of years ago, and obviously that paid off, but this year is extremely different circumstances. Titch started the 2019 season at a massive $938,000. This season, however? A measly $671k. To put this in perspective, Mitchell hasn't been priced this low since Round 4, 2017, and in 2018 AFL Fantasy had a huge pricing rearrange that made players a lot more expensive but compensated with a higher salary cap. If you need even more perspective, after averaging 129.2 in the last season he played, Titch is now priced at 90.5. Not only is that almost 40 points less than his previous average, but if you consider the differences in pricing over the years, Titch hasn't been priced at this average since 2015.
If you weren't sold on picking Titch before or after reading this article, then maybe try again in 2021…
Why shouldn't I pick him?
There are two concerns with Tom Mitchell, neither of which should put you off picking him (provided he plays).
The first is obviously his injury. Mitchell broke his leg whilst training in the 2019 pre-season and missed the whole season. There were talks he would make it back for finals, provided Hawthorn made it. Alas, Hawthorn threw away their chances and, with how Titch is currently training, I think him playing in the 2019 finals was very wishful thinking. About a week ago I read something about Mitchell potentially not being ready for Round 1, but I can't find anything about that, so maybe it was in my nightmares. The only thing I can find about Tom is this article on the Hawthorn FC page, basically saying Mitchell will start full-contact training in January. Judging by that, it seems he'll be fine for the start of the season.
The second issue is the fact that James Worpel half-filled Mitchell's shoes last season, which could potentially dent Tom's scoring output.
Who am I kidding? Titch is a Pig; he's sharing his Fantasy points with no teammates.
Deck of DT Rating.
ACE
As I said before – if you're not picking Tom Mitchell this year, I don't think you've got a chance.
We really missed a player of Mitchell's calibre last season. Grundy was amazing in the Ruck department, but even he had six scores below 100 spread out throughout the season which hurt owners at the time. There just isn't a player like Titch – his ceiling, his consistency, his superhuman ability to make a bad week good, nobody can compare. Don't do it to yourself, just lock Mitchell in your Midfield the moment AFL Fantasy opens and forget about him for the year.
Loading ...
FOLLOW US  ON TWITTER: @DTTALK for all thing AFL Fantasy (and more). Got something to say about the deck? Use the hashtag… #DeckofDT.