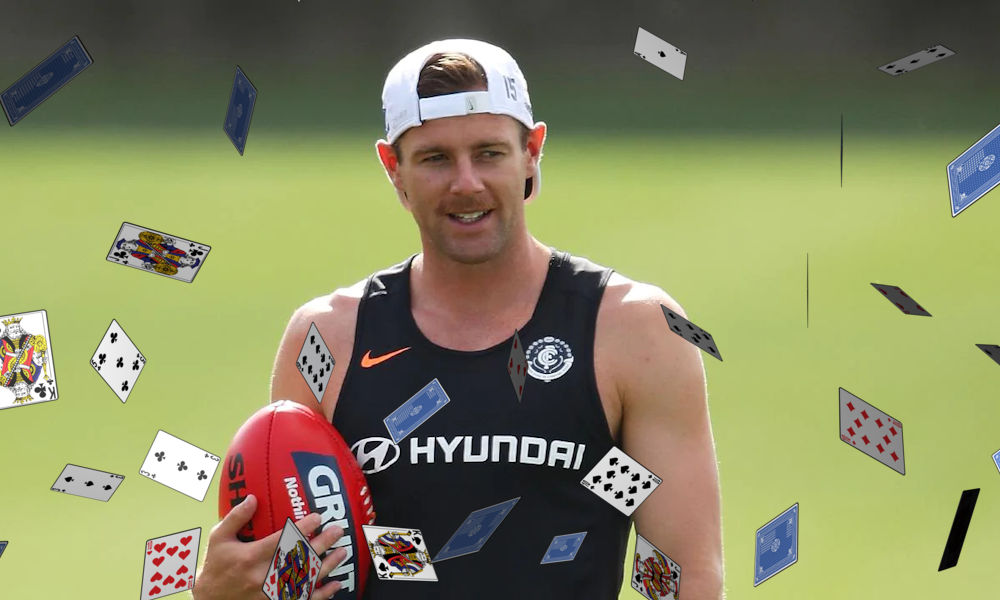 Name: Sam Docherty
Team: Carlton
Position: DEF
Price: $563,000
Bye round: 13
2019 average: –
2019 games played: 0
Predicted average: 105
Draft range: 1st round
Click here for 2020 Fantasy prices.
Why should I pick him?
I am only telling you what you already know, but because we all love and miss Doc, I know you will read and enjoy it anyway.
Back in 2017, the Blues hard working defender and Co Captain basically became the GOAT defender. He had a ridiculously good year adding another 16 points to his previous best average set in the season prior, all while showing most of the competitions midfielders where it is at with an average of 117.
During that season, he quickly became a must have, dropping under triple figures on just six occasions and only two of those were under 90. Also during that time he manage to reach some unfathomable heights for a backman with eight scores of 130 or more including a 152 and 159. Yeah, I see you salivating.
If we were going into 2020 and Doc had not missed the last two years with injury, he would be priced at approximately $865,000. Yes, permission granted to scroll back up and have a look at his current price just to reinforce the excitement of having him back in our team. His current price reflects an average of just 76, which is lower than he has ever averaged as a Blue.
Doc has done everything possible to avoid a third disaster in three years after dropping 6kg from what he was last time and is also following the rehab advice of renown United States knee specialist Bill Knowles. He has also taken a lighter approach to training through November and December with an eye to launch into the pre season fixture ready to play.
Why shouldn't I pick him?
At this price, I honestly can't think of a reason to leave Doc out of your side but I'll throw a couple of possible concerns or strategies out there that may be relevant.
There are of course obvious concerns about his durability given his horrid run of luck which has seen him miss the entirety of the past two seasons after not missing a game for the previous two years before that.
There are concerns he may be managed and will be rested at even the slightest sign of knee soreness. We have to remember the Blues are also on the way up, when Doc was racking up, he was basically trying to keep a sinking ship afloat almost single handed which meant the ball was down back a lot and they needed it in his hands whenever possible to delay the inevitable turnover and goal.
The Blues are inundated with attacking half backs now so Doc's role remains to be seen as he eases back in and plays under David Teague for the first time.
You may be someone who chases a POD and an obvious POD this year would be starting without Doc and hoping he has a quiet start.
Who does @RoyDT consider as the "easiest lock" when he reviewed the prices and positions for @CarltonFC?https://t.co/ezorxQM9Fv#AFLFantasy pic.twitter.com/KFn9BfxfsS

— AFL Fantasy (@AFLFantasy) December 22, 2019
Deck of DT Rating.
ACE
Sam Docherty has had two years of his prime stolen from him and he will be eager to get back out there and make up for lost time. He is a superstar of the game and has used his time off the ground wisely, developing even greater knowledge of the game through his time in the coaching box. As stupid as it sounds, it's not uncommon that intelligent sport stars can further develop their game while experiencing this unfortunate predicament via this style of learning. When all is said and done, risk or not, once again scroll to the top and have a look at his price, it's impossible to say no, especially when he will end the season as the competition's number one defender. Yep, I went there. Go Doc.
Loading ...
FOLLOW ME  ON TWITTER: @RoyDT for all thing AFL Fantasy (and more). Got something to say about the deck? Use the hashtag… #DeckofDT.