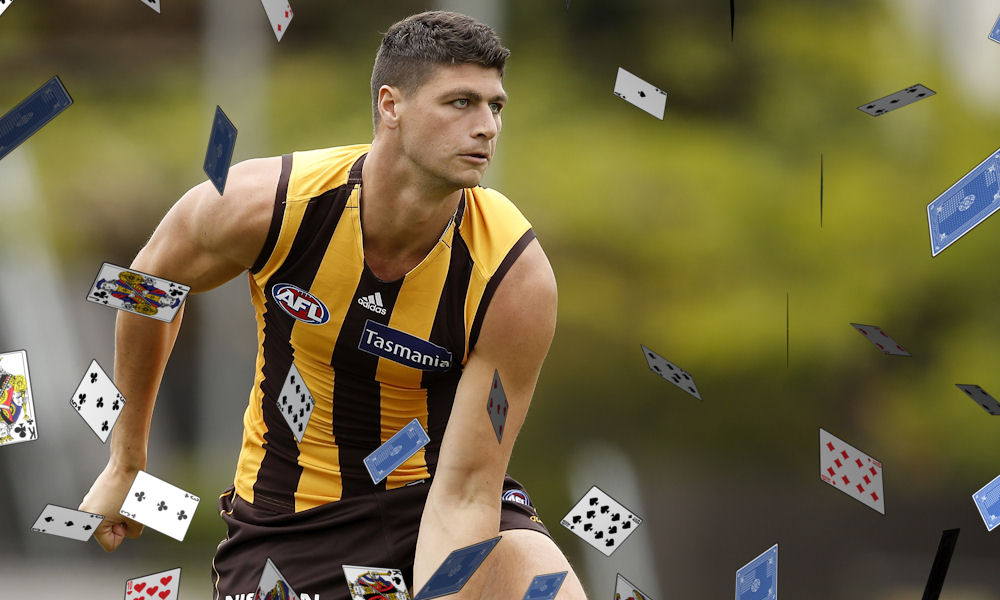 Name: Jonathon Patton
Team: Hawthorn
Position: Forward
Price: $366,000
Bye round: 14
2019 average: DNP
2019 games played: DNP
Predicted average: 70
Draft range: Late
Click here for 2020 Fantasy prices.
Why should I pick him?
Let me start off by reminding you of some facts about this man.
He was the first selection in Draft of 2011 where he went up the land of the Giants. During his time there, he certainly had his ups and downs but really found his fitness and his feet from 2016.
In 2016, he played 21 games (the most in his 5-year career at that point), and in 2017 he was flying averaging a career-high 71.
This is about where Patton is. Around the 70-mark when it comes to his Fantasy output. He only managed 12-games the year after (before rupturing his ACL) but once again, hitting that average of 70.
Therefore, we can safely say… that if Patton is fit, then he can average 70 whilst at the Hawks.
The big winner here is this – he is priced at an average of 49.3. After missing the entire 2019 season, he receives a 30 per cent discount making him a steal in 2020.
Is he fit?
When he was drafted in October to the Hawks, Hawthorn's GM-Football Graham Wright came out and said "Jon's obviously had some injury issues in the past but he's been in full training at the Giants for the back half of season 2019".
Hear that people? …. "fully training" at the end of 2019.
Then recently Patton has come out and stated: "I'm feeling like I've just had a whole freshen up… 'Sculls' (Tom Scully) had come down the year before and the club had taken on a lot of players with long-term injuries who had gone on to do good things."
Yes they have… The Hawks is a great fit for this man. Think of what they did recently O'Meara and Tom Scully who played 21-games each in 2019.
Why shouldn't I pick him?
You have two knees. Patton has torn his ACL three times.
Because he was the first round draft pick, the Giants (and maybe the Hawks) have taken a very conservative approach with this 197cm monster 'putting him on ice' more often than not.
He will be a popular selection in Classic this year, and therefore could be a trap for those who just 'go with the flow' and follow everyone else.
The main reason you might not start this lump of a lad is because…
Maybe he comes out and scores 40-50 in the first few games, considering he hasn't played in a year and a half, maybe this could be a rookie on your ground producing the same scores… at nearly $200K less.
Deck of DT Rating.
JACK
Look, it's simply… Patton will play round one, and he'll average 65 at a minimum. This makes him 16pts under-priced – at a minimum! At best be may even push 75 (26pts under-priced).
In the forward position, we have a variety of cheap options. Not many are as cheap as Patton, a guy who has averaged 71 before.
He's fit and firing and at a club who knows how to get these "injured" players up and about.
"But he might as well be a rookie on your ground" – this is a great argument for not starting Patton and the only valid one. IF… we have rookies available (who can potentially average 65) and rookies who have the job security that Patton has. Time will tell.
Loading ...
FOLLOW US  ON TWITTER: @CalvinDT for all thing AFL Fantasy (and more). Got something to say about the deck? Use the hashtag… #DeckofDT.