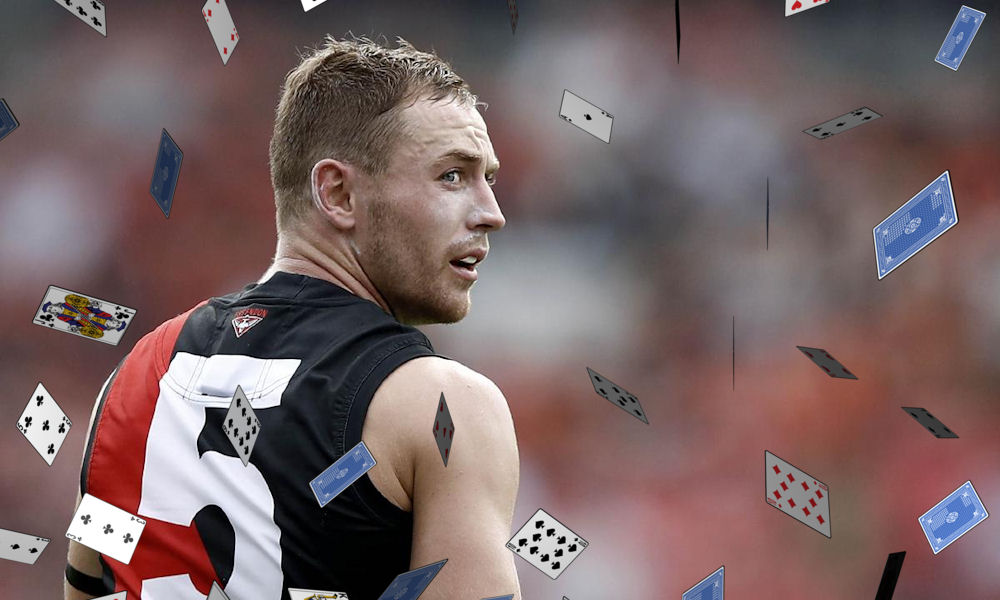 Name: Devon Smith
Team: Essendon
Position: MID/FWD
Price: $720,000
Bye round: 12
2019 average: 79.4
2019 games played: 7
Predicted average: 100
Draft range: 3rd-4th round
Click here for 2020 Fantasy prices.
Why should I pick him?
One of the few wins when positions were announced earlier this month was Devon Smith regaining FWD status.
He was largely irrelevant as MID only last season in Fantasy Classic, however plenty picked him early in Draft having an ADP of 13. This was off the back of his epic first season in the red-and-black where he played all 22 games for the first time in his career for an average of 106.6. An outstanding return that bettered his 94 from back in 2013 and the three previous seasons that saw averages of between 80-86.
The 107 average was pleasing for coaches who picked him as a bargain FWD selection. Smith went at 114 points per game from the byes with top scores of 150 and 142 thanks mostly to his high tackle numbers. He averaged 8.5 tackles per game to break the most tackles in a season record. This was an improvement on his 4.9 in his last season at the Giants.
Along with outstanding tackle numbers, he recorded career high disposal numbers (avg. 22) while averaging four marks per game.
Devon's injury interrupted season is now behind him and he's been "training the house down" this pre-season. He returned from the get-go and regained his firtness, speed and tenacity and shown genuine intensity on the track before Christmas.
A 9% discount has been applied to his 106.6 average as it was the higher of the last two seasons. While this doesn't make him as cheap as some would like considering his 2019 numbers show him going at under 80, he's priced at 97 which is more than fair considering the lack of premium 100+ forward options and the hope that he is back to his best, which all seems to be tracking that way currently.
In Draft, you would think he's going as a top 3-5 forward with the possibility he's the second best if he does go over 100 as Whitfield is the only player with FWD status who went triple figures last season. The fact that there's a 79.4 from 2019 next his name probably sees him slide in the draft for a few coaches. Depending on your drafting strategy, if you're getting him after the third round you're doing pretty well.
Why shouldn't I pick him?
2018 could be an aberration.
Anyone who smashes records or produces numbers a long way from what they've done in the past should be treated with caution. It was safe to call Smith a low-to-mid-80s type guy at the Giants. His move to the Bombers came with a midfield role, rather than the predominantly forward role with some stints in the guts that he was doing at GWS. In his second year at the Dons, he spent more time forward – which as in turn meant he is a MID/FWD for 2020 – but this was mostly after the corked quad he received in round three. That coupled with the knee that ultimately ended his season saw him managed by rotating forward and through the midfield as opposed to the mostly midfield role he had in 2018.
While a fit Devon should mostly see him as a midfielder, he has the ability to play forward and this may happen again.
With players like Darcy Parish, Andrew McGrath, new recruit Tom Cutler and even Kyle Langford pushing their case for midfield/wing time, there is some risk with role for Smith as things could be mixed up a bit going into 2020. Don't forget that Dylan Shiel wasn't a Don for that big 2018 average.
The big reason as to why you should pick Smith in Fantasy Classic, initially, is that the Dons have got the first bye (round 12) and with his price up there, he could be considered as an upgrade target. Even if he does smash out a 107 average like in the past, while it would certainly be a handy thing to have ridden those price increases and had those premium scores in the opening rounds, it wouldn't be a season wrecker. If it's one thing we've learned during the bye round is that having premium upgrade targets after the first bye is paramount for success.
Deck of DT Rating.
KING
Devon Smith will among the top ranked forwards and he'll be around about that 100 average. I am still keen to start him as a premium forward as I beleive he'll be a must-have in completed teams and the pre-season may force my hand if he'd doing all of the things we want/need in the Marsh Series. The issue is that there is some unknown and risk that doesn't offer much (if any) value if he is returning less than 100 average, especially over the opening weeks. Having that upgrade target is important. I made a mess of that in the byes this year. The correct answer was to not pay top dollar for Jack Macrae and grab him after the first bye. Devon, while not exactly fully priced, could be regarded as a similar thing. In Draft, I will be targetting him sometime in the third round, depending on how things have played out for me. It will all come down to what pick I've got and what I've been able to secure in the way of captains and other position. If he's there in the fourth round, I'll definitely jump on as even though he might be down the list for some coaches based on 2019 average, there will be plenty of savvy league members who will jump earlier than that!
Loading ...
FOLLOW US  ON TWITTER: @WarnieDT for all thing AFL Fantasy (and more). Got something to say about the deck? Use the hashtag… #DeckofDT.