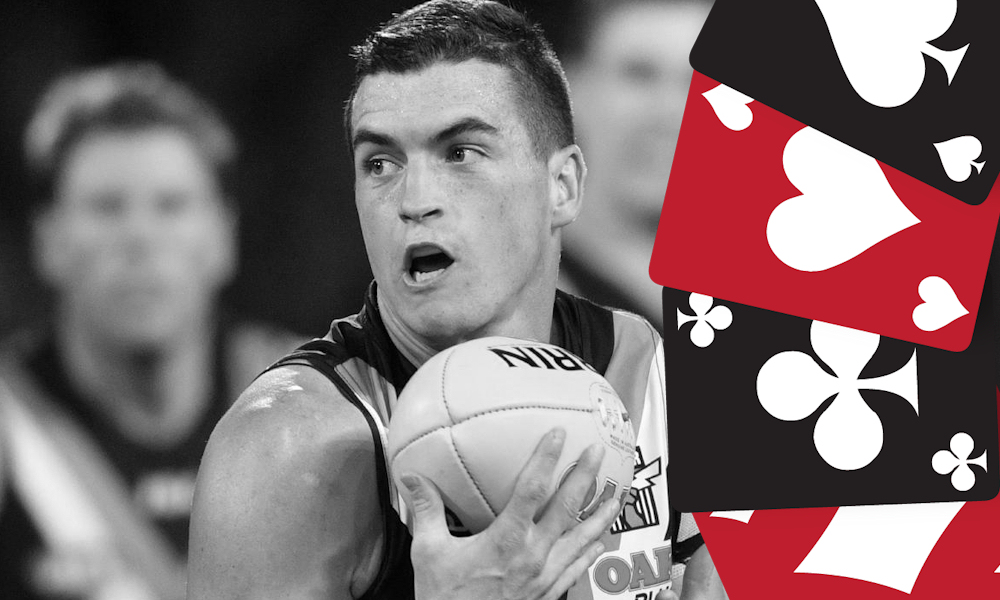 Name: Tom Rockliff
Team: Port Adelaide Power
Position: MID
Price: $600,000
Bye round: 12
2018 average: 82
2018 games played: 18
Predicted average: 100
Draft range: 25-30 (MIDS)
Click here for 2019 Fantasy prices.
Why should I pick him?
Rocky's debut season with the Power didn't go to plan for a number of reasons including an interrupted pre season, injury, role and taking a back seat on occasions to his established Power teammates. A culmination of this, along with the Powers low scoring AFL Fantasy ways resulted in his first average under triple figures for six years and the lowest average of his career if you discount the one game he played in 2009.
Taking all of this into account and considering he has enjoyed a far more successful pre season, it is hard to see how the Pig won't return toward an average of 100. We all know that at his best, he is as good as we have ever seen, highlighted by his world record average of 135 in 2014. In that season he did some ridiculous things, going over 150 on seven occasions, over 170 on three occasions, 180 on two occasions and scored 190 once. Technically, this makes him priced over 50 points below his best, how often can you say that about a player.
Michael Voss indicated an intention for the Power to unleash a quicker ball moving, more attacking style next year which would indicate more possessions and points to go around for for all the Power players and we know how Rocky has the ability to get amongst it.
Physically he is a far better off than this time last year as he mentioned in a recent press conference via the Power website and the fact he is playing AFLX is a sign he is in a good position:
"I feel like I'm much further in front of where I was this time last year. I've been in full contact now for two or three weeks and my shoulder has been hit quite hard. (Sam Powell-Pepper) got me the other day, blindsided me and felt really good, so I've passed the Sam Powell-Pepper fitness test and the body feels good. I did get (the surgery) done about a month earlier but I've had no hiccups this time around. I felt like I got a couple of knocks early on it when I went back into match simulation last year and didn't quite settle as well. The first time you go through it you're not exactly sure, you're sort of being guided a little bit, but doing it 12 months ago, I felt I was ahead of the game and knew the markers I had to hit before I got out there."
With Ollie Wines and Robbie Gray not 100% leading into the season, combined with the departure of Chad Wingard and Jared Polec, Rocky will have every opportunity to bounce back.
In 2014, Rocky laid double figure tackles on ten occasions and with his injured shoulder last year, managed to reach the feat on just two occasions. Three or four more tackles per game would make a phenomenal improvement to his output.
Why shouldn't I pick him?
Port are a hard team for individuals to consistently contribute from a Fantasy perspective, with Justin Westoff's unique skill set the only one capable of doing it last year. Shouldn't Ollie Wines be someone knocking on the door of 110 by now? not going backwards in his prime. Their current game style is a hand break and not a good hunting ground for Fantasy.
There is so much value this year with players like Merrett, Dusty and Adams presenting high end options, while cheaper players like Hanners, Libba and Miles leave Rocky in no mans land.
The game plan may not in fact change and it will be the same old story at the Power.
Find The Traders' podcast on: Apple Podcasts, Google Podcasts and Spotify.
Deck of DT Rating.
KING – Not often do I tell people to watch AFLX but if Rocky is looking like his old self physically, he is 20 points under-priced. Although he is not reaching the lofty heights of his World Recod year while at the Power, their much needed tweak to their game plan should suit him which gives him the opportunity to push triple figures once again. As mentioned above, he is in a tricky price range and not currently in my squad but I can be easily swayed by anyone with a snout that looks good in the JLT… Especially if his tackle count is up.
Loading ...
FOLLOW US  ON TWITTER: @DTTALK for all thing AFL Fantasy (and more). Got something to say about the deck? Use the hashtag… #DeckofDT.