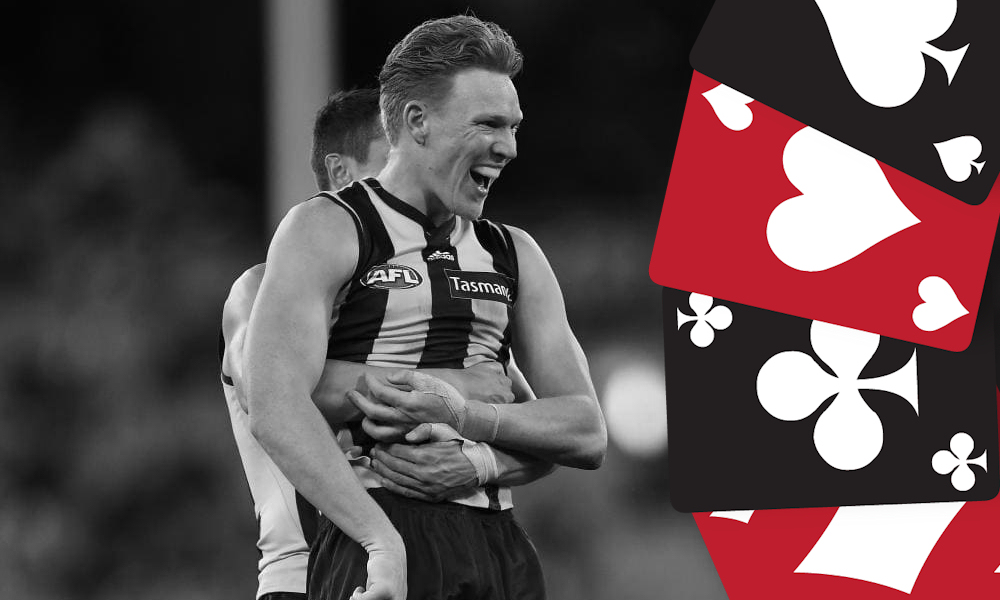 Name: James Sicily
Team: Hawthorn
Position: DEF
Price: $694,000
Bye round: 12
2018 average: 95.5
2018 games played: 14
Predicted average: 103
Draft range: Late-second to third round (fourth defender)
Click here for 2019 Fantasy prices.
Why should I pick him?
I've been making it my Fantasy-life purpose this pre-season to research the new kick-in rule and see who will benefit. That is, the players who are going to be the most likely to be taking the kick following a behind and who will also look to 'play on' as much as they can.
James Sicily is the man for the Hawks.
First things first, the SicDawg was sensational last season… in the games that he played. He managed to take his average from 74.3 in his third year to an impressive 95.5 for the 14 home-and-away games that he played. 10 of his scores were 90 or more with his best coming in round 7 against the Bombers with 135. The 21+ point increase on average was due to posting career high disposal numbers of 23.9 per game and taking 7.5 marks per game in a more settled role in the back half. This was a continuation of his finish to the 2017 season.
The rule changes suit Sicily and the Hawks will be keen to keep him in a similar role. Sicily will be Hawthorn's preferred man to take the kick-ins, as he was in 2018 when he played. Match simulation has seen him as the go-to man and a chat with a former student (former Giant and new recruit Tim Mohr) the other day when the Hawks were on their community camp visiting my school, he'll be used as much as possible. If Sicily hadn't have been injured at the end of last season, he would have taken more than 40% of the side's kick-ins. Ryan Burton ended up taking the most for the Hawks, but with his move to the Power, there will be less competition – although when Grant Birchall returns, he may take up some of the slack as he was Hawthorn's specialist in the  years prior.
There's little doubt in my mind that Sicily will play on the majority of the time he takes a kick-in to make use of his booming boot and gain extra metres when required.
Putting some sort of a figure on what he can produce, there's a minimum of five points upside, but we could see as much as 10 points and could make him the third or fourth best defender available by my calculations. Sicily sits behind Lloyd, Laird and Whitfield in my rankings but he could quite easily sit ahead of the latter if all goes according to my predictions.
It's not just the kick-in that should suit Sicily. His game style where he takes on his opponents and uses his run should see him rewarded. The Hawks will embrace this as Sicily is a great user of the ball and is one of the players that will keep the ball in the hands of the brown-and-gold.
Sicily has a scoring ceiling and consistency has built in the last 18 months to see him as a premium defender.
Why shouldn't I pick him?
Sicily is a yapper and has lost the plot on more than one occasion. We were quite entertained when he was 'Silenced by the Lamb' back in 2017 and some opponents get right inside his head. This was one of the key reasons I didn't start him last year, despite seeing upside.
He was also suspended twice last season. Firstly for a week following Hawthorn's round 2 clash with Geelong as he kneed Joel Selwood and then again for another week a couple of rounds later for stomping on the hand of North Melbourne's Shaun Atley. Dumb things.
Heading into his fifth season, hopefully some extra maturity helps the 24-year-old limit these brain farts.
SicDawg's body isn't really an issue. He broke his scaphoid in round 17 which saw him miss the final six games; frustrating his many owners as one of the top defenders in the Fantasy game. Before this, it was only suspension and form (early on) that has stopped him from playing full seasons.
The only reason you don't pick him to begin with is if you a) don't believe there is upside with the new kick-in rule, b) stress about suspensions, but hey, we get 2 trades per week to help with that, or c) you just want to go for him as an upgrade target to limit any risk.

Find The Traders' podcast on: Apple Podcasts, Google Podcasts and Spotify.
Deck of DT Rating.
QUEEN – For me, Sicily is a lock. He's a pretty safe bet to be a top six defender and the upside for him is potentially more than other premium defenders. Even if the SicDawg has some annoying traits, and as a supporter of a team other than Hawthorn he's probably one of those blokes you love-to-hate, there is no doubt he knows how to Fantasy. So long as he remains in the DEF role – the days of swinging forward seem over – and he's taking the kick-ins (Birchall is his only challenger and he may not even play early in the season), then you're going to be happy with the selection. Just hope that he doesn't get all Red-Bull SicDawg and get suspended. Depending on my pick in Draft, I would be happy to take him in the back-half of the second round if the other DEFs are off the board, but he most likely goes in the third. Although, as we know, every Draft is unique.
Loading ...
FOLLOW ME  ON TWITTER: @WarnieDT for all things AFL Fantasy (and more). Got something to say about the deck? Use the hashtag… #DeckofDT.