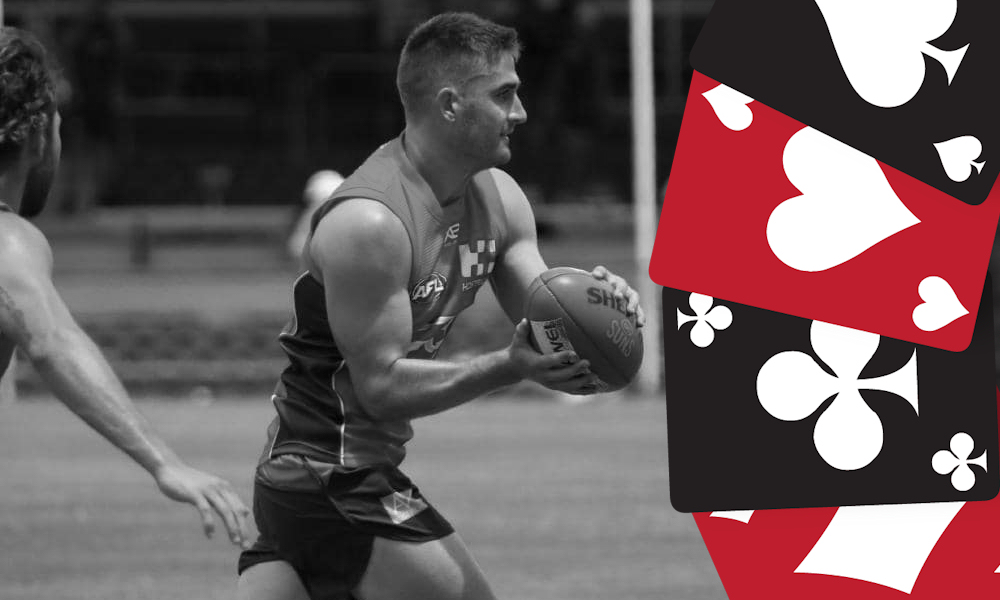 Name: Anthony Miles
Team: Gold Coast
Position: MID
Price: $425,000
Bye round: 14
2018 average: 78
2018 games played: 1
Predicted average: 84
Draft range: Very very late
Why should I pick him?
The price is right. Discounted down to an average of just 58.5, the price is definitely right. You'll only need $425K to secure the services of this lad who can potentially improve his average by 25+ points. But is that enough? What more do we need?
25-points is enough. Yes. The issue is, where does he slot into your superstar midfield? Liberatore (25%) and Hannebery (29%) are the two popular mid-priced players at the moment and old mate Miles (19%) is slowly being pushed to the side… and with plenty of mature-aged rookies coming through you can see why.
However, Miles' average will improve by a minimum of 20-points, and if he can push the 85 mark like Touk Miller, David Swallow and Jack Martin did last year, that's a huge 26.5 point gain.
He'll play midfield. Of course he'll play in the guts for the Suns, who else do they have?
The former joint JJ. Liston Trophy from the VFL in 2018 is ready to go. The Suns need a big-bodied guy and Miles will slot straight in.
His record in the VFL speaks for itself. According to Champion Data, of 508 players to play at least 10 games in the past two seasons in the VFL, Miles ranks inside the top-five for disposals, clearances, contested possessions and inside 50s per game.
Another tick next to Mile's name is the fact he won't break-down. Miles isn't coming off an ACL injury like Libba. Nor is he having hamstring issues like Hanners. He is fit and ready to go – in a team where he is drastically needed.
The man can score. Make no mistake about it, Miles can score. Over the last four years in the VFL (a real competition) Miles has averaged 105, 123, 105 and 110 averaging 30 touches a game.
Even at the AFL level, Miles hasn't struggled to pick up the points. Let's look back to 2014 where he averaged 89 from 13 games. The following year he played 23 games at 87 and then again in 2016 he averaged 86.
The thing is, he has only played six games over the last two years as he has slowly fell out of favour the Tigers. However, in his six games he did play – you guessed it, he scored well with two scores over 90 and the 78 he posted in his single game last year.
Why shouldn't I pick him?
Just play a rookie instead. For the first time in a long time, we have a huge crop of mature-aged rookies waiting to debut.
Bewley, Hind, Constable and Gibbons headline the group and by playing an extra rookie instead of Miles will save you $255K. That's the difference between Reece Conca to Patrick Cripps.
We can be safe to say, that these rookies will not average what Mile's can, and their job security isn't as good as his either.
However, they offer us significant cash for potentially 15-20pts less of an output. If we roughly say that $70K is 10pts, then the sums here simply just don't add up.
The other thing is, no one wants him.
GWS didn't want him, so he went to Richmond. Richmond didn't want him so he went to the VFL and from there… he's now at the Suns, who lets be honest, they will take anyone at the moment.
With so many departing players, of course they need him. The other issue is, with Gold Coast list this year, what can their midfielders score?
Fiorini (92) led the charge last year from his 11 games and other than Touk Miller and David Swallow, no other midfielders averaged over 75.

Find The Traders' podcast on: Apple Podcasts, Google Podcasts and Spotify.
Deck of DT Rating.
JACK – I do believe that Miles will be good this year. I believe he can average near the 85 mark and therefore he's certainly an option for your side. For me though, I'm currently out. I have lots of rookies in my midfield that I am comfortable with… until I see some JLT action that is.
Miles has a point to prove, but even with more midfield minutes, he has to do it at the Suns. A team that will be flogged every week. Hannebery is only $8K more and Libba is even cheaper. Both these guys are guns, who have averaged 111 and 97 in their own right.
At the end of the day, I won't be frowning at people who target Miles, I like it, it's just not for me.
Loading ...
FOLLOW ME ON TWITTER: @CalvinDT for all things AFL Fantasy (and more). Got something to say about the deck? Use the hashtag… #DeckofDT.