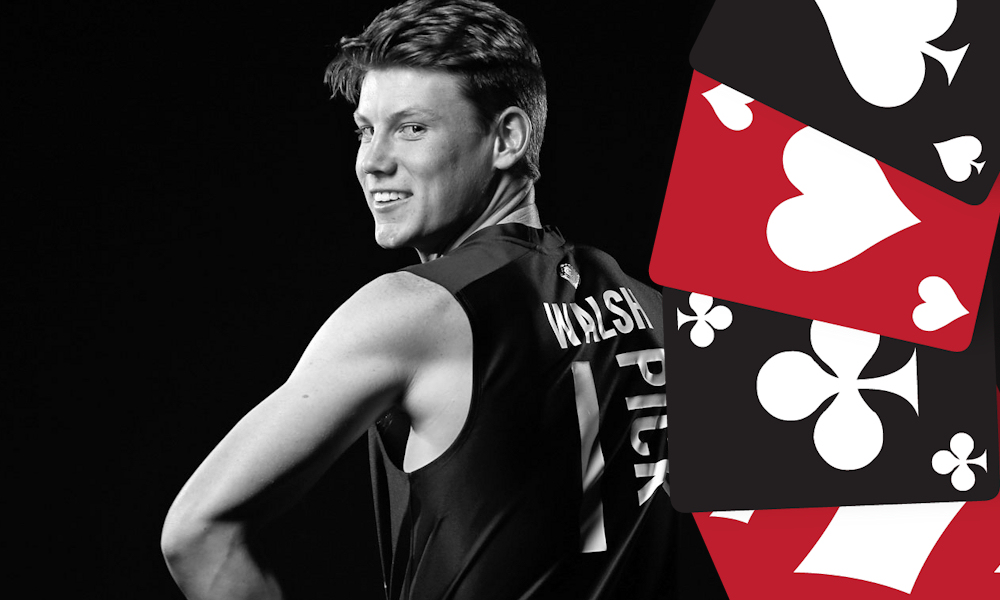 Name: Sam Walsh
Team: Carlton Blues
Position: MID
Price: $270,000
Bye round: 14
2018 average: N/A (TAC Cup + Under-18 AFL Championships: 117.8)
2018 games played: N/A (12 – TAC Cup, 4 – Under-18 AFL Championships)
Predicted average: 75-80
Draft range: Undrafted, potential last bench spot
Click here for 2019 Fantasy prices.
Why should I pick him?
To pay up or not? That's a question fantasy coaches are faced with annually when a new crop of youngsters enter the AFL ranks. There are always $170K players who fill out the final few spots in our squads, but the rookies with an inflated price tag are always a mainstream talking point. One of the most popular players picked at the moment in Sam Walsh (41.3%) is squarely in the middle of this debate and there are several reasons why you should pay up the extra coin to start with Carlton's newest star.
Fantasy scores haven't been kind to No. 1 overall picks in recent times. The last two top selections Cameron Rayner (2018, 56.8 average), Andrew McGrath (2017, 70.5 average) put forth dull fantasy seasons in year one as both guys spent chunks of time playing as a forward/defender respectively, hampering their scores. There's no such fear for Walsh, who put forth one of the most consistent and complete pre-AFL seasons we've seen from a draft prospect.
The ball-winning youngster DOMINATED the TAC Cup averaging a hair under 120 fantasy points from his 12 games last year, before backing it up with an average of 112 in his four National Championship contests. Throughout those matches, Walsh averaged 31 touches a game displaying a kick-happy style (18.2 kicks compared to 13.0 handballs) to his play as well – always a bonus. Averaging over five tackles a contest only further highlights how much of a unit this kid is.
Priced at just 37, there's a high likelihood that Walsh can average double that in year one, slotting into a Carlton midfield that's crying out for another contested ball winner to help out Patrick Cripps. The Blues were the second-worst team winning contested footy in 2018 and given Walsh's talents his job security is sky high, with Brendon Bolton eager to find a winning formula sooner rather than later. It's unlikely that opposing coaches will put all their time and effort into shutting down Walsh with his Brownlow calibre teammate in Cripps set to be a defensive focal point. Even if Walsh does start to dominate matches and warrant some attention, he has proven throughout his junior days that he can win the ball inside or outside, only strengthening his case for selection.
As someone who paid up for Tim Taranto, Andrew Brayshaw and Tim Kelly in year's past I'm a fan of spending the necessary money on expensive rookies with great job security. While you can save some money and choose another cash cow, I can't see a scenario where Walsh plays less than 20 games in 2019, barring injury of course. Should he hold his spot in the Carlton side then Walsh could be a long play for the upcoming season, giving us a reliable rook who shapes as one of our final upgrades after he has fully fattened in price.
All reports coming out of Carlton's pre-season training indicate that Walsh is a near lock for a Round 1 debut, with Kade Simpson declaring that he's 'yet to see a weakness' in their newest recruit. Good enough for me.
Why shouldn't I pick him?
I've made my place on top dollar rooks pretty clear, but I'll dig to find some reasons not to start with Walsh.
Let's talk about his price tag. The $270K midfielder is the most expensive cash cow up for grabs and there is certainly appeal in starting without him. Basement priced players like Brent Bewley, Charlie Constable and Nick Hind are all viable starters that can help you save a ton of money to use elsewhere. When building your starting side one thing that regularly gets prioritised is value. Opting to start without Walsh may be the difference between starting with a player you want or a player who fits your leftover budget, which isn't exactly how you want to start the year.
Even though he owns a low breakeven, Carlton's starting fixture could make it tricky for Walsh to score at a high clip right out of the gate. Richmond is their first opponent and we all know how Carlton v Richmond has unfolded in the past, with the Tigers winners of seven straight games and not traditionally known for playing in high scoring fantasy games.
Following that the Blues will face Port Adelaide and Sydney, two sides that were in the top four for fewest fantasy points allowed last season. There's a slight reprieve in Round 4 for the Blues as they make a trip to Gold Coast, who were the only team to record fewer disposals and fantasy points last season than Carlton in 2018. Waiting until that Round 4 matchup to pick up Walsh isn't a crazy idea, with Patrick Cripps (162) and Marc Murphy (139) feasting on the Suns last year.
The Blues did a fine job of sticking to their blueprint and drafting more talented youngsters, but none of their new imports are expected to completely turn Carlton's fortunes around in 2019. If the losses flow early, a slow start against stingy opponents means we could see some ugly scores for Carlton. I can see the merit in taking a wait and see approach to maximise dollars in other areas and should Walsh produce early, by all means, jump on the bandwagon.

Find The Traders' podcast on: Apple Podcasts, Google Podcasts and Spotify.
Deck of DT Rating.
JACK – I want to put Walsh as a Queen, but someone who may average 75-80 probably deserves his label as a Jack. If starting Walsh is the difference between getting a player you desperately want or missing out then, by all means, pass on the Carlton gun. However, I think the Blues prodigy will put forth a Rising Star calibre debut season with every chance his game translates perfectly to the AFL. That's too good for me to pass up.
Loading ...
FOLLOW ME ON TWITTER: @SportsbyFry for all things AFL Fantasy (and more). Got something to say about the deck? Use the hashtag… #DeckofDT.