Marcus Bontempelli – Deck of DT 2019
The Bont is underpriced from last year, does that mean we should be picking him this season?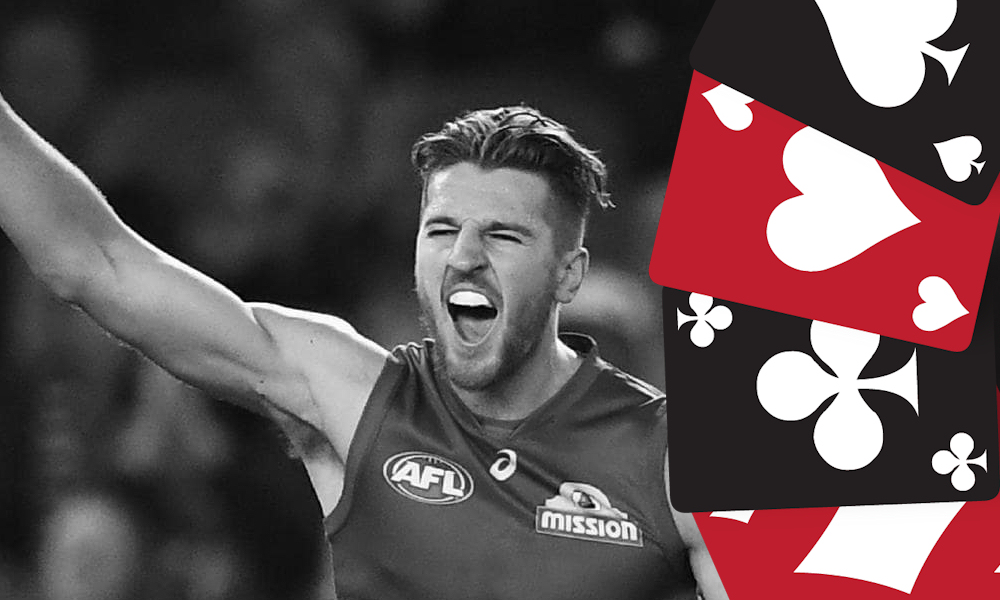 Name: Marcus Bontempelli
Team: Western Bulldogs
Position: Mid
Price: $671,000
Bye round: 12
2018 average: 92.4
2018 games played: 19
Predicted average: 100
Draft range: 100-125
Click here for 2019 Fantasy prices.
Why should I pick him?
It seems that every season the Bont comes into calculations for every team at some stage during the year, whether that be in the starting squad or as a downgrade/upgrade target. This is generally due to his price. He has always been around that price that makes him an attractive upgrade if you don't quite have the cash. Or if you need some cash in your starting squad he could be that player that you can drop a premium to that generates you that little bit of cash.
Whilst it seems like he has been in the league forever this is just his 6th season. Over this time he has averaged 69, 92, 98, 100 and 92 so we can see that he didn't have a great season in 2018 and his average went down for the first time. This leaves him at least 6-8 points underpriced from the previous two seasons whichever way you look at it. Over the first half of the season he averaged 87 but lifted that to 97 for the second half of the season, and if we look at the last four weeks of the season he managed 117.5. He did have some injury issues during the season playing his lowest amount of games since his rookie season and he was hampered at the start of the year. So based on all of this we can see that he does provide us with a decent amount of upside on his price if he has a full pre-season and gets through unscathed.
With the emergence of other guns through the midfield and up forward for the Dogs this means that they will now attract a lot more attention, attention that would have previously gone to Bont. With players like Macrae possibly getting the tag and Dunkley will have to be watched also this should allow Bontempelli to be unimpeded and free to run through the midfield and rack up the touches.
Why shouldn't I pick him?
As I outlined above, Bont hasn't averaged over 100 in his career to date and actually went backwards last season. This is a massive concern, it isn't like he had a bad season that dropped from a 110+ average. Add to this the fact that we now have players like Macrae, McLean and Dunkley running through the midfield taking away possessions it doesn't look good for Bont. For me this is the main reason that I don't think we can select him. Having never averaged over 100 for a season means we can't pay the big bucks for him unless we think he can break out, but really nothing points us to that conclusion.
Bont has spent a fair bit of time forward in recent years, but not quite enough to have that Fwd status. Unfortunately his time up forward sees his scores drop, his height and big body make him the obvious choice to go up forward. Unless he starts kicking goals (he averaged 1.16 per game last season) whilst he is up forward his points will not pick up to the level we need.  The only thing that can help us is if he does play enough up forward to get Fwd eligibility during the season.

Find The Traders' podcast on: Apple Podcasts, Google Podcasts and Spotify.
Deck of DT Rating.
CARD – Queen. Whilst the Bont is a great player, it just hasn't been translating to scoring. The biggest issue that I have with selecting him is that he hasn't averaged over 100 yet in his career. Yes he is underpriced on his best, but he needs to continue that production that he has been showing in the last few weeks of last season. I think that he falls into that 'wait and see' category and he could become an upgrade target. We need to see what his role is and how his role translates to points this season.
For those that play Supercoach, he is a better supercoach scorer than he is a Fantasy scorer. He averages in the low to mid 100's over the last four seasons in that competition.
Loading ...
FOLLOW US  ON TWITTER: @DTTALK for all thing AFL Fantasy (and more). Got something to say about the deck? Use the hashtag… #DeckofDT.