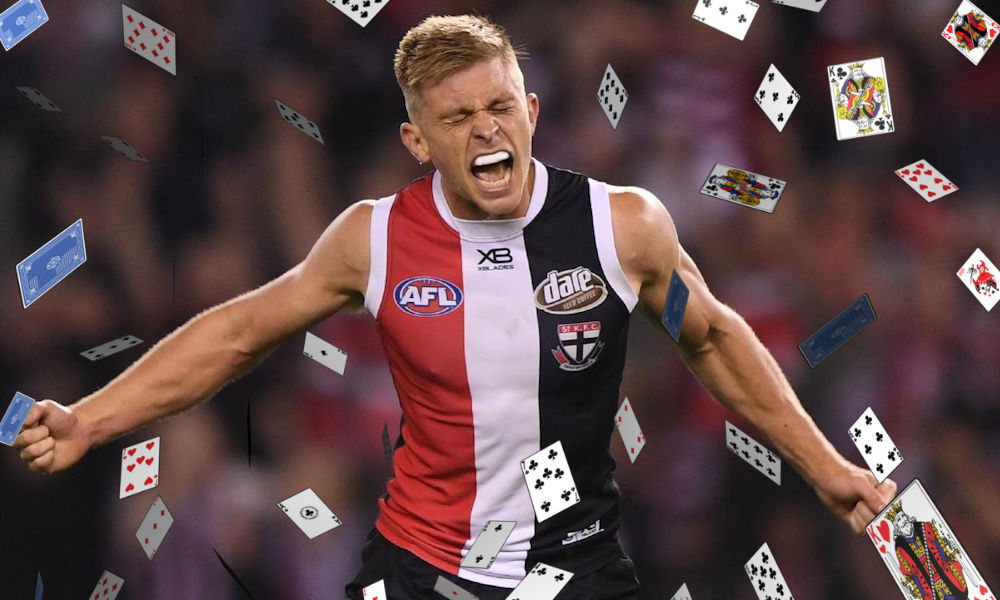 Name: Seb Ross
Team: St Kilda
Position: MID
Price: $700,000
Bye round: 12
2019 average: 94.3
2019 games played: 22
Predicted average: 103
Draft range: Approx. 5th-6th round
Click here for 2020 Fantasy prices.
Why should I pick him?
Ross averaged 107.3 from 21 games in 2018 but dropped to 94.3 last season. Under Alan Richardson, Ross averaged 90 until Brett Ratten took the reigns and went at 106 for the last six rounds.
These are the key stats that make Seb Ross appealing in 2020.
Last season it was all about picking the midfielders who were priced in the 90s and ended up averaging triple figures. Some would be keepers, while others would be a means to an end; the stepping stone. While for most Ross would be the latter, that is unless he goes 107+ again or even pushes to 110+, the Saints' early draw looks fairly solid for opponents. According to Cal's Scale of Hardness, they only have the Eagles But play them at Marvel) and GWS that come from the top six harder teams to face for midfielders.
The 26-year-old has missed just one game in the last four seasons where he has returned averages of 98.4, 102, 107.3 and 94.3.
Let's look at that epic 2018 season.
After a slowish start, he averaged 115 from the bye which included an epic final six rounds with scores of 121, 105, 160, 143, 107 and 122. That round 23 score is now infamous as it helped Selby Lee-Steere achieve the incredible feat of being a back-to-back AFL Fantasy Classic champion. In each of those six games he registered disposal tallies of 30+ to go with the 7 he had already ammassed in the lead up to round 18.
Fingers crossed that Brett Ratten wants the ball in his hands. Ross is a Fantasy jet when given the opportunity to rack up touches, having a +13 point differential in wins. He has shown a ceiling over the last couple of seasons with a dozen scores over 120.
Why shouldn't I pick him?
There is a huge possibility that Ross doesn't average triple figures. While things looked positive last year when Ratten took over, a 146 v Melbourne where he had a day out with 31 disposals, 7 marks, 9 tackles and 2 goals helped him to a whopping 146. While there were scores of 97, 112, 99 and 103 following that to finish the season, they weren't exactly earth shattering.
Ross had 10 scores of 86 or below which was up on the 6 he had in his career year of 2018.
Those figures are a bit frightening as we need everything to go right to get the value we need from a sub-premium player priced like Ross. You'd need him to be scoring 100+ consistently otherwise one of those 50s, 60s or 70s will definitely hurt the price growth, especially if you are treating him as a stepping stone.
While it would be great for him to be a keeper, which that 107+ would put him right in the zone of that – or at least a low priority upgrade – a lot of coaches would be keen to run with Ross as a stepping stone. The issue here is that the Saints have the first bye. This isn't ideal if you're looking to offload him around this time; especially, too, as St Kilda play the Suns in round 13.
Another factor to consider is the state of St Kilda's list. A twitter exchange with Saints man Tim Rosen started with his comment that he doesn't "even have him guaranteed best 22". While I don't buy this, Tim has a few good points. Jack Steele, Dan Hanenbery, Jade Gresham, Hunter Clark and even Luke Dunston are in the midfield mix. Don't forget they also added Brad Hill in the offseason. Couple that with Jack Bytel who should make his debut early in 2020, that's a lot of bodies to fit in there for clock, let alone games.
One of the players to benefit from Brett Ratten taking over as @stkildafc's coach was Seb Ross. He was +12 on his season average under the new coach.https://t.co/WCzJ732PZI#AFLFantasy pic.twitter.com/04za2CWAHO

— AFL Fantasy (@AFLFantasy) December 26, 2019
Deck of DT Rating.
QUEEN
I'm completely torn here. The key to success last season was picking a Ross type who skyrocketed their price/output and got coaches off to a flier. But despite plenty of reasons why Ross could or should work, there are a few coming back the other way that adds to the risk. A pre-season watch for how the Saints will be using their midfield and whether Ross is a first-choice inside guy will help determine things. When it comes to Fantasy Draft, surely he is better than the 94 he'll be listed at. I'll be ranking him in that 100-103 range, but I don't think I would be willing to take him too early.
Loading ...
FOLLOW US  ON TWITTER: @WarnieDT for all thing AFL Fantasy (and more). Got something to say about the deck? Use the hashtag… #DeckofDT.