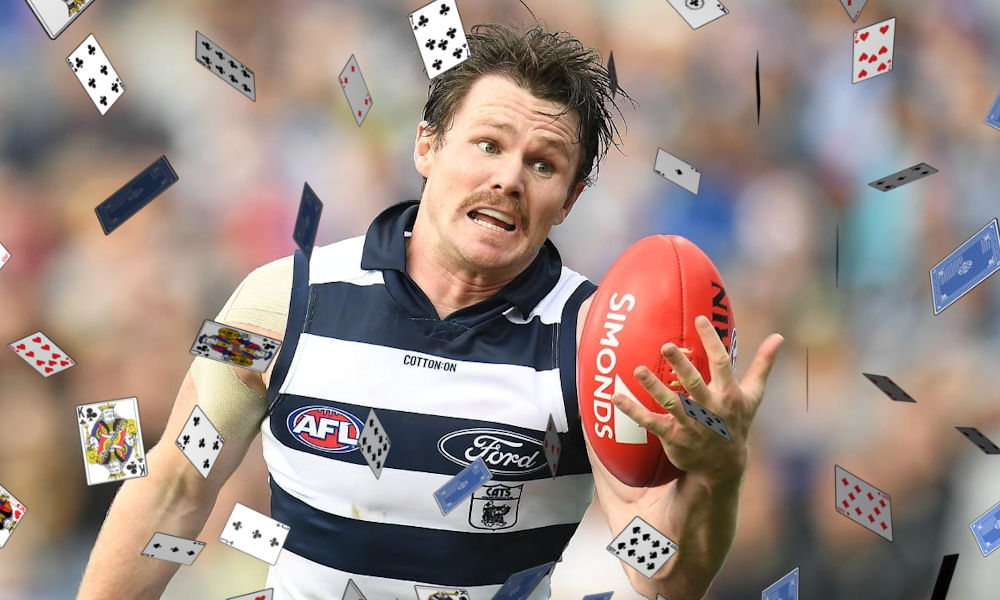 Name: Patrick Dangerfield
Team: Geelong
Position: Midfielder
Price: $798,000
Bye round: 12
2019 average: 107.6
2019 games played: 21
Predicted average: 115
Draft range: First round
Click here for 2020 Fantasy prices.
Why should I pick him?
Firstly, we need to talk about the pink elephant in the room and that is the relationship between Dangerfield and myself.
Over the last few years, we have grown apart due to his random low-scores and the dramatization that goes along with him wherever he goes. This article will be written with this in the back of my mind, but a fresh and open mindset as we have now started the new year.
Dangerfield is a beast. No one can knock what this fella can do when he is on. However in 2020, he has lost his forward status and can now only be selected as a midfielder. While this is a deterrent, I'm here to cast a different lens over Dangerfield as many will be looking in other directions now that his status as changed.
Dangerfield has averaged 108, 106, 121 and 118 in the last four years.
Now here I go, as this is where it gets interesting, as I make a case for Dangerfield to be top 3 averaging midfielder this year!
He was rolling nicely in 2016 (avg. 116) and 2017 (avg. 121) prior to the arrival of Tim Kelly. Kelly effected Dangerfield the most. Just look at those averages prior to TK's arrival, and then the two averages with Kelly.
I'm arguing today that Dangerfield will average 115 this year.
His average of 108 from 2019 was effected by some mediocre efforts that included a 38 (injured), 66 (near reported and tagged) and a 65. If… and we can do this… exclude those scores from his overall tally, then he would have averaged 116 for the season. This would have ranked him as the #1 midfielder in the game just ahead of Jack Macrae.
He also finished the home and away season strong to averaging 127 in his last three games.
Last year, Kelly attended 71% of all centre bounces, the MOST of any Geelong player. It's worth noting that Dangerfield was second on the list and in the games he played and that Joel Selwood only attended bounces on 40% of times when he played. Thanks Freako for those numbers!
Dangerfield is now back to being their #1 man, just like he was when he averaged 118 and 121, which happened to be his BEST EVER Fantasy seasons.
The Tim Kelly effect is real – and Dangerfield was the main guy who felt it.
Finally, he can smell another Brownlow. There was a time last year when Kelly held Brownlow favouritism and then later in the year Danger took to mantle. Now that Kelly has gone, Danger is the top Cat and will stop at nothing for another individual accolade.
Why shouldn't I pick him?
It's obvious isn't it – the head ache that comes with the name who can dramatize anything. From this, he hasn't played a full season in three years and always misses one annoying game, where you don't know if you should trade or hold. 99% of the time getting it wrong.
They say you end as good as you will start the next season, and with that, Danger averaged 94 in his three AFL Finals which doesn't paint a great picture.
Let's not forget, he's only a midfielder!
These guys are a dime a dozen, there are so many under-priced gun midfielders to pick from. In the past we have been 'forced' in a way to start with Danger and roll with him all year long as a forward. You don't have to do that anymore and your headache of the Drama Show can now be eliminated.
Let's not forget what a wise man once told me, "burn me once shame on you, burn me twice, shame on me."
Deck of DT Rating.
ACE
He's an ace. A Brownlow medalist who is potentially 10-15 points under-priced based on what he has done before AND what he did before Tim Kelly turned up and hogged all the CBA's and midfield time, forcing Dangerfield to the forward line. This will not happen again and Danger (my mate once again) will be unique and an awesome starting option in your team. Oh and before you attack the poll – please note, his average of 108 this year ranks him currently at #9 on the list. Then consider that TK has gone.
Loading ...
FOLLOW US  ON TWITTER: @DTTALK for all thing AFL Fantasy (and more). Got something to say about the deck? Use the hashtag… #DeckofDT.