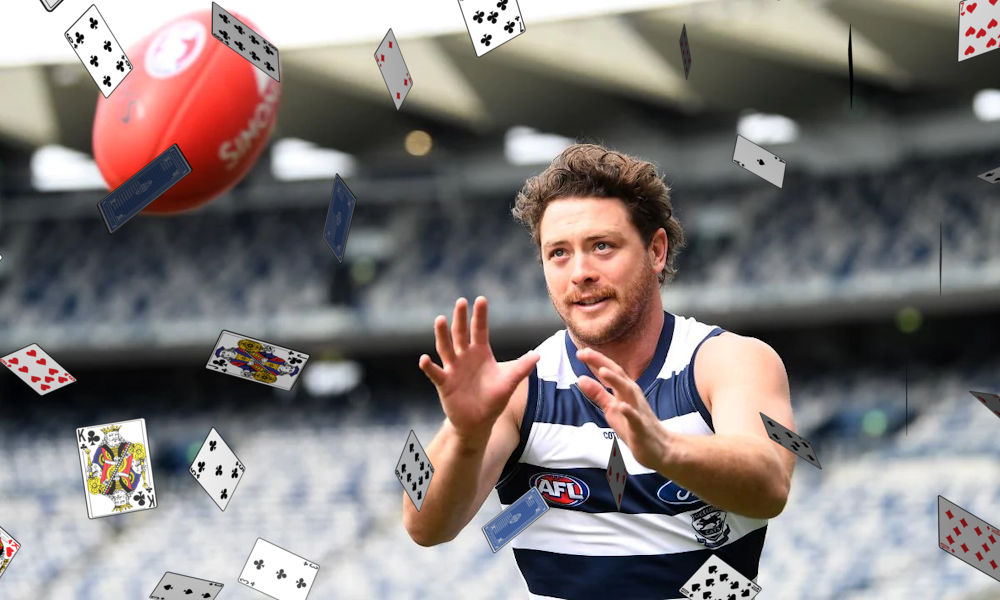 Name: Jack Steven
Team: Geelong
Position: MID/FWD
Price: $653,000
Bye round: 12
2019 average: 76
2019 games played: 7
Predicted average: 90
Draft range: Rounds 8-12
Click here for 2020 Fantasy prices.
Why should I pick him?
Jack Steven's averages from the years before last tell a pretty impressive tale on their own.
111 from 22 games
104 from 22 games
94 from 20 games
97 from 22 games
Priced at an average of 88 that alone would suggest he's coming into this season underpriced. Is he still that player though?
In his come back game last year from a lengthy mid season lay off Steven scored 105 points even while carrying by his own admission 'a few extra kilos'. Trimmed down again and tearing up the preseason track in new club colours, Steven looks set to slot into the Tim Kelly shaped hole left in Geelongs midfield, we can only hope he'll also be taking Kelly's share of the points!
As a pure mid I'm not sure many would be considering Steven this year but with forward eligibility he has to be in your calculations. Whitfield, Greene, Martin and Walters are the only 4 players currently with forward eligibility who averaged over 90 last year.
With Greene and Walters both looking set for less midfield time this season, if Steven gets that midfield role at Geelong we could be looking at a top 5 forward by the end of the year.
Why shouldn't I pick him?
Steven enters this season as a 30 year old fighting for a place in Geelongs midfield. While Tim Kelly leaving should open up a position, the Cats still have an eye towards youth while chasing a flag for its ageing list.
Young players liked Constable have been starved of opportunity while putting up great numbers in the VFL and Geelong knows if they don't give them game time soon they could risk having them poached by other clubs. While I don't think Steven will be dropped to the VFL I think he has more to offer as a forward than Constable, meaning if he plays more forward time we aren't sure what type of scores he'll put up.
Being priced at 88 is really only value if he is playing in and around the ball, if he spends more time forward than midfield he may end up losing cash.
Deck of DT Rating.
QUEEN
If Steven gets that midfield time I have no doubt he'll be a top 5 forward by the end of the season. If he doesn't get it I'll be banking on the fact that Gary Ablett Jnr played predominately in the same forward line last year and averaged 88.7. The points are there if he wants them!
FOLLOW US  ON TWITTER: @DTTALK for all thing AFL Fantasy (and more). Got something to say about the deck? Use the hashtag… #DeckofDT.