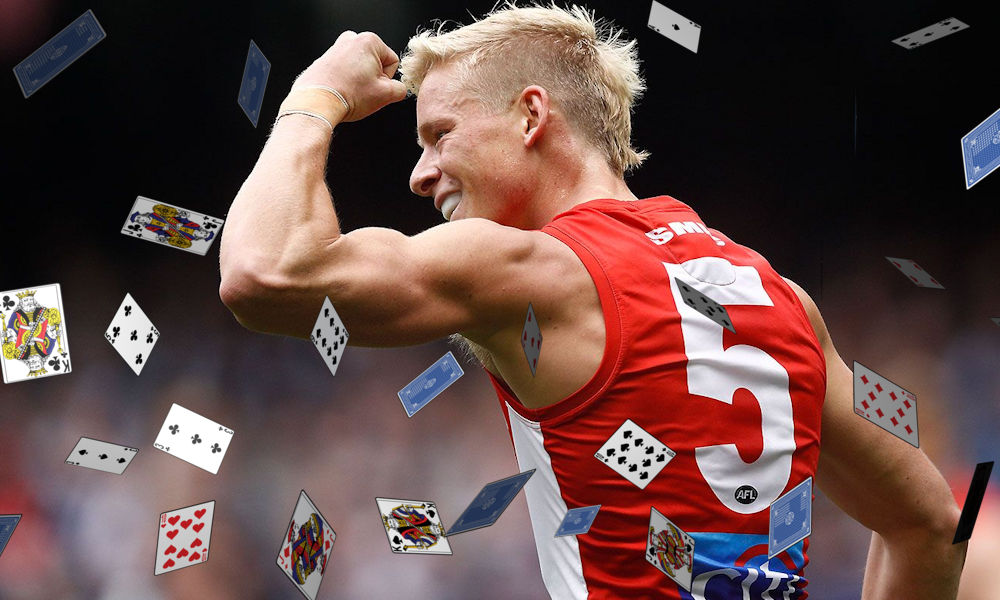 Name: Isaac Heeney
Team: Sydney Swans
Position: MID/FWD
Price: $666,000
Bye round: 13
2019 average: 89.8
2019 games played: 22
Predicted average: 93
Draft range: Round 3-4 as a forward
Click here for 2020 Fantasy prices.
Why should I pick him?
We have all been waiting for Heeney to break out to be a must have 100+ averaging premium for a while now and we all select him hoping that this will be the year that it finally happens and each year we have been disappointed. Well, During this off season there have been a couple of things that have started to indicate that it might finally happen.  Here are a couple of them.
Buddy is Back! Over the past few seasons when Buddy has been struggling with fitness the Swans have had to play Heeney up forward, but we are hearing that Buddy is ripping up the track and raring to go (maybe a bit of editorial license there, but he is apparently fit). So this should then release Heeney to be able to play up the ground and hopefully more in the midfield and hence boost that average from the 90-92 region that it has been over the past three seasons.
Rebuild Time? The Swans missed the finals for the first time in a few seasons and they could be looking to make a few changes. We all know that John Longmire is notorious for not giving the younger blokes a go but surely Heeney doesn't fall into that category anymore. With the likes of JPK and Parker not getting any younger in that midfield it should open the door for Heeney.
DPP Status. Now whilst the other reasons may not be strong enough to make him a must have, this should push you over the edge. This season we have seen a big drop in the players that have DDP Fwd/Mid status at the start of the game. If we have a look at those players that do have this eligibility this year we see that Heeney has the fourth best average from last season behind Whitfield (113.8), Dusty (97.1) and Walters (93.5). The players immediately below him on the list include Ziebell, Darcy MacPherson, Lipinski and Jack Martin. If I was looking for the cheaper DPP player that I know will score each and every week for me from that list it is Heeney. The only others I trust on that list are Whitfield and Dusty (Walters has burnt me way too many times in recent seasons).
On top of all that we know that he has that innate ability to get himself to 85+ even when he is sitting on 30 at 3/4 time.  He just seems to find the footy in the last quarter and get his score to something respectable.
Why shouldn't I pick him?
Inconsistency. During 2019 Heeney had 9 scores that were 85 or less to go with his 9 scores over 100 and not only were there 9 under 85 but 5 of those were sub-70. When we are looking to select him as a set and forget forward premium we simply can't have scores under 70. A lot of this scoring inconsistency comes from his role. He can be put up forward to be a marking target and if the Swans aren't getting the footy up forward (like 2019) too often then his scoring will definitely suffer.
Like many I started with Heeney in 2019 but after starting with an 85 and a 58 I traded him out only to see him go over 100 in the next three. But from rounds 6 through to 11 he didn't hit 100 and averaged just 76.8. You would be better off paying the extra $60k and taking Dusty as your second DPP Premium (assuming everyone has Whitfield).
We can't talk about a Sydney player without talking about the Horse Factor. Longmire has long been one of the Coaches that us Fantasy coaches don't trust. Just because Heeney has a big game in the midfield in the Marsh Cup or even in the early AFL Season it doesn't mean he will be there for long. I mean, how many years now have we been waiting for Heeney and Mills to play in that midfield together and it just isn't happening, and let's not forget what he did to the Pig, Tom Mitchell.
Will we see Callum Mills and Isaac Heeney improve in 2020? @CalvinDT doesn't think so.https://t.co/wsRx4nycb9#AFLFantasy pic.twitter.com/nG1GzM6vak

— AFL Fantasy (@AFLFantasy) December 25, 2019
Deck of DT Rating.
Queen
Having been a Heeney owner on numerous occasions before I am sure that I will be again at some stage this season, but I am just completely unsure as to whether or not I will start with him. I just don't trust that he will have that role that will see him push is average over the low 90's that it has been for the last few seasons. A lot of this decision will come down to just how fit Buddy is and how mobile he will be in regards to being able to work up the ground. But when we sit back and look at it he is one of the top 6 averaging forwards going into the season so does deserve serious consideration to be in that starting line up.
In Draft Heeney will be one of the early forwards off the board. His 90 (the fifth best by anyone with forward status this year) in the draft format will see him a valuable commodity. He should go fairly early and I wouldn't expect him to be on the board after the 4th round at the latest.
Loading ...
FOLLOW US  ON TWITTER: @pkd73 for all thing AFL Fantasy (and more). Got something to say about the deck? Use the hashtag… #DeckofDT.