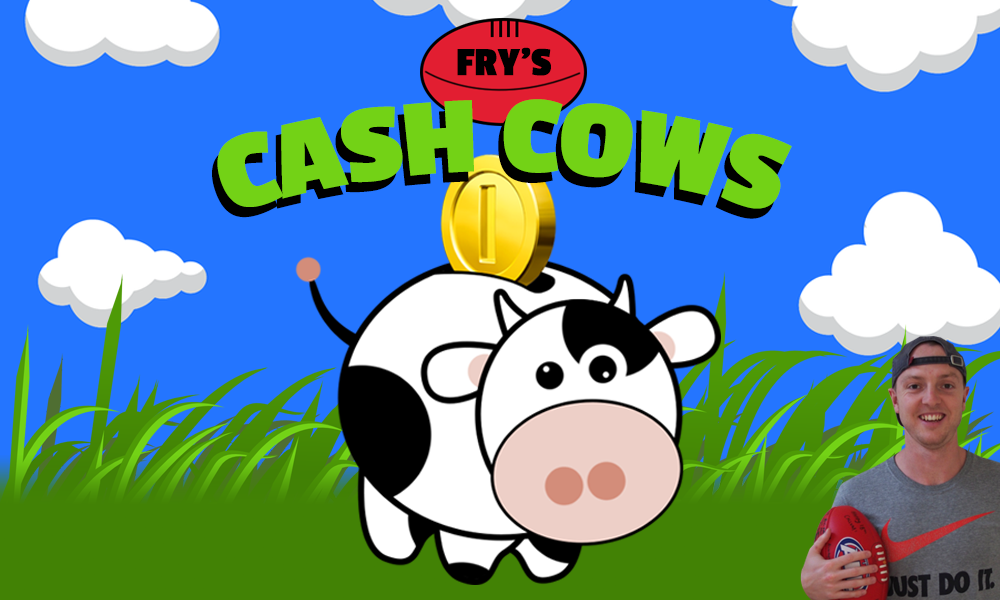 It's that time of year again with (insert new name of preseason comp) about to get underway! As is the way annually, finding the right cash cows and rookies for your starting outfit is crucial for fantasy success and in 2020 there are a TON of options for coaches to consider. Below you can find the club-by-club preview to help identify the relevant names you need to watch in the coming months, however, it's important to back in the research you have done so far.
A few dominant Marsh Series games could see a $170K player earn a Round 1 debut, but that doesn't mean A) they'll be there in Round 2 or B) you should drastically change your team to find room for them. Take the next few weeks worth of games with a grain of salt as clubs will be doing a lot of trial and error while the superstar players rest and keep themselves cherry ripe for when the real contests begin.
Last year I crunched the number of debutants that had appeared over the past five seasons, so I thought I'd continue the trend and share them again. These numbers might not amount to much, but last season we saw 78 players make their debut with Richmond and Melbourne leading the way by blooding seven players each. In the last five years, the Tigers were second only to Fremantle and the Gold Coast for debutants, which is funny considering the difference between the three clubs on the field. However, those three along with a handful of other teams appear set to run a lot of youth onto the park again this year, which is important to remember when you're building your initial squad of 30.
Debutants: 2 in 2019, 20 since 2015
No Crow is in more fantasy teams at the moment than basement pricer Ned McHenry (MID, $170K, 38.7%). After failing to make his AFL debut in 2019, McHenry still contributed at the SANFL level averaging 81.3 fantasy points from his 10 games. The small forward turned midfielder gathered 18 touches a game for Adelaide's reserve side and could find his way into the senior team after an offseason of change at West Lakes. Another key contributor at SANFL level for Adelaide was Shane McAdam (FWD, $170K, 7.9%) who will look to put his own injury issues aside in 2020.
The mature-ager's first year at the club didn't go according to plan, but he was still able to kick 22 goals in the two's – second only to Tyson Stengle for the SANFL Crows. He could provide Adelaide with another weapon in front of the sticks while giving fantasy coaches a source of points (58.8 average from 14 SANFL games) at a minimal cost.
Aside from that duo recent draftees Fisher McAsey (DEF, $260K, 3.7%) and Josh Worrell (DEF/FWD, $216K, 2.7%) are bound to generate interest from coaches with both in line to fill key position places left by the likes of Josh Jenkins and Alex Keath. Don't expect either guy to average 70+ in year one, but if they can hold down a place in Adelaide's best 22 and feature in 15 or more games, then they could be nice money makers for the year.
Debutants: 2 in 2019, 27 since 2015
The Lions only gave two cubs their senior debut last year and I don't expect a high number of Brisbane's new players to cue up for regular AFL action this season either. One player who could break that trend is Deven Robertson (MID, $228K, 8.8%), who made a heavily documented slide down the draft order that actually helps fantasy coaches.
Loading ...
Touted as a top-10 pick, Robertson lasting until the 22nd pick means he comes handily $20K-$30K cheaper than some of his similarly skilled peers. Every dollar counts when building your starting team and after averaging 30 touches and 113 points during the U/18 carnival, Robertson could be instant fantasy value if he's picked to play. The former WA-skipper finds himself in a quite a few teams, but no Lion cash cow is more owned right now than Brandon Starcevich (DEF/MID, $189K, 34.2%). After featuring in one AFL game last year and five for his career, Starcevich will look to put his injury issues behind him in 2020.
Having spent most of the last two years in the NEAFL (26 combined games for an average of 63 fantasy points), there's a chance we could see him roaming across the half-back line for Brisbane. Aside from Starceivch and Robertson, don't forget the likes of Ely Smith (MID/FWD, $170K, 6.7%) and Matt Eagles (DEF, $170K, 5.5%) who could emerge as prominent rookies if they're given the chance to play.
Debutants: 4 in 2019, 24 since 2014
Last year we were spoilt for choice when it came to Carlton rookies, with Will Setterfield, Sam Walsh and Michael Gibbons all greatly assisting coaches throughout the year. This time though, there isn't a ton of value in the Blues from a cash cow perspective, with Hugh Goddard (DEF, $170K, 29.9%) the only sub $300K player appearing in a lot of teams right now.
After years of flirting with relevance, Goddard managed to play multiple games last season for the first time since 2015. He didn't exactly set the world on fire, with scores of 16 and 31, however, Goddard did average 81 points from his 14 VFL games which could lead to him making some senior appearances in the upcoming campaign. Even if that does happen though, I can't see Goddard thriving in a defense that houses Nic Newman, Kade Simpson (albeit a 35-year old version) and a now-healthy Sam Docherty.
Top-20 selections Brodie Kemp (MID, $238K, 0.7%) and Sam Philp (MID, $232K, 0.7%) could come into consideration throughout the year but given their slightly inflated price tag, I'd advise against starting with either of them. Kemp is recovering from an ACL tear so he may not even sniff senior footy this year while Philp's speed could be an added boost, however, he'll likely start the year in the VFL. Last year's top draftee Liam Stocker (DEF, $285K, 2.7%) could see his ownership spike if he performs well in the Marsh Series, but I'm not a huge believer of his fantasy chops after scoring less than 55 in all his five games last season.
The only other player who could be on the radar for fantasy relevance is tall big man Tom De Koning (RUC, $190K, 2.2%) who might be given a handful of games if injury strikes ruckmen Matthew Kruezer and/or Marc Pittonet.
Debutants: 2 in 2019, 23 since 2015
Just because we've eliminated one ruck bench spot doesn't mean that Darcy Cameron (RUC/FWD, $170K, 42.9%) is unwanted! In fact, one could argue that now Cameron is on the Magpies, his fantasy value actually increases – with the ability to add a security blanket for Brodie Grundy at a bargain price. That's part of the reason Cameron is the 9th most selected player so far, with the $170K bench option set to be a popular pick once again.
Trent Bianco (DEF/MID, $182K, 11.7%) is the second most popular cash cow at the Pies right now, with the Oakleigh Chargers skipper highly rated at the club. They were chuffed to land him with pick No. 45, deflating his starting price for coaches, but the hardest task ahead for Bianco and his other rookie teammates is holding down a regular spot in this Collingwood 22.
Their could be one opening in the midfield following the bombshell Dayne Beams dropped on the AFL world over the weekend. With the jet premiership player announcing his retirement the likes of Rupert Willis or Brayden Sier could step up to the plate, but Jay Rantall (MID, $192K, 1.5%) is a talented runner who may be given a chance by Bucks. After breaking the 2km time trial record at the combine, the Pies might choose to utilise Rantall's pace on the outside of their classy ball users.
Debutants: 3 in 2019, 18 since 2015
Recycled players are the most interesting fantasy rookies at Essendon with Jacob Townsend (FWD, $266K, 23.3%) and Mitch Hibberd (MID, $197K, 4.3%) bound to generate a ton of interest during the year. Unfortunately for the latter, he's going to wait a little longer to have an impact with Hibberd succumbing to a minor knee injury that required surgery. Averaging 99 from 20 VFL games a year ago helped the former Roo land at a new club via the rookie draft and Hibberd's cheap price makes him one to watch.
2017 premiership player Jacob Townsend is a different story altogether. His fantasy numbers have never taken off but that could change if the Bombers hold up their end of the bargain and play him heavy midfield minutes. Boasting a career average of 51.3 points during his eight years as a Tiger and a Giant, we'll have to keep a close eye on Townsend in the Bombers' upcoming practice match with the Dees. If we can see him playing like the "big-bodied inside midfielder" that Adrian Dodoro labelled him as in the offseason there could be a lot of value choosing Townsend for 2020.
Sam Draper (RUC, $170K, 8.1%) and Irving Mosquito (FWD, $170K, 3.1%) are popping up in a few teams right now, but the pair should probably be viewed as future downgrade targets. I have my scoring concerns over both project players, but if either of them gets picked to make their pro debut, they, like all basement priced guys, will be watched intently. Don't forget the name Ned Cahill (MID/FWD, $170K, 2.3%) either with the tenacious small forward helping to add some much-needed depth that could be called upon by the Bombers.
Debutants: 4 in 2019, 29 since 2015
Not only is Hayden Young (DEF, $258K, 41.6%) one of the most selected rookies in the game (6th to be exact), but he is one of the most popular players – period. I've already churned out 1,009 words on Freo's first pick in the 2019 draft and there's no reason why Young shouldn't be in your side right now. In a perfect world he can push his average into the 80's and thrive as a rebounding defender, but worst-case scenario, you're going to to get a high number of games out of Young and solid good scores along the way.
One pick behind him the Dockers selected Caleb Serong (MID, $256K, 5.4%) who, despite posting impressive numbers in his final season as a junior, isn't gathering anywhere near as much interest. No player scored more points during the U/18 carnival than Serong, posting a four-game average of 114.8 for Vic Country, which was a huge reason he found himself selected in the top-10. Given the turnover and uncertainty in the Fremantle midfield right now, I can see why coaches are waiting to see what role Serong does play before biting the bullet.
Of course, as almost all of you are aware, the Dockers then rounded out their third consecutive pick by adding the excitement machine in Liam Henry (MID/FWD, $254K, 6.4%) who is still being hampered slightly by a knee injury. Once healthy, I wouldn't be shocked to see him play a lot of games, but I do wonder if he'll score enough to be worth the punt in fantasy. Quickly, if Sam Sturt (FWD, $170K, 5.6%) is picked, coaches won't be put off by his price and should he shine in the Marsh Series he could be a Round 1 bolter.
You're probably all waiting for the Luke Valente (MID, $170K, 9.9%) pump up, but I don't know if I'm buying it. Sure, he looks good using battle ropes, but coming off a serious groin injury I'll want to see Valente out in the middle consistently in the preseason/WAFL before he comes under consideration. Don't get me wrong, the kid can play but it might not be until his body is cherry ripe – which could even come in 2021.
Debutants: 5 in 2019, 26 since 2015
With Geelong firmly in the race for a flag before their ageing list crumbles, I do wonder if we'll see a lot of fantasy rookies rotate through the best 22 at the Cattery. That being said, names like Jordan Clark, Tom Atkins and Charlie Constable are looked back on fondly by fantasy coaches and Nakia Cockatoo (MID/FWD, $255K, 20.5%) was in a position to join the list until a few days ago. A hamstring setback is going to sideline the popular Cat, who has already seen his ownership dip by over 5% for at least a month with almost no chance he plays to start the year. My guess is we won't see Cockatoo back in the senior until closer to the bye rounds.
With a line drawn through the exciting forward, who else could step up as a fantasy rook for Geelong? Enter Cooper Stephens (MID, $240K, 0.5%) who, according to Patrick Dangerfield, was the most "ready-made" player in last year's draft and could make his debut at some point this year. While Danger kind of has to say that about his teammate there could be a time where the Geelong Falcon product gets an opportunity through injury. A year ago, Stephens averaged 25 disposals a game before fracturing his leg in round three and there's no reason why he can't play some senior footy this year.
Another Cat who is drawing some interest from the fantasy community is Cameron Taheny (FWD, $172K, 2.8%) who excited at times for Norwood in the SANFL a year ago. Having only averaged 59.8 from his 7 senior games, it seems like he still has an uphill climb to conquer before he'll be relevant to fantasy coaches.
Debutants: 5 in 2019, 29 since 2015
Hands down the most relevant cash cow team in 2020 will be the Gold Coast Suns. There is so much opportunity in front of the newest QLD kids and with opportunity comes the chance for an unknown name to thrive. Two players who are far from unknown are the reigning No. 1 & No. 2 overall picks Matt Rowell (MID, $270K, 57.2%) and Noah Anderson (MID, $268K, 22.4%). The best mates and former Oakleigh Chargers teammates both averaged over 100 in their NAB League games and are expected to see heavy midfield minutes this year.
However, due in large part to his superior tackling numbers and his ability to accumulate a ton of the footy, Rowell finds his ownership more than double that of Anderson's, despite the second overall pick having an influence in the practice game against Brisbane on the weekend. I expect both guys to be relevant fantasy guys this year, so be sure to glance your eyes over them t least once during the Marsh Series.
Along with the top-2 duo, Izak Rankine (FWD, $170K, 48.8%), Sam Flanders (MID/FWD, $250K, 23.9%) and Jeremy Sharp (MID, $218K, 2.2%) have all been mentioned over the offseason as potential targets. As their ownership percentages suggest, there are a lot more fans of Rankine and Flanders thanks to a combination of their scoring opportunity and expectations. Don't sleep on Jeremy Sharp though, who moves to Queensland with a penetrating long kick and speed to add another twist to the Suns' ever-developing core.
Another popular defensive pair in Jez McLennan (DEF, $170K, 20.6%) and Rory Thompson (DEF, $170K, 7.5%) are coming under consideration for coaches chasing a bench spot. While I view Thompson as a Josh Corbett/Sam Collins prospect in the fantasy world, McLennan could raise eyebrows if he builds on his 14 NEAFL games from 2019 and cements a regular spot in the back-6.
Debutants: 6 in 2019, 23 since 2015
GWS kept one eye on the future during the draft last year, nabbing another pair of impressive youngsters to add to their list inside the first 10 selections. Lachlan Ash (DEF/MID, $264K, 16.9%) is set up to be the perfect succession plan for Heath Shaw, who is playing in what most believe to be his final AFL season. That leaves Ash in a difficult spot for fantasy coaches with concerns over his job security bound to surface throughout the year. If he's there in Round 1, it'll be hard to ignore Ash though – who averaged 96 in his NAB League games and 83 during the U/18 Carnival.
Loading ...
His new teammate Tom Green (MID, $252K, 2.9%) had an impressive final junior season too, averaging in triple-figures during NAB League play and gathering nearly 24 touches in every U/18 match. Green, much like a lot of the Giants youngsters face steep competition if they want to make it big time with his fellow juniors Nick Shipley (MID, $170K, 1.9%) and Xavier O'Halloran (MID, $170K, 1.8%) surely among the next in line if the injury bug bites.
Speaking of the injury bug, a mid-season ACL tear ruled Matthew Flynn (RUC, $170K, 3.9%) out for most of the 2020 campaign too. However, the Giants rocking with two elder statesmen in the ruck department means Flynn could be presented with a late-season opportunity if A) one or both of them go down and B) he rehabs correctly and can get back healthy.
Debutants: 3 in 2019, 20 since 2015
The newest Hawk to monitor closely in the coming months is quickly seeing his ownership percentage rise. Finn Maginness (MID, $214K, 7.9%) lasting until pick No. 29 was a steal for Hawthorn in the 2019 draft and as it looks right now, Maginness could be seeing AFL action as early as this season. Showing very few holes in his game, Maginness was one of the best players for Vic Metro in the U/18 carnival, averaging 18.3 disposals and 7.5 tackles. Tom Mitchell continues to generate all the talk in their engine room (and rightly so), however, I can see a world where Maginness comes into the team and ably supports the likes of Mitchell, Smith, O'Meara and Worpel.
Taken before Maginness by Hawthorn was silky big man Will Day (DEF, $246K, 0.9%) who adds another dimension to their defense. Built with a slighter frame to that of James Sicily, I can't see Day stealing all of Sic Dog's thunder, but he might be given a taste of senior-level footy in year one. Another bloke who could finally make his debut his Harrison Jones (MID, $170K, 2.0%) after flirting with a senior call-up late last year. He shone at VFL level to the tune of an 84 point average in his 13 appearances and Jones' ownership could increase significantly if Hawthorn hands him an early gig.
Debutants: 7 in 2019, 27 since 2015
Before I turn my attention to some of the bigger named Dees, I want to focus on Trent Rivers (DEF, $208K, 9.5%). As it stands right now, Rivers is in my team and I can only see his percentage increasing if he's as good as advertised. A lot of recruiters rated Rivers highly, so landing him with pick No. 32 was a great get for the Demons, who could use his skills by foot from day one on the half-back line – especially given the health concerns of Kade Kolodjashnij and Michael Hibberd.
Before Melbourne nabbed the WA-born product though, they were drafting Luke Jackson (RUC, $266K, 4.6%) and Kysaiah Kropinyeri-Pickett (FWD, $248K, 2.2%) near the top of the food chain. While both players are shaping up as key cogs for their future, I don't expect either dude to put up huge fantasy numbers this year, with Jackson's hope hinges almost entirely on Max gawn's health status. Kysaiah Pickett (commonly referred to as "Kosi") could prove me wrong if he can add a ton of tackles and goals, but I think putting up enough of both to score consistently is too tall a task.
The value doesn't stop there for the Dees with former Docker and Sun Harley Bennell (MID, $224K, 3.5%) now officially part of his third AFL club. With risk comes plenty of reward and despite the 39 calf injuries Bennell has sustained just since Christmas, we all know what he's capable of if his body holds up – averaging over 80 fantasy points in 83 career games. It's a shame only two of those games have come since 2015…
Debutants: 4 in 2019, 23 since 2015
Woof. I don't mean any offense North fans, but there aren't a ton of cash cows to cover in this section. Aiden Bonar (MID/FWD, $333K, 11.2%) and Luke Davies-Uniacke's (MID/FWD, $395K, 1.9%) are both too expensive to fit the traditional bill as cash cows (exceeding $300K in price) but a place in the midfield could be theirs to lose. Newest Kangaroo Aiden Bonar lands at the club after six games and an average of 53.3 in his two seasons so far. However, if North does plan to give him heavy midfield minutes, there's plenty to like about Bonar, who is priced at just 45.
On the other hand, there usually isn't a lot to get excited about from a player who has averaged less than 50 from his 21 AFL games, but a third-year breakout is what fantasy coaches live for. LDU is no exception, battling injury and form issues in his first two seasons that have hampered his past performances. There's no reason why 2020 won't be the year he pieces it together – even if I'm not a huge believer in the young Roo.
If LDU and/or Bonar aren't the youngsters leading the charge from a fantasy perspective it's tough to see where the value lies. Recent draftees Charlie Comben (RUC/FWD, $210K, 1.0%), Flynn Perez (DEF, $202K, 0.2%) and Jack Mahony (MID/FWD, $204K, 1.2%) could all make their case, but given the fact that they cost $30K-$40K more than other bottom feeders, I can't see them garnering a ton of attention. Perhaps horror stories like Curtis Taylor (FWD, $170K, 1.9%) and Kyron Hayden (DEF, $202K, 3.9%) could bob up and feature with most consistency than they did a year ago.
I tried Roos fans, I really did.
Debutants: 6 in 2019, 22 since 2015
After playing a high number of kids last year, the Power appears set to follow a similar routine in 2020 with plenty of buzz surrounding power forward Mitch Georgiades (FWD, $236K, 5.1%). Having missed all of last year with a quad injury, the WA-born key forward did enough in 2018 to impress scouts and he could find a home inside-50 thanks to Billy Frampton's exit and an aging Justin Westhoff. In Port's intra-club game last Friday, Georgiades showed off some of that potential impressing a lot of people, which could have him firming for a Round 1 debut.
The only player the Power drafted ahead of Georgiades in 2019 was Miles Bergman (FWD, $244K, 5.0%) who battled through injury and still averaged over 75 across all his games. There could be a home throughout the forward line and wing for Bergman, but it'll be hard to string games together for the first-year pro. That being said, if Port Adelaide thinks their newest star is living up to the hype, they'll find room for him.
If Bergman can't hold down a regular game, then some may ask what chance Jackson Mead (MID, $222K, 2.3%) and Dylan Williams (MID/FWD, $226K, 0.8%) have? Just because they haven't recieved as much interest, doesn't mean they too won't be in line for a ton of games in year one as an AFL footballer. Williams put his hand up recently with three goals in the Power's aforementioned intra-club match and he might be given an early chance if he can impress during their Marsh Series matches.
Debutants: 7 in 2019, 28 since 2015
In 2019 they gifted us with cult heroes like Sydney Stack, Derek Eggmolesse-Smith and Noah Balta. The reigning premiers will once again be important from a cash cow perspective, but a lot of their allure comes from just one player. That player is in more fantasy sides than anyone else so far with Marlion Pickett (MID, $170K, 57.4%) outpacing Brodie Grundy and Lachie Whitfield as the "must-have" of 2020. Of course, Pickett's basement price makes him a no brainer, with the historic Tiger cub scoring 73 points from a lazy 22 touches in his first-ever AFL game during the 2019 Grand Final. With his price taking no-hit, there's a reason he's the most owned player and the biggest lock this year.
With a handful of healthy veterans and the rise from rookies a year ago, Richmond's list is looking as good as ever, making it tough to see many cash cows squeezing in. Riley Collier-Dawkins (MID, $170K, 4.9%) could stick his hand up if injury strikes and he strings some strong VFL games together, but there are still a few names ahead of him in the pecking order. Given their elite depth across the board, recent draftees Thompson Dow (MID, $230K, 0.3%) and Bigoa Nyuon (DEF/RUC, $170, 0.9%) loom more as long-term players and would have to be pretty special to debut this year.
Debutants: 5 in 2019, 24 since 2015
With St Kilda going all out in the trade period last offseason, their draft hand was rather weak. That doesn't mean there's no value with the Saints though as a discounted Max King (FWD, $170K, 45.3%) finds himself in a boatload of teams so far. In fact, only three rookies have been selected higher than King, who was drafted 4th overall by St Kilda in 2018. Rehabbing from an ACL injury saw King put on ice for most of last year but he did come back to kick 11.5 from five VFL games and push for senior selection. Luckily for us, he comes at a serious discount and fresh off a bag of four in the Saints' intra-club, King looks like he'll play a ton in the new season.
Loading ...
Surprisingly, Jack Bytel (MID, $170K, 23.4%) is homed by nearly a quarter of the comp, with the bargain midfielder one to watch carefully in the coming weeks. After missing all of the 2019 season with a back injury, Bytel could carve out a niche in St Kilda's evolving midfield, especially with Brett Ratten entering his first full season in charge. In his final year as a junior, Bytel averaged 95 in the TAC Cup so there could be some instant impact from the young gun if he's given a chance.
No other St Kilda cash cows are owned by more than 1.0% of teams right now, however, given the amount of heavy turnover at the club anything could happen so be sure to watch the Saints closely in 2020.
Debutants: 5 in 2019, 27 since 2015
Why is no one talking about the Swans from a fantasy perspective? Not only am I high on a number of veteran Sydney players, their rookies could be crucial this season too. Start with the No. 5 pick from the class just gone in Dylan Stephens (MID, $262K, 7.9%) for example. A fantasy average of 80 from his SANFL and U/18 days combined doesn't scream 'pick me', but playing against grown men in South Australia's best league is a notch on his belt. Speaking of SA, the Swans teamed Stephens up with another youngster who featured heavily last year in the SANFL in Will Gould (DEF, $220K, 20.3%). The Glenelg defender could play a heavy amount of games next year as well, with his fantasy average of 82.3 in the U/18 carnival enough to justify paying up for the Swans junior.
Oft-injured midfielder Matthew Ling (DEF, $170K, 5.2%) is in a unique situation with a lot of value. If he can keep himself on the park, there's every chance that the pacy Ling plays for Sydney's AFL side this year. If that were to happen, depending on the time of year, that could make Ling a DPP candidate and an additional string in your bow to close the year. That's a lot of "if's" and there are no guarantees after 16 NEAFL games in two years that Ling's body will help him out.
If Ling's body can't help him out, some coaches will be hoping the good luck goes to Sam Naismith (RUC, $284K, 3.4%) who is starting to become more and more popular. After declaring himself finally fit after two seasons on the sidelines, a lot of coaches will take a chance on Naismith and hope he becomes Reilly O'Brien 2.0. It could work, but it's not a move I'd make.
Debutants: 3 in 2019, 20 since 2015
Another AFL team deadset on claiming the 2020 flag, the West Coast Eagles aren't about to prioritise playing their youth – no matter how good anyone is. That doesn't mean they won't at least let Jarrod Brander (DEF/FWD, $217K, 5.9%) spread his wings, with the West Coast youngster the hot name on everyone's lips. Of course, if Brander cracks the Eagles lineup and is in fact, roaming along the wing then it'll be mighty tempting to pick him.
The West Coast utility appears like the odds on favourite to push for senior selection, with midfielders Hamish Brayshaw (MID, $170K, 3.8%) and Xavier O'Neill (MID, $170K, 0.2%) destined to play heavy WAFL minutes again this year. Even before they added Tim Kelly to their mix the Eagles were the proud owners of one of the best midfielders in the comp, so I can't see Brayshaw or O'Neill changing their fortunes in the immediate future.
If there is another contender to suit up in the AFL it might be Bailey Williams (DEF, $170K, 1.0%) who could be utilised in the ruck at times this season. Nic Natanui comes with a lot of risk and uncertainty entering the year and as unlikely as it seems that might lead to Williams earning a surprising promotion. Williams did average nearly 10 touches a game, 15 hitouts and 60 fantasy points a game in the WAFL, which might not sound like a lot, but he could be a handy heartbeat on your bench when the time comes.
Debutants: 5 in 2019, 24 since 2015
They teased us all last year, but a lot of coaches are still relying on Ben Cavarra (FWD, $170K, 14.7%) and/or Jordan Sweet (RUC, $170K, 5.1%) to fill out their benches in 2020. Sweet is only in a tick over 2,500 teams, but there is still some merit in picking the lanky Bulldog, who on five occasions last year had 50 or more hitouts in the VFL. If there are alarms bells ringing around Tim English then Sweet could come in to save the day.
Cavarra might do the same for the Bulldogs attack as they continue to workshop their inside-50 mix. He managed to play a dozen VFL games last season, but the forward's year was impacted by injury – curtailing any chance he had of making his AFL debut. That could change, with a solid 67 point average making Cavarra a watchlist candidate over the rest of the preseason. If he can't solve their problem in front of the stick, the Dogs are banking on Cody Weightman (MID, $242K, 3.2%) delivering the goods. The Bulldogs spent the 15th overall selection on him in the last draft, with Weightman coming off an All-Australian U/18 effort in which he emerged as one of the best small forwards in his draft class.
While Weightman won't gather a ton of the footy, he can definitely find the scoreboard, kicking four goals against both the Allies and South Australia during U/18 action. However, at $240K+, it might be wise to chase another player who didn't average just 65.2 in 10 junior season matches. He might play a ton in the upcoming season, but I'm not a huge believer of Weightman's scoring potential.
FOLLOW ME ON TWITTER: @SportsbyFry for all things AFL Fantasy (and more)! Feel free to hit me up with any questions you have throughout the season ✌️