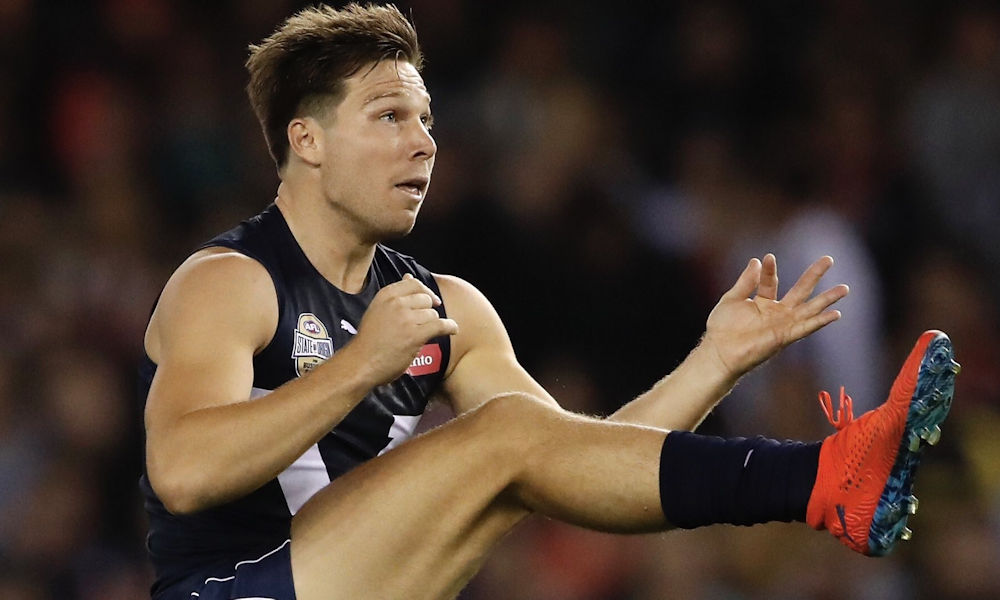 You can't read a lot (or anything) into performances from tonight's game when thinking about your Fantasy team. Basically, it was all about none of the players on your radar getting injured or especially any of your players in any early draft leagues that had run getting through.
Aside from the fact each team had 27 players and therefore time on ground was shared (no player had more than 79%, and more than half of the 54 players had between 60-69%), it was game unlike any other. Zero reality to to what we would see in a real game with the All-Stars leading the disposal count 436-433, but the Victorians racking up a total of 1743 Fantasy points to the All-Stars' 1667.
Anyway, here's the full list of scores. Chat about anything you saw in the game in the comments.

Listen to the AFL Fantasy Podcast with The Traders at Apple Podcasts, Spotify and Google Podcasts.
| Player | Team | Position | Price | Score |
| --- | --- | --- | --- | --- |
| Toby Greene | | FWD | $730,000 | 104 |
| Stephen Coniglio | | MID | $769,000 | 97 |
| Josh Kelly | | MID | $860,000 | 95 |
| Callum Mills | | DEF | $559,000 | 94 |
| Charlie Cameron | | FWD | $499,000 | 90 |
| Dustin Martin | | MID/FWD | $721,000 | 88 |
| Lachie Weller | | DEF | $612,000 | 88 |
| Tom Papley | | FWD | $574,000 | 88 |
| Trent Cotchin | | MID | $525,000 | 88 |
| Brodie Grundy | | RUC | $906,000 | 86 |
| Andrew Gaff | | MID | $824,000 | 86 |
| Scott Pendlebury | | MID | $769,000 | 85 |
| Patrick Cripps | | MID | $753,000 | 85 |
| Jeremy Howe | | DEF | $515,000 | 85 |
| Lachie Whitfield | | MID/FWD | $844,000 | 81 |
| Patrick Dangerfield | | MID | $798,000 | 77 |
| Marcus Bontempelli | | MID | $777,000 | 77 |
| Lachie Neale | | MID | $777,000 | 76 |
| Adam Saad | | DEF | $499,000 | 75 |
| Shaun Higgins | | MID | $707,000 | 74 |
| Nat Fyfe | | MID | $779,000 | 73 |
| Nick Haynes | | DEF | $589,000 | 70 |
| Luke Breust | | FWD | $506,000 | 70 |
| Isaac Smith | | MID | $630,000 | 67 |
| Brodie Smith | | DEF | $646,000 | 66 |
| Zach Tuohy | | DEF | $507,000 | 65 |
| Rory Sloane | | MID | $739,000 | 65 |
| Scott Lycett | | RUC | $619,000 | 63 |
| Michael Walters | | MID/FWD | $694,000 | 62 |
| Darcy Moore | | DEF | $409,000 | 62 |
| Jade Gresham | | MID/FWD | $619,000 | 61 |
| Jack Riewoldt | | FWD | $434,000 | 61 |
| Elliot Yeo | | MID | $762,000 | 59 |
| Shane Edwards | | DEF/MID | $549,000 | 59 |
| Jason Johannisen | | DEF | $609,000 | 57 |
| Jake Lloyd | | DEF | $795,000 | 52 |
| Steele Sidebottom | | MID | $731,000 | 51 |
| Bradley Hill | | MID | $658,000 | 51 |
| Bachar Houli | | DEF | $766,000 | 48 |
| James Sicily | | DEF | $620,000 | 48 |
| Jack Macrae | | MID | $858,000 | 46 |
| Rory Laird | | DEF | $719,000 | 44 |
| Todd Goldstein | | RUC | $656,000 | 42 |
| Neville Jetta | | DEF | $342,000 | 42 |
| Taylor Walker | | FWD | $468,000 | 41 |
| Tom J. Lynch | | FWD | $463,000 | 40 |
| Stefan Martin | | RUC | $629,000 | 39 |
| Jeremy Cameron | | FWD | $649,000 | 38 |
| Travis Boak | | MID | $784,000 | 35 |
| Brad Sheppard | | DEF | $611,000 | 30 |
| Mark Blicavs | | DEF | $505,000 | 28 |
| Tom Hawkins | | FWD | $526,000 | 22 |
| Eddie Betts | | FWD | $435,000 | 19 |
| Harris Andrews | | DEF | $418,000 | 15 |