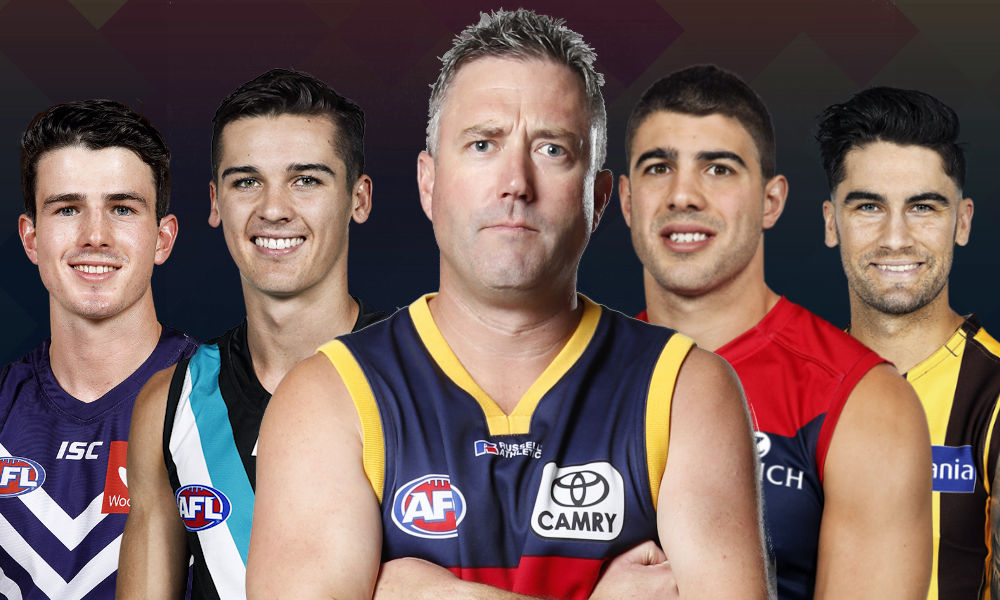 "Mid-priced" madness is a dirty word. With so much value in the forward line, Calvin has broken down the options and the players on the radar. How many of these guys is too many? With so much value here, could you be starting with the most mid-priced/value players you ever have in AFL Fantasy? Or have we actually gone too far?

Listen to the AFL Fantasy Podcast with The Traders at Apple Podcasts, Spotify and Google Podcasts.
Darcy Parish $589,000
The Marsh so far: Parish attended 17 CBAs (centre bounce attendances) out of the 31 on the weekend and scored 104 from 29 touches against the Eagles. He did this in just 65% time and was brilliant.
Cal's Comment: Warne Dawg has raved about this guy for years. The fact is… he's always been solid but never great averaging between 74 and 79 in his first four years of AFL. Is this finally his time? The more I've looked at him, the more I'm agreeing with Dawg. He averaged 87 in his last 11 games (ex. a concussed 19). Priced at his season average of 79, he could be much better, especially with this extra time in the middle. A huge player of difference with just 2% ownership.
Chad Wingard $582,000
The Marsh so far: Wingard scored 53 from 15 touches in his first game from just 51% game time. The most impressive thing though was the fact, in limited time, he attended the second most CBAs (centre bounce attendances) for the Hawks behind the pig himself, Tom Mitchell.
Cal's Comment: Chad averaged 78 for the Hawks last year but found more midfield time towards the end of the season here he scored 99, 95, 128 and 106. His body seems right and the Hawks appear to be using him exactly in the way we like it.
Hugh Greenwood $581,000
The Marsh so far: Hugh became a very popular re-adjustment to teams after his game where he scored 114 with nine tackles. He was simply brilliant with his new club and slotted into their midfield with the most CBAs from their midfield group. Worth noting though, they played Geelong who didn't really put up much of a fight, losing by 70 odd points. This won't be happening every week.
Cal's Comment: Priced at 78… Hugh is much better than that. How how much is enough to pick him in your starting team? Roy is all over the Tassie kid for all the right reasons, he'll probably lead the league in tackling this year but how much ball can he win at the Suns? He will most ,likely play a full-strength Crows team this Friday where he will battle the Crouch brothers and Rory Sloane. This will be the best we will see.
Christian Petracca $563,000
The Marsh so far: Wowee! 38 touches and a huge 145 is what we saw in the first week which boosted his ownership through the roof. He was sensational and have many believe that this is his year to finally break-out.
Cal's Comment: Do you believe in the pre-season hype? We have been here before with Petracca but he can put us all out of our misery this weekend when he meets the Hawks on Friday night. Another big game and he'll be very hard to over-look.
Loading ...
Connor Rozee $539,000
The Marsh so far: Kicked two goals and had 19 touches for his 94 in his first game, but more impressively… he did it in just 57% time on ground and attended 8 out of a possible 32 CBAs. As far as points per minutes go, he was up there with the best.
Cal's Comment: A second year break-out looms for this kid who is on fire at the moment and even Rockliff agrees recently saying, "I think he'll take another step (in improvement) again this year." Let's not forget that this kid is a No.5 draftee and with Ollie Wines missing early games, this guy could be the answer.
Andrew Brayshaw $516,000
The Marsh so far: In just 60% time on ground, Brayshaw pumped out 90 last week (but only against Carlton which needs to be noted). He attended a team-high 14 CBAs from the 22, but did so without Fyfe and Walters in the team. This shouldn't matter too much as his role in the middle seems locked and loaded.
Cal's Comment: He's been on our watchlist all pre-season after averaging 84 in his last seven games last year. Priced at 70, a third year break out is well and truly on the cards and if you were waiting to see what his pre-season looked like, then you should be convinced now.
Blake Acres $501,000
The Marsh so far: Didn't put a foot wrong off the wing for his new club, racking up a game-high 31 touches and 104pts. 10 of those were contested which means he is ticking every box for the club at the moment. They only played Carlton though, and five players did score 100+.
Cal's Comment: Priced at 67.5, there is a lot of meat on the bone for this guy. From his 12 games with the Saints in 2018, he averaged 81 and 78 the year before. However, he had a hamstring scare Wednesday at training and will have scans. This could be his Marsh pre-season over with his 8% of coaches going back to the drawing board.
Loading ...
Jonathon Patton $366,000
The Marsh so far: Played deep forward for most parts, but did get up the ground a little. Scored well with 71 taking six strong grabs and three goals. Had a little go in the ruck, and could be used more there this week.
Cal's Comment: So cheap, priced at 50… Patton has gone 70+ in back to back years before sitting out 2019. Looks fit. Looks ready… to average that 70 mark again.
Aiden Bonar $333,000
The Marsh so far: In his first run with the Roos, his fans would have been pretty happy. He scored 71 and didn't really have a huge influence at CBAs. North were missing some big name midfielders which is promising in a way, knowing he can score without relying on midfield clock. Eight tackles certainly helped him out as well.
Cal's Comment: A guy I went cold on, but now will watch closely this weekend. Could be huge value up forward, priced at an average of 45.
Loading ...
Chayce Jones $318,000
The Marsh so far: Attended 10 out of 29 CBAs in week one for the Crows and managed 64pts. He did spend more time up the ground which ticks the "role" box from 69% game time.
Cal's Comment: Will be very interesting to see his CBAs and role this week as the Crows play a stronger team with players getting more minutes in their actual positions ready for round one. Jones has been hyped up all pre-season but currently only has 8% of coaches on board at this stage.
Myles Poholke $288,000
The Marsh so far: Took the most CBAs for the Crows in the opening game as many of their stars played limited minutes. He scored 83 and backed up his 2019 SANFL form where he averaged 94 last year.
Cal's Comment: Is he best-22? Is he the answer to the mass walk-out from many players who left at the end of last year? The players at Adelaide love this guy and always rave about his game. His role and scoring output will be very interesting this week as he looks to jump ahead of the likes of Jones and Townsend as forward line options for us in Fantasy. If Nix can actually say that he is best-22 and a midfield option, expect a huge increase in ownership.
Jacob Townsend $266,000
The Marsh so far: The role was there as he went to 8 out of 32 CBAs despite starting forward and sitting there a lot in the first part of the game. He scored 42 in 66% time.
Cal's Comment: We need to see more. We need to see more than 42pts. He's basically rookie priced though and this is hard to ignore. If the role is there… then he must be seriously considered as a starter on your ground. He's never been a great scorer though. He played 10 games for the Tigers in 2018 at an average of 48, but did do a lot of tagging roles in that time.
Loading ...
Alright, now we have gone through the best options, where are we all sitting? Basically, there are no right or wrong answers. It's your team and you can do what you like with it. Personally, I'm heavy on guys like this. The weekend's Marsh games will hopefully help me cement some of these names in.
Loading ...