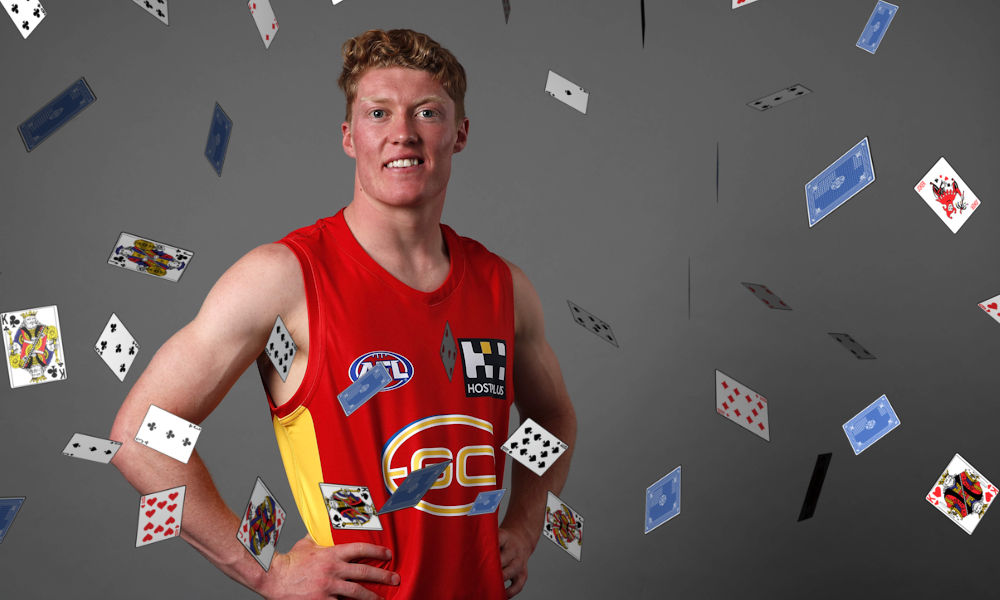 Name: Matt Rowell
Team: Gold Coast Suns
Position: MID
Price: $270,000
Bye round: 14
2019 average: 115.8 (123.6 NAB League, 102.2 U/18)
2019 games played: 11 (7 NAB League games; 4 U/18 Championship games)
Predicted average: 80-85
Draft range: Undrafted/Potential final pick (depending on league size)
Click here for 2020 Fantasy prices.
Why should I pick him?
Here's a snippet from what I wrote about 2018 No. 1 pick Sam Walsh for the Deck of DT last year.
"I think the Blues prodigy will put forth a Rising Star calibre debut season with every chance his game translates perfectly to the AFL. That's too good for me to pass up."
It wasn't rocket science to pick Walsh for your starting lineup and 12 months later another $270K midfielder is generating the same amount of buzz. This time around it's Oakleigh Chargers ball magnet Matt Rowell who travels north to join the ailing Gold Coast Suns. Flanked by another crop of talented youngsters, Rowell and Co might finally be able to help the club shake the 'never pick a Sun' moniker that fantasy coaches know all too well.
If Rowell's junior numbers translate to the next level then he virtually picks himself. There's a reason he entered the draft as the consensus No. 1 overall player after a stellar 2019 season with the Chargers, Carey Grammar and Vic Metro. Rowell averaged a touch under 30 disposals a game across all competitions, coupled with a juicy 115.8 fantasy points per outing. A lot of his immense scores were fueled by some huge tackle numbers, with Rowell averaging an absurd 8.6 tackles a game, in his seven NAB League contests. To put that into context, Jack Steele led the AFL a year ago by averaging 8.2 tackles a match.
Don't go expecting the new Sun to post the same number of hugs in the pro's, with the task of tackling full-grown men a lot harder than pinning the arms of a scrawny teenager. Still, it's encouraging to see that even if he doesn't rack up the touches, Rowell can score in a variety of ways. Take his TAC Cup Grand Final performance for example, where he had eight marks, nine tackles and a pair of goals in his mammoth score of 176. Oh, it probably helped that he also had 44 touches, but you get my drift.
A history of high scoring games is enough of a reason to justify paying up for Rowell, who should be given every opportunity to play 22 games in his first season. His draft peers in Noah Anderson, Jeremy Sharp and Sam Flanders along with the class of 2019 in Izak Rankine, Jack Lukosius and Ben King will all be given the chance to shine on the Gold Coast as the club looks to build around their youth in an effort to create a winning culture. With an emphasis on the kids, I expect Rowell to hit the ground running and excel starting in Round 1 against the Power, making it two years in a row that the top draft pick is must-have fantasy property.
Why shouldn't I pick him?
Let's make one thing very clear – Matt Rowell is not Sam Walsh.
Both are supremely talented youngsters, who look poised to be future stars of the competition, but again, they are different players. Here are the averages from Walsh and Rowell's final season as a junior across all comps.
Sam Walsh: 31.2 disposals (18.2 kicks + 13.0 handballs), 5.3 tackles, 4.2 marks, 117.8 fantasy points
Matt Rowell: 29.2 disposals (11.3 kicks + 17.9 handballs), 7.6 tackles, 4.4 marks, 115.8 fantasy points
Sure, there's a lot to like about both young guns, but there is one glaring stat that stands out. While their per game disposal numbers are very similar, Rowell's kick-handball ratio is almost a polar opposite of Walsh's, with the new Sun a handball heavy character. Is this the end of the world? Far from it, but if Rowell is buried in the middle of congested packs firing the ball out via hand for Gold Coast then his teammates are the ones who will reap the fantasy benefits.
Sticking with Rowell and his teammates, I think I speak for the majority of the footballing community when I say Gold Coast won't be very good next year. They could catch lightning in a bottle and cause a few upsets, but this group is still a few years away from competing for finals and as a result, you can expect to see them on the receiving end of some heavy losses. If they find themselves getting belted with their opponents racking up plenty of the footy then it's bound to have a negative effect on Rowell's average.
Throughout his entire junior career, Rowell hasn't shown an ability to hit the scoreboard either, preferring to set his teammates up rather than going for goal himself. Before kicking a pair of goals in the TAC GF, Rowell had managed just one in the previous six matches, continuing on from his trend as a bottom-ager, when he only managed three goals from 13 matches. This isn't a huge concern, but once again, Rowell's teammates might be the ones who see their scores benefit from the Suns rookie, rather than piling on the points himself.
#AFLFantasy Classic coaches will be paying $270,000 for No.1 Draft pick Matt Rowell in 2020.https://t.co/quzeGrY43e

Will you be picking the new Sun? pic.twitter.com/tT1IpveD6f

— AFL Fantasy (@AFLFantasy) December 18, 2019
Deck of DT Rating.
KING
Rowell is the real deal and despite costing $100k more than some fantasy rookies, he should be in your starting squad of 30 when the first lockout hits. That being said, I don't expect him to replicate Sam Walsh's heroics from a year ago and average 90+ either, partially thanks to his handball happy style of play, even if he does stand out in a lacklustre Gold Coast outfit. Even if he can't score as prolifically, an average in the 80's (or worst high 70's) appears appropriate for Rowell and if he wears enough sunscreen to get through a 22-game season, he'll be one of the best money makers for season 2020.
Loading ...
FOLLOW ME ON TWITTER: @SportsbyFry for all things AFL Fantasy (and more). Got something to say about the deck? Use the hashtag… #DeckofDT.