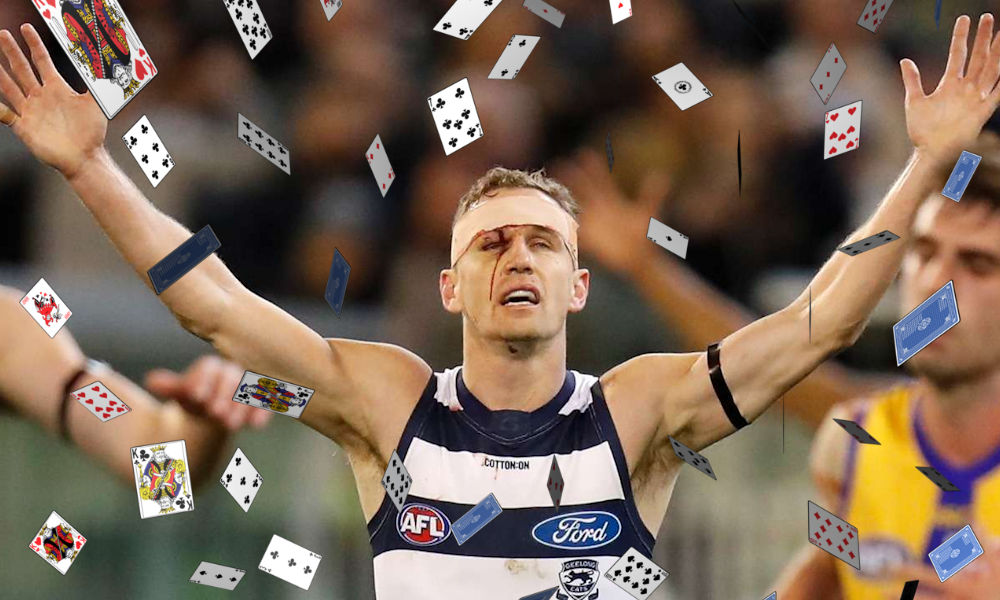 Name: Joel Selwood
Team: Geelong
Position: MID
Price: $585,000
Bye round: 12
2019 average: 79
2019 games played: 20
Predicted average: 95
Draft range: Late
Click here for 2020 Fantasy prices.
Why should I pick him?
Ok… here we go.
Here we have a guy, who has averaged 99 over his career that spans 13 years.
Selwood debuted in 2007, and that year he averaged 86. This average as a rookie was his lowest Fantasy return, up until last year when Selwood averaged just 79.
TABLE NOTE: Shows season averages of the last ten years
The reason for the decline was due to multiple factors and one of them was injuries.
Selwood played out the season injured (hence his surgery in the off-season). Although we aren't really sure how much this effected him, we can make the assumption that it clearly did.
He also experienced a few different role changes for the year and one of them was the fact he wasn't being used inside and at centre-bounces as much as he has been in the past. In fact, he only attended 40% of CBA's in 2019, compared to Tim Kelly who led the club with 71%. So maybe, injuries also changed the role in which Selwood was playing as well.
In the AFL Finals Series though, Selwood proved that he hasn't lost his Fantasy ability altogether. He played a little more inside and his scores as a result improved dramatically with 75, 116 and 113 at an average of 101.
Now that's 22pts over what he is currently priced at.
Let's address this surgery. Before Christmas, he had minor hamstring surgery to clean up tendon damage. He is expected to have started training this month, in an effort to be right for a game or two in the Marsh Community Series and therefore round one. Obviously something to serious monitor.
Last year, players in this price bracket/range set people up last year for a successful season.
Off the top of my head, players such as Sloane who was priced at 90 was deemed a risky pick at the start of year and he went on to play all 22-games at an average 100.
Rocky created some issues over the year but he was priced at 83 and was deemed "risky" but he got his way to 99 and then you have a guy like Houli who was priced at 74 down from 91 the previous year who went on to average 103.
My point here is, sometimes you have to risk it to get the biscuit, and sitting back saying that Joel is too old and past his best, will only leave you regretting not starting with a former premium who has averaged nine times over 100 in the last 11-years before the disaster in 2019.
Why shouldn't I pick him?
Ok… I hear you – he's old and he has just had hamstring surgery. Picking a 31-year-old, off a limited pre-season is a huge concern. I get that.
Also, what if he maintains his new role and doesn't get back into the midfield like we hope. After his bye this year, Selwood averaged just 77 across the 10-games and never scored over 85.
What if this happens again? If it does, you'll be stuck with a mid-priced option and will need to find another $200k to turn him into someone decent. Early in the year, this isn't going to happen. Rookies haven't had time to fatten and you'll be stuck with a guy who scored 75 or less in nine games last year.
Joel Selwood (MID, $585k) had his lowest EVER average last season, making him the cheapest he's been since his first year.https://t.co/VDwHin9QGD#AFLFantasy pic.twitter.com/wRz9jPQgg4

— AFL Fantasy (@AFLFantasy) January 18, 2020
Deck of DT Rating.
QUEEN
The thing is, if Selwood plays any pre-season games then he will be in my team. If he can prove that he is over the hamstring operation and ready to play, why wouldn't you pick a player at an average of 79, who could average 95+, just like he did 10 years straight before last season.
Loading ...
FOLLOW US  ON TWITTER: @CalvinDT for all thing AFL Fantasy (and more). Got something to say about the deck? Use the hashtag… #DeckofDT.