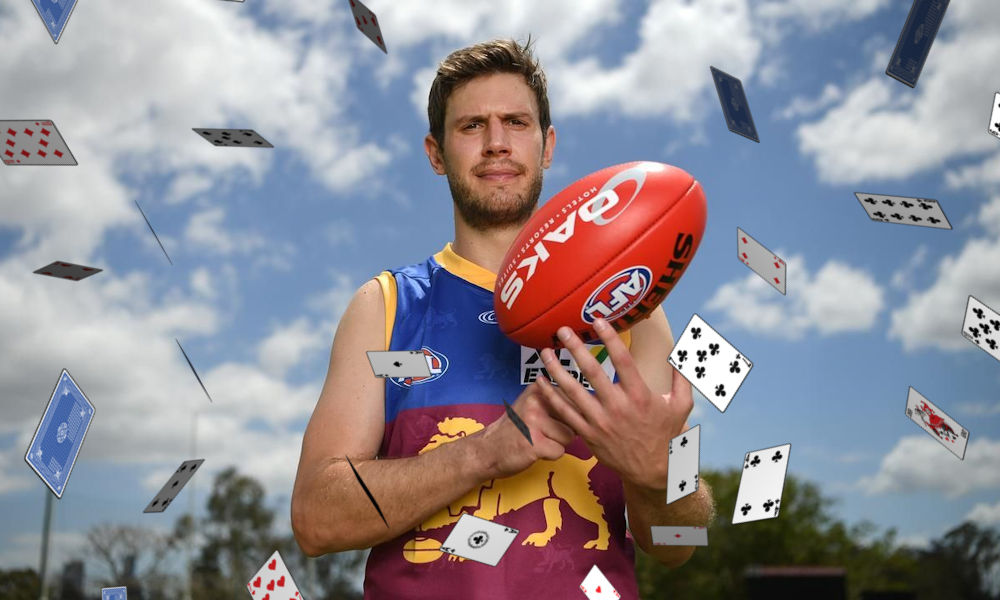 Name: Grant Birchall
Team: Brisbane
Position: Defender
Price: $428,000
Bye round: 12
2019 average: 73
2019 games played: 3
Predicted average: 80
Draft range: Late Draft Sleeper
Click here for 2020 Fantasy prices.
Why should I pick him?
He's cheap, he's a solid player, he's consistent, and he's found himself at a new club with fresh opportunities. What's not to like about Birch this year?
The ex-Hawk has missed a significant amount of football in the past few years, and this brings him to us AFL Fantasy coaches with a beautiful discount to help slide this value right into our Defenders line. Birchall is priced at 57.7, a 15-point discount on last year's average (which came from just three games), and a 32-point discount on Birch's highest ever average. Whilst I'm not sure Birchall can get back to averaging a lofty 90 like he did in 2011, I feel like he should easily improve his price tag by at least 20 points, which is not only good money, but also important scoring for your team in the early days of the season. In fact, the lowest Birchall has ever averaged was 68.8 in 2017 and that was from just five games and includes an injured score of 19, so I'd say owners can guarantee at least a 15-point increase from this man with absolutely no trouble.
Birchall has been extremely consistent throughout his whole career and, whilst he may not be the highest Fantasy scorer in the AFL, getting him with a discount makes him a near perfect stepping stone to trade for a Premium in the Byes, whilst still scoring you significantly more than most rookies would. The man is a walking 80 when he's on the field, and that should give his owners plenty of faith to lock him in until he's maxed out and you've found an appropriate trade target.
The fact that Birchall has decided to switch clubs I believe is a huge positive for his career. The Lions' medical staff turned Lincoln McCarthy from a sideliner into a formidable player last season, and even managed to un-retire Luke Hodge a couple of seasons ago. If any team could turn Birchall's injuries around, you'd think the Lions would probably have the best chance. Not only that, but I don't see why Brisbane would have picked Birch up in Free Agency if they didn't believe he had a strong chance of putting in good minutes for them. Grant turns 32 before the season starts and the Lions have a strong core, so unless he was going to play, you'd think they'd dedicate that list spot to blood another younger player. Also, by all reports Birchall is having a solid off-season and is definitely looking to leave his injury woes behind him (source), so I'm thinking Birchall should be named Round 1 and will hopefully stay on the park.
Why shouldn't I pick him?
"What's not to like about Birch?" he says. There are two very real risks not to like about Birch.
Firstly, the man has played eight games in three years. Not a strong track record for a bloke you're banking on to make money. Birchall's scoring may not have suffered coming back from these injuries, but it's the fact he's so injury prone in the first place that has me worried. I know the Lions' medical staff are allegedly amazing, but the old man has knee, hamstring, and calf issues, all of which tend to be recurring injuries that are never really gone. I'd love to see him get up and return to what he used to be, but looking at it from an unbiased perspective, if Birchall plays the first 11 games of the season, which is when Fantasy coaches will be looking to cash in on him, it would be pretty miraculous.
Not only is he injury prone, but the change of club also worries me. I know that Birchall should play given it seems pretty pointless to pay him and bring him into the fold without intending to give him a game. The main issue I have is that Brisbane already have two similar, and younger half-back flankers in Daniel Rich and Alex Witherden. All three of these guys love playing off the ball, distribute well by foot, and score pretty poorly Fantasy-wise when they're required to play on a man. I don't really see a way that Birch, Rich, and Witho can play off the ball, accumulate intercept and uncontested possessions, and not be assigned to anybody, which is a huge issue. I honestly don't see a way that the three of them can even play in the same team without changing roles a lot, so it will be interesting to see the way that Birchall fits into the Lions' 22, if he does.
Deck of DT Rating.
QUEEN
Birchall provides an extremely solid amount of value in a line that generally struggles with scoring, especially as far as mid-range value is concerned. He's always been a very consistent Fantasy player who can score at a reasonable rate and will earn Coaches some money. The main problem is the huge injury risk he creates for every team he's in. If he stays healthy, Birch gives his owners a massive boost and could genuinely be a key part of winning the car. A 25-30-point price increase isn't out of the question and his mid-range price-tag means he should increase quickly enough to make an early upgrade. However, there's a massive chance that Grant is just a minus one in your trade column this year, so the risk is real.
FOLLOW US  ON TWITTER: @DTTALK for all thing AFL Fantasy (and more). Got something to say about the deck? Use the hashtag… #DeckofDT.