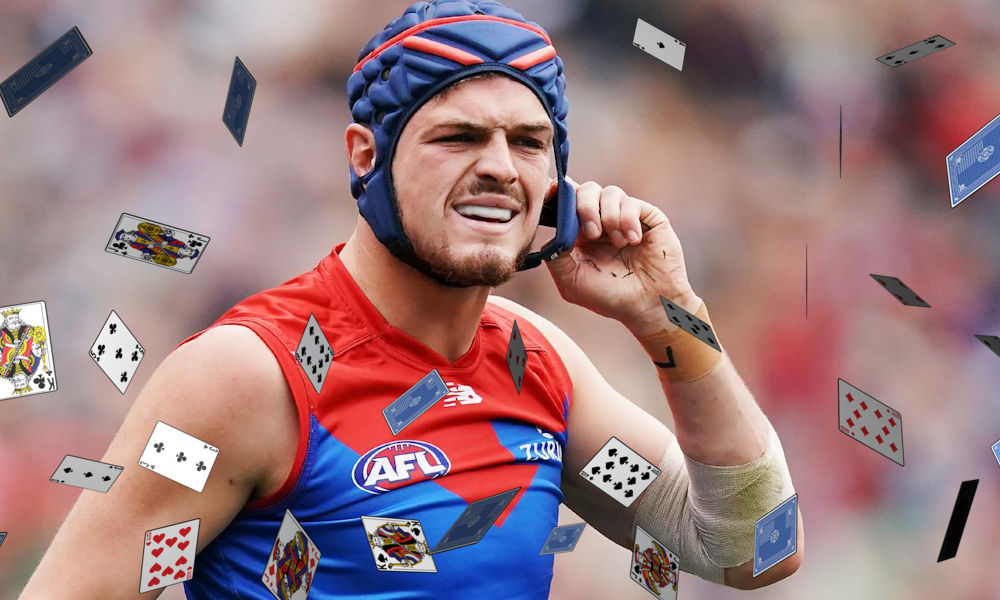 Name: Angus Brayshaw
Team: Melbourne
Position: MID
Price: $653,000
Bye round: 13
2019 average: 88.0
2019 games played: 22
Predicted Average: 105
Draft range: Approx. 3rd-4th round
Click here for 2020 Fantasy prices.
Why should I pick him?
Let me take you back to 2018, where Brayshaw's fantasy talent was exposed. He missed the first 3 games as he was playing in the VFL, and in his first 3 games back, he played in defence for an average of 66. But after he moved into the midfield, his average inevitably spiked, which saw him average 105.1 for the season. 
He also had a game where was ordered to tag Jack Crisp where he scored 47. I know fantasy has it's ups and downs and we cannot control them, but if you take out these games where externalities saw his scores dip, he averaged approx. 117, ranking him amongst the elite fantasy midfielders. 
When Brayshaw played in the midfield in 2019, he scored well, similar to his 2018 numbers. He started the season with 5 scores over 100 in 6 games and finished with 2 hundred's in his last 3 games. His scoring isn't the problem, it's the role. 
But the arrival of Ed Langdon and Adam Tomlinson to the Demons has got me excited over the prospect of Brayshaw in 2020. As Brayshaw spent a lot of time on the wing in 2019, his dream team scores suffered severely. But with the Dees picking up 2 wingers in the trade period, surely Gus won't be playing there in 2020? And we know he scores much better in the midfield, which is why this is a very promising sign. 
We can't forget about the small things that make Brayshaw a great option in 2020. He played 22 games last season and was reasonably consistent given his role was the same (whether that was consistently poor or positive). He has a great ceiling, managing scores of 166, 143 and 142 in 2018, and he is a natural ball winner. When in the guts, he tackles, pushes for marks and +6's and scores with ease.
Why shouldn't I pick him?
Langdon and Tomlinson's arrival ensures that Gus won't play on the wing….but doesn't guarantee that he will play in the midfield. He rested forward at times in 2019, in particular vs the Bulldogs in round 17. He sat forward in the first half, resulting in 2 points at QT and 11 points at HT. In a game where Dunkley scored 189, I wasn't too happy when Brayshaw finished on 44 points. 
With a midfield of Oliver, Viney, Jones, Petracca and Harmes, there's no certainty that Bryahsaw will spend all his time in the midfield, let alone start there. 
His talent and potential are undeniable but we can't just simply forgive the pain he forged in 2019. For some, it meant holding him for most of, if not the whole year for his terrible scores. It's not easy to just flip the switch and score as he did in 2018. At times in 2019, he looked like he was lacking effort, fitness and will for the ball, reflective by his performance. 
Brayshaw has had a lot of injury problems in the past as well, evident through his renowned helmet. Last year was the first time in his career where he played 22 games but was carrying small injuries throughout the season. It's on the minor side, but a factor to consider.
Luckily this season we are posed with plenty of value and premium options int he midfield, such as Ward, Mitchell, Coniglio, Yeo, Merrett, Steven etc who are all underpriced based on previous averages, as well as proven premiums such as Treloar, Macrae and Dunkley who we know will score well. Brayshaw might be squeezed out of a lot of peoples teams due to the wide variety of options in the guts. 
Does Angus Brayshaw (MID, $653k) offer some value? The Traders discuss his 'discounted' price.https://t.co/4eBAal5vIc#AFLFantasy pic.twitter.com/PDYqr01P7m

— AFL Fantasy (@AFLFantasy) December 20, 2019
Deck of DT Rating.
QUEEN
Brayshaw was close to getting the king rating, but I can't ignore his previous lacklustre season. Regardless, I see him as a bargain at $653K and opposed to someone priced around $800K, will be a great option given he has a friendly role in the JLT and shows signs of improvement on last season. Predicting an average of 110+ would be very naive however I think he can certainly reach his previous highest average of 105, and maybe even push it a little further. 
FOLLOW US  ON TWITTER: @DTTALK for all thing AFL Fantasy (and more). Got something to say about the deck? Use the hashtag… #DeckofDT.