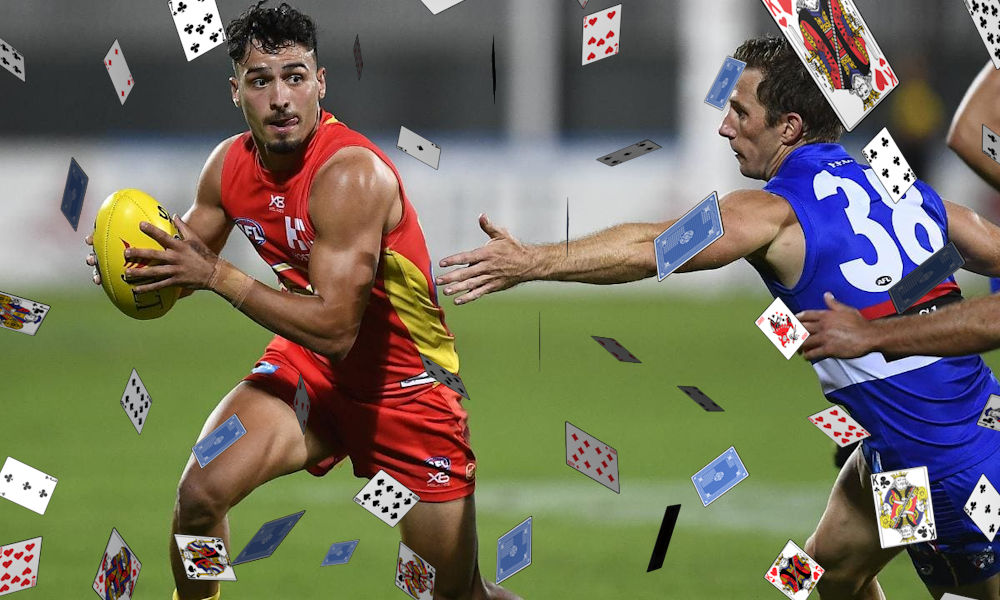 Name: Izak Rankine
Team: Gold Coast Suns
Position: FWD
Price: $170,000
Bye round: 14
2019 average: 59.6 (NEAFL)
2019 games played: 3 (NEAFL)
Predicted average: 55-60
Draft range: Undrafted
Click here for 2020 Fantasy prices.
Why should I pick him?
There's a reason why Izak Rankine is in 50% of all fantasy teams right now, with the talented youngster poised to have a huge impact in 2020. With injuries restricting him to just a handful of NEAFL games a year ago, Rankine is ready to be unleashed.
The Suns used the 3rd overall pick in the 2018 draft to snag the highly-touted SA prospect and he gave us glimpses of his talent throughout the preseason a year ago. However, a serious hamstring issue followed by a hip complaint meant Rankine wasn't able to make his AFL debut in his first season as a pro. Providing he can stay healthy for the rest of this preseason, Rankine will be in line to play a high number of games as the Gold Coast Suns try to build the foundation of their future centred around their plethora of talented kids. I highlighted a few weeks ago in the Matt Rowell article how many opportunities there will be for the Suns' youngsters to feature in 20+ games this year and Rankine is no exception.
Having played most of his footy as a forward, Rankine was able to average 62 fantasy points from 10 SANFL games before being drafted. In the NEAFL last year, that average was almost mirrored as Rankine scored 38, 90 and 51 from his three games for an average of 59.6. Having kicked 15 goals from 10 games in 2018 and four goals in his three games a year ago, Gold Coast will likely deploy Rankine in front of the sticks as the worst scoring team in the AFL last year tried to find a formula for success. Don't expect him to stay buried inside 50 for the whole year though, with Touk Miller pumping up his tires over the weekend – highlighting some potential midfield time for the special talent.
He's starting to get more time in the middle, playing forward as well, showcasing what he does best. …he's a high-pressure forward and he tackles really well. That's pretty much what we want from him. – Touk Miller discussing Izak Rankine.
Don't go expecting to see Rankine attending a high number of centre bounces in 2020, but if he can pinch-hit through the guts his scoring ceiling will certainly be on the rise. Predicting a modest average of 55-60 for the 19-year old seems fair, but if he's allowed to roam up the ground, there's a chance he can replicate similar numbers to Gryan Miers last year and really emerge as a game-changing rookie.
Why shouldn't I pick him?
Aside from injury risk, it's hard to find a reason to go against starting with the classy x-factor. Trusting an injury-prone rookie is always a tough ask and while labelling a teenager as injury prone is a stretch, Rankine's body hasn't done him any favours to start his career.
If for one reason or another he isn't in Gold Coast's Round 1 team to take on Port Adelaide then things might be different. With plenty of change coming at the club in the past few seasons, there is a scenario (albeit it an unlikely one) where Rankine struggles to find his feet in the AFL and instead of featuring in a bunch of games he could be forced to split his time between the senior and reserves side. In his rookie year, Rankine did extend his contract for an additional two seasons though and it's clear that he is a big part of their future. That should mean he plays a ton in 2020, but again he'll need to avoid the injury bug to do so.
Even if he does play in a high number of games throughout the season, a time will come when Rankine will need to be axed from our side. His low scoring ceiling could scare some coaches off, to avoid being stuck with a Matthew Parker 2.0 scenario. Granted, Parker provided us with a stable bench scorer for most of the season and a lot of fantasy coaches would have started the year with him as their last on-field forward or holding down a spot on the bench. Rankine will likely be in the same boat this season and if we aren't left with a ton of FWD rookie choices, the young Sun might be forced into starting 22 sides and play on the field for coaches around the globe. Less than ideal.
At just $170K, starting with Rankine in your team is a smart manoeuvre even if there are some injury concerns. Should he succumb to another problem early though, given his basement price it would infuriate coaches to have to use one of their valuable 47 trades to move on from a guy who hasn't even ticked over the $200K mark. Here's hoping we aren't stuck in that position a few short months from now…
Pick No.3 in the 2018 national draft, Izak Rankine (FWD, $170k) is a popular option on #AFLFantasy Classic benches at this early stage.

If he is named in round one, then lock the basement priced Sun in!#AFLFantasy pic.twitter.com/OmVvrlOfXr

— AFL Fantasy (@AFLFantasy) January 30, 2020
Deck of DT Rating.
KING
Unless a rookie is playing a role similar to Sam Walsh and Charlie Constable a year ago an average around the 60's is fairly common. Given his talents and the consistent games, we all expect him to play, that's enough of a reason to start the year with Rankine in your sides. I understand that everyone shuffles their team around a lot in the preseason, but if you're in the 50% of the comp that doesn't have Gold Coast's junior in your lineup go and make the change now.
Loading ...
FOLLOW ME ON TWITTER: @SportsbyFry for all things AFL Fantasy (and more). Got something to say about the deck? Use the hashtag… #DeckofDT.