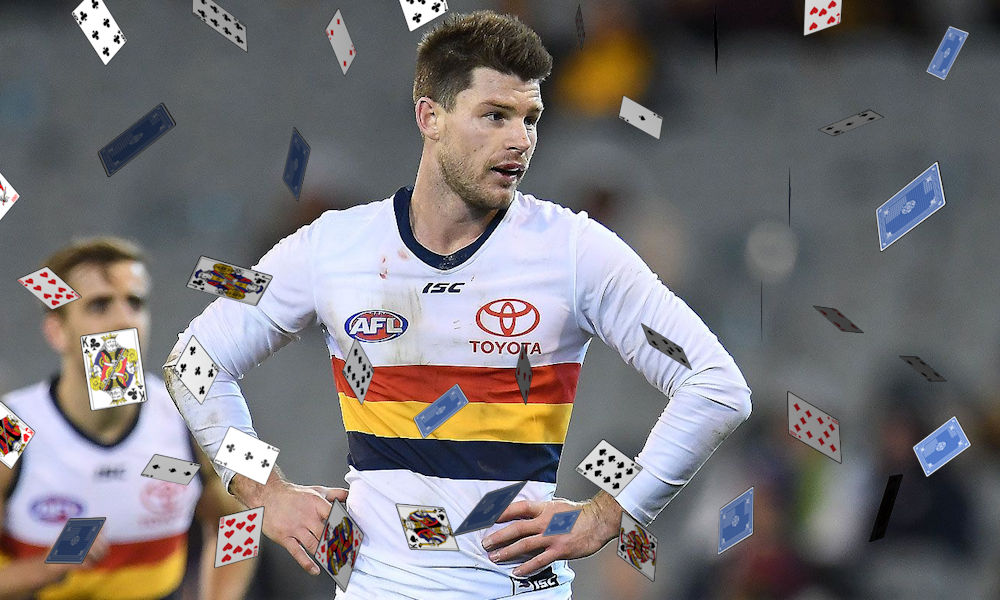 Name: Bryce Gibbs
Team: Adelaide Crows
Position: Midfielder
Price: $600,000
Bye round: 14
2019 average: 80.8
2019 games played: 12
Predicted average: 97
Draft range: If DPP changes, rounds 4-6
Click here for 2020 Fantasy prices.
Why should I pick him?
Bryce Gibbs has been a fantasy stalwart for the past decade. Over the past 10 years Gibbs has averaged over 100 on six occasions. He has played 205 games over that period, playing the full 22 games in all but two seasons, averaging exactly 100. Not only is he durable, he's also a proven fantasy scorer.
That was until last year, where he played 12 games for an average of 81. There was one other outlier in his career. He played just 10 games in 2015 for an average of 81. Sounds familiar. His next season? He played 22 games for an average of 105.4…
Just two seasons ago Bryce Gibbs averaged 112 in his final season at Carlton. After moving to Adelaide in 2018, he dominated in the midfield again for an average of 104. This is where things get interesting, and some more in-depth research was required.
Last season he lost form in the midfield, finding himself dropped to the SANFL on three occasions. His body is fine, which has to be considered a positive. Matthew Nicks made it extremely clear that Gibbs was going to be a critical player for his new look Crows outfit.
"What we've talked about, we'll probably have a look at him at half back. It doesn't mean Bryce will play there all year, we'll do whatever is best for the team, but so far across training, Bryce has been outstanding. 

He's a super player. It's a matter of us helping him in that space and where he can play his best footy. I have no doubt he will have a strong season for us."
What might a rejuvenated Bryce Gibbs look like off half-back? We need to go way back to 2011 when Gibbs dominated across half-back for the Blues. He scored 13 tons that year for an average of 107. His season averages included 17 kicks, 7 handballs, a whopping 7.5 marks and 3.5 tackles.
He continued in a similar role for the next couple of seasons, however he could only average 92 and 89 in 2012 and 2013 respectively. It was in 2014 that he moved into the midfield, where a clear change in his scoring output could be seen. Having averaged 16 kicks, 7 handballs and 6 marks in the three years prior, Gibbs averaged 15 kicks, 12 handballs, 4 marks and over 5 tackles as a midfielder.
It's clear there will be less handballs and less tackles for Bryce off half back, however there is no doubting his ability to rack up +6's instead.
Judging by his career numbers, I think we can lay a safe floor on his scoring average at the 90 mark. If all goes well, he can certainly push those numbers closer to triple figures. What's even more exciting is the potential for him to gain DPP. How nice would it be to slide Gibbs back after Round 6, especially considering he could become a lock in your team all year.
There's no chance he becomes a top 8 midfielder, but a top 6 defender? That's a huge possibility. This needs to be taken into consideration in your draft rankings. Of course if he doesn't line up in defence you could find yourself with egg on your face.
Given he's a good 10 points underpriced with huge upside, I think he's a viable starter in midfield. Especially considering he has averaged 100 for the last decade and is only 30 years old! Marc Murphy bounced back for a career best average of 111 at the same age, so there's no way I'm ruling Gibbs out from becoming even better than I'm predicting.
Why shouldn't I pick him?
There are a lot of unknowns here. Yes Gibbs has scored well off half-back before, but that was 9 years ago. How will he fit into Adelaide's half back line? Brodie Smith pushed further up the ground at the end of last season, but Rory Laird has been their go to man and I can't see that changing. Can they both rack up the pill in defence? Sure they can, but playing together probably caps their upside somewhat.
The if's and maybe's continue to pile up. Will he get a share in the kick-in duties? Will he even find his best form again? A slow start could see him back to the SANFL in no time. These are questions that will be tough to answer before the pre-season really gets started, and until then it's hard to lock Bryce Gibbs into your midfield with any confidence.
I suppose that's the last issue. It's nice that he might be classified as a defender after the first set of DPP changes, but squeezing him into your starting midfield at a price of $600k may be asking too much. I couldn't blame anyone for not finding the room for Gibbs at this stage.
At $600k, Bryce Gibbs offers value… especially if he plays that half-back role and gains DPP during the season.https://t.co/9iDAxE72x4#AFLFantasy pic.twitter.com/VqjTHJ5mcL

— AFL Fantasy (@AFLFantasy) January 2, 2020
Deck of DT Rating.
JACK
He's currently a jack, but I could definitely see Bryce as a queen if he has a solid Marsh series. His ownership currently sits at 5% and he sits in my team. I'm confident he'll be back in form this season, he's simply too good to not bounce back. Nicks is keen to get the best out of him, and it's easy to understand why. Adelaide will want the ball in his hands and the opportunity is certainly there for him.
I think Gibbs averages well into the 90's, and for that reason he's value enough to make my current squad with an eye on a possible DPP move into defence. Of course if he plays in the midfield, we know he can average 110+. I don't really see a way this pick loses, but it's not necessarily a home run either. Yes I get it's an awkward price, but Gibbs could just become a keeper.
FOLLOW US  ON TWITTER: @DTTALK for all thing AFL Fantasy (and more). Got something to say about the deck? Use the hashtag… #DeckofDT.