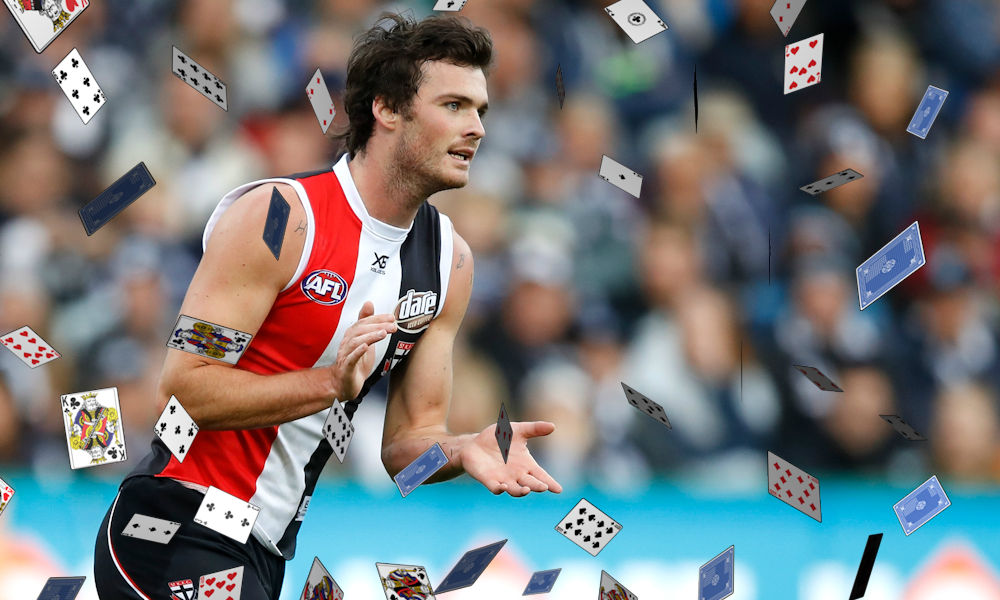 Name: Dylan Roberton
Team: St Kilda
Position: Defender
Price: $327,000
Bye round: 12
2019 average: N/A
2019 games played: N/A
Predicted average: 82
Draft range: Middle-Late round flyer
Click here for 2020 Fantasy prices.
Why should I pick him?
It's easy to forget the strides Dylan Roberton had made before his heart scare back at the start of 2018. It was a frightening scene when he collapsed during the Saints round 4 clash against Geelong and he hasn't suited up since. He resumed pre-season training in early 2019 but was forced to seek medical advice from overseas due to ongoing issues with an irregular heartbeat. There were genuine fears he may never play again. Thankfully Roberton has been given the all clear and he has been back in full training for the entire 2020 pre-season.
"I headed overseas and just got some opinions and everyone's really confident that if I'm diligent with my medication and like I said those regular checkups with the cardiologist that everything's gonna be fine."
Roberton is set to return for the upcoming 2020 season and we can expect him to see him during the Marsh series. That fantastic news aside, what can we expect fantasy wise?
In 2017 Roberton was one of the competitions biggest surprise packages, enjoying a breakout season across half-back on his way to an average of 90. This included 5 scores of 110+ in just the first 9 rounds of the season. In fact before his bye, Roberton averaged an incredible 105.5. It should be noted he slowed significantly in the second half of the season, averaging just 78 in the final 12 games.
Until we see him back in action during pre-season it's impossible to say how he's tracking, but so far all the news is positive. Some expected rustiness aside, Roberton should be back and 100%.
He may not average 90, but he doesn't need to. Having played just 3 full games for an average of 77 in 2018, Roberton comes into 2020 priced at a ridiculously cheap $327,000. That's an average of 44… Let that sink in. You can almost consider him an expensive rookie!
While it's a little much to ask that he comes back and averages close to 90 this season, realistically if he averages mid 70's it's still a massive win. I think that's his floor, so the worst case scenario is he's a great cash cow until his bye. If all the pieces fall into place and he stays healthy, his ceiling is much higher than that. He could even become a D6 keeper!
Why shouldn't I pick him?
We often worry about injury prone players, but I've never written about a player facing a serious heart condition. There will be NO risks taken. If Roberton has any setback, even if it's minor, you'd think not only his season but his AFL career would be in doubt. His health has to be the main priority for the club, so there's a big chance Roberton may get rested even if he's feeling ok. That is obviously a major concern.
Health aside, I can't see a reason not to pick Roberton. He's 30 points per game better than his starting price and that's a taking a conservative, worst case scenario outlook. I won't waste anymore of your time!
At $327k, Dylan Roberton offers a heap of value according to @WarnieDT considering it was only a couple of seasons ago that he averaged 90.https://t.co/WCzJ72Lf8a#AFLFantasy pic.twitter.com/OfJuZisqCT

— AFL Fantasy (@AFLFantasy) December 26, 2019
Deck of DT Rating.
QUEEN
I say it often, this game is hard enough as it is without trying to predict what will happen during the season. All we can go off is a players pre-season, and Dylan Roberton is being given green lights. All the word coming out of the Saints camp is that Roberton is back, fit and healthy and in that case he has to be in your AFL Fantasy sides. The risk is almost zero at his starting price and popularity (Currently at 40%, so I assume the other 60% haven't completed their sides).
Where he goes in a draft is anybody's guess, his Marsh series form will dictate that.
Don't over complicate things. Roberton will be a great cash cow, and there's huge upside considering he has the ability to score like a top 6 defender. We just need him healthy, so keep your fingers crossed!
FOLLOW US  ON TWITTER: @DTTALK for all thing AFL Fantasy (and more). Got something to say about the deck? Use the hashtag… #DeckofDT.