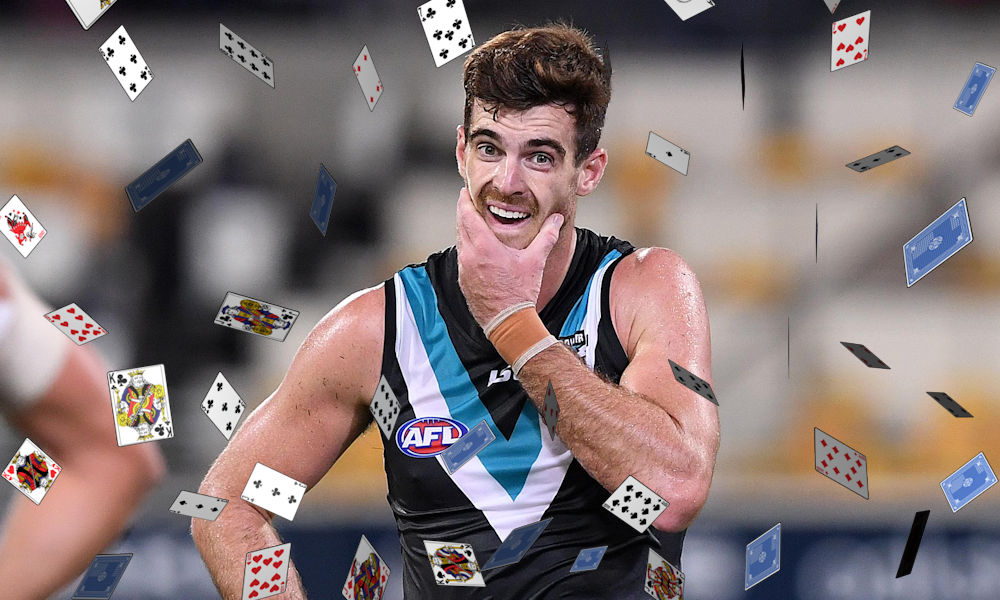 Name: Scott Lycett
Team: Port Adelaide
Position: Ruck
Price: $619,000
Bye round: 12
2019 average: 83.4
2019 games played: 18
Predicted Average: 94.5
Draft range: 4th – 5th Round
Click here for 2020 Fantasy prices.
Why should I pick him?
Succinctly, the time is right. Recent history shows that ruckmen tend to produce their career-best fantasy seasons between the ages of 26-29 when sole rucking. Port Adelaide's 27-year-old Lycett looms large heading into season 2020, looking to assume the ruck mantle and make it his own. The Power lacks a truly established AFL level backup ruckman, with Dixon and Westhoff able to provide pinch-hitting support and Ladhams still developing predominantly in the SANFL. Analysing the career-best seasons of his fellow AFL ruckmen, the signs are all pointing towards Lycett outperforming his starting price point in AFL fantasy this year.
| | | | | | | |
| --- | --- | --- | --- | --- | --- | --- |
| Ruckman | Best Season | Year | Age | 2nd Best  | Year | Age |
| Grundy | 122.1 | 2019 | 24 | 120.0 | 2018 | 23 |
| Martin | 114.0 | 2015 | 28 | 112.2 | 2014 | 27 |
| Goldstein | 113.8 | 2015 | 26 | 99.4 | 2011 | 22 |
| Gawn | 111.3 | 2019 | 27 | 111.3 | 2018 | 26 |
| Witts | 104.4 | 2019 | 26 | 93.8 | 2018 | 25 |
| Jacobs | 99.4 | 2017 | 28 | 97.1 | 2014 | 25 |
| Mumford | 94.4 | 2015 | 29 | 92.5 | 2014 | 28 |
| Ryder | 91.7 | 2017 | 28 | 90.3 | 2012 | 23 |
Lycett is coming fresh off a career-best season with Port, in which he averaged 83.4 from 18 games, producing 15.9 disposals and 25.7 hit-outs per game. During this time, we got to see the ceiling Lycett possesses between rounds 14-16 when playing without former teammate Paddy Ryder. During this three-game stretch, he averaged 124.7, with a peak score of 140 in round 15 coming from 21 disposals, nine tackles, and 42 hit outs.
Following Ryders offseason move to St. Kilda, and to a lesser extent Frampton's move to cross-town rivals Adelaide, Lycett looks set to solo ruck for the Power in 2020. This provides Lycett a golden opportunity to shine as the clubs #1 big man. Arguably, Lycett has always been held back by having to share the ruckload previously at West Coast with Cox then Naitanui and again with Ryder at the Power. Now with the sole responsibility of being the big man in the middle, Lycett is positioned to set a new career-best fantasy season.
Scott Lycett (RUC, $619k) scored 130 and 140 when he was a solo ruck last season. Could we see more of the same in 2020?https://t.co/MBSxa34Xkc#AFLFantasy pic.twitter.com/fI5H1aSNQH

— AFL Fantasy (@AFLFantasy) January 4, 2020
Priced at $619,000, Lycett presents as a genuine R2 option this season for coaches looking to save some salary-cap space. Taking a punt on Lycett will save you 90k from popular R2 option Reilly O'Brien and an astounding 207k from Melbourne's Max Gawn. For those seeking such value in the R2 slot, Lycett needs to be up there in your considerations with Jacobs, R.O.B, and Naitanui.
Why shouldn't I pick him?
As the saying goes, high risk, high reward. Multiple factors surround Lycett and many of which could burst his potential scoring outbreak this season. Firstly, in season 2020, Ken Hinkley is a man coaching for his career. The Power have shown that they're right up there with Essendon in terms of Jekyll and Hyde-ness; consistently inconsistent and failing to bring anything near their best footy when required. Such inconsistency led to some big calls at the Power selection table in 2019, with Hinkley pulling no punches in his decisions to drop Dixon, Ryder, Westhoff and Lycett at various stages of the season. Fearfully, this could happen again with Hinkley showing no one is safe from the selection axe if the team is failing to produce results. The axing of an R1/R2 with a non-playing R3 during a fantasy season is the stuff of nightmares, but a realistic prospect for potential owners of Lycett that they need to be aware of.
Secondly, Scott Lycett has had patchy results at best as an AFL ruckman, failing to record a season average over 85 up to this point in his career. Pair this with the fact that he's also only notched 20+ games in two of his previous nine AFL seasons, you'd be forgiven for thinking this bloke is the embodiment of a timebomb waiting to abruptly derail your fantasy season somewhere between rounds five and ten.
Finally, the value R2 option of Lycett must be weighed up against the other left-field options present this year. Sam Jacobs is a proven fantasy gun and looks like the ruck position at the Giants is his to lose, whilst also coming in at only $514,000. R.O.B burst onto the scene last year, displaying a monster ceiling, consistency and a whole lot of promise for years to come as outlined by Dunny. Naitanui returns to the fold this season as a heavily discounted, $471,000 fantasy option for those coaches willing to risk it for an elite ppm ruckman.
Deck of DT Rating.
QUEEN
Scott Lycett is on the verge of breaking out at the Power as a Sole Ruckman in his prime and potentially producing a 93-98 average season. Is this enough upside to take such a massive risk on when he has a coach who has dropped him previously to make a bold selection statement? Coaches bullish on Lycett reaching the heights of a 95+ season average face a more high risk, medium reward kind of prospect, with a realistic 12-15 points of upside on offer from the Power ruckman. For those faints of heart, it may be better to opt for a safer R2 option, as there is every chance that the Lycett roller-coaster could be quite the bumpy ride this year.
FOLLOW US  ON TWITTER: @DTTALK for all things AFL Fantasy (and more). Got something to say about the deck? Use the hashtag… #DeckofDT.