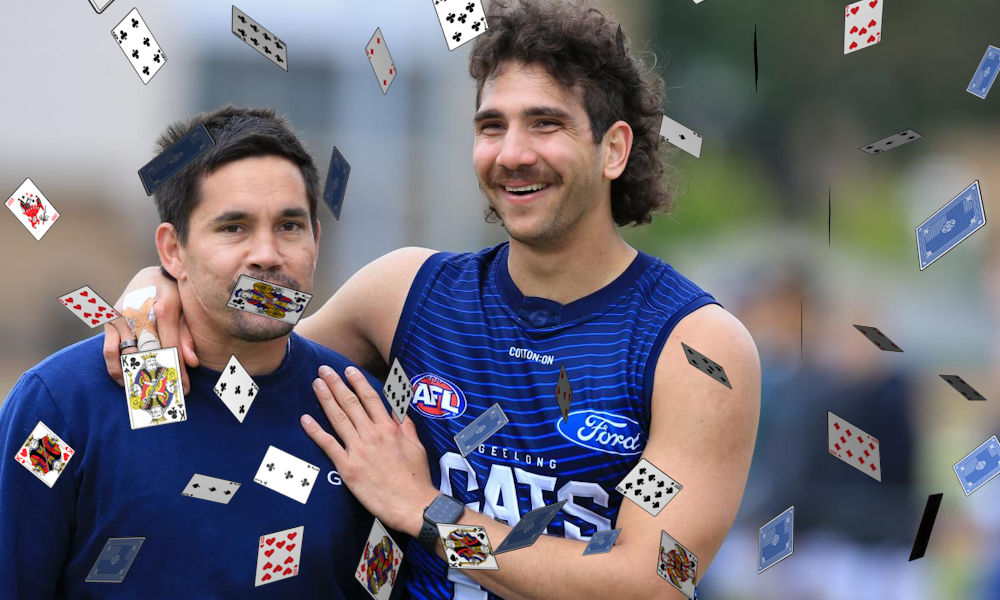 Name: Nakia Cockatoo
Team: Geelong Cats
Position: FWD
Price: $255,000
Bye round: 12
2019 average: DNP
2019 games played: DNP
Predicted average: 70
Draft range: Not draftable – free agent only
Click here for 2020 Fantasy prices.
Why should I pick him?
The name of the game is value and Cockatoo offers that being priced at 34, which is less than the majority of the first round draftees.
The 23-year-old has played just 33 games in his five years in the system, missing every game last year and therefore received a 30 per cent discount on his 49 average from 2018. This discount prices him at the lowest he's been since being listed.
Although paying up for rookies is in vogue, we often shy away with players in this price bracket as they appear to be awkwardly priced. This thought process makes sense. Considering Cockatoo's best return was an average of 60.5 from 10 games in 2016 with his next best being 51.1 from 10 the following year, you probably aren't getting enough of a return and he may end up being too much of a slow burn to justify selection.
Have I got the wrong heading here? Does he even need this heading?
Well, the reason Cockatoo is not only relevant for the Deck of DT and should be considered as an option in 2020, is for the words coming out of the Cats and from track watchers this pre-season. Patrick Dangerfield was on SEN talking about the Cat last week.
"He is going to be one of the biggest differences that we have this year. He'll play that sort of half forward role and roll through the midfield… he'll give midfielders that play the majority of the time through the midfield a bit of a chop-out at times and he's going to be a really big change for us."
Dangerfield went on to say the 6'2″ bull is almost untackleabe.
Cockatoo hasn't missed a beat this pre-season, starting training in October and although cautious of his hamstring and knee injuries, they are letting him go and seeing excellent results. With his speed and toughness around the ball, Cockatoo could be in the mix to get those extra midfield minutes that could take the 60-ish average to the 70s and be an on-field forward cash cow over the opening rounds.
Why shouldn't I pick him?
33 games and two scores of more than 80 doesn't give us a lot of faith that he'll return big enough numbers to justify selection as a higher-priced rookie.
Despite his age and job security, could the job as a cash cow be done by someone a bit cheaper with likely similar – if not better – output? That's always the question to ask with the awkardly priced players. We can hear about how good his pre-season has been and that injuries are in the past, but he's been perenially injured.
Knees, hamstrings, wrists… the list goes on.
The issue with picking someone who hasn't played since round three, 2018 is that he is likely to be managed and the Cats are very good at that. If you're paying $255,000 for someone, they're going to be on your field. This becomes an issue if he's rested in the opening rounds. Even if that is to play more forward and therefore slowing down his cash generation.
Deck of DT Rating.
JACK
If all goes to plan, Cockatoo could be a 75+ averaging player. With a primarily half-forward role and stints through the midfield, this isn't out of the question and he wouldn't necessarily have to be having a truckload of time in the guts to score well. The Cats have evolved a lot with their forward set up in the last couple of years (additions of Gary Rohan, Josh Jenkins, Luke Dahlhaus) and therefore Cockatoo's role is likely to be a little different than the past. Remember he's a top 10 pick and while we shouldn't believe everything we hear, Cockatoo's attributes and age profile should see him getting that opportunity in the midfield that they've talked about on multiple occassions. While not a lock for now, a Marsh Series watch is well and truly on the Cat and could be a very good starting F6 option if the rookie stocks are low. At least his job security should be greater than a lot of others at or below his starting price.
FOLLOW US  ON TWITTER: @WarnieDT for all thing AFL Fantasy (and more). Got something to say about the deck? Use the hashtag… #DeckofDT.