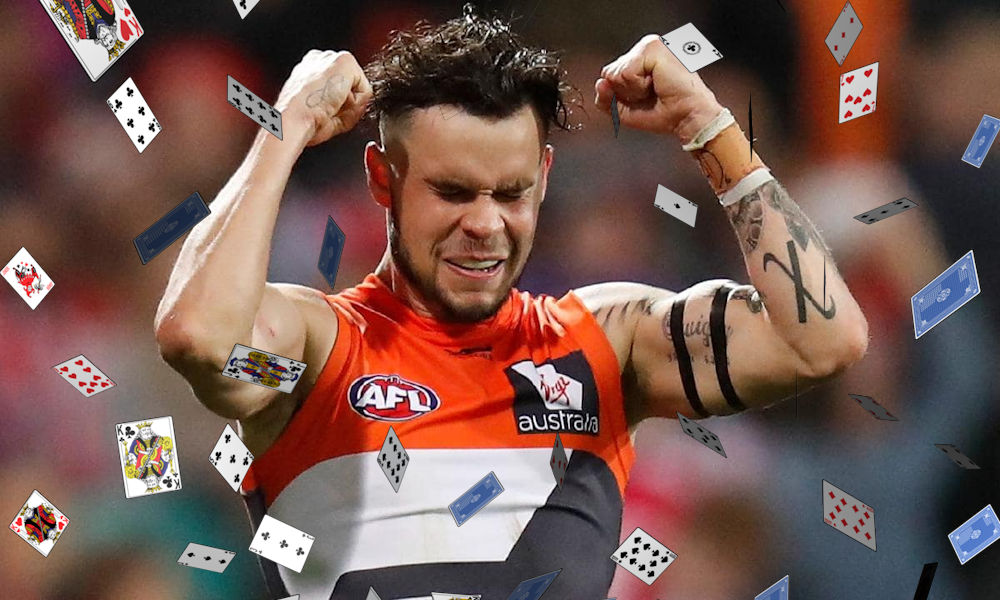 Name: Zac Williams
Team: GWS
Position: DEF
Price: $688,000
Bye round: 14
2019 average: 93
2019 games played: 20
Predicted average: 102
Draft range: Round 2/3
Click here for 2020 Fantasy prices.
Why should I pick him?
Zac Williams is a star when he lines up across half back but he is a borderline superstar when  given the opportunity to run through the midfield, as we saw in the second half of last year following a torrid run of injuries to the Giants on-ball brigade.
After missing the entire 2018 season with injury, he was very solid upon return with two hundreds in the first 12 rounds while averaging 79 and that included an injured 43 in round nine. Now, what excites me about Williams is the way he embraced his increased opportunities through the midfield from round 13 onward. Between that point and the end of the season he had seven triple figure scores, while dropping under 90 on only one occasion. If he played that role for the full year, (which included full time midfield duties for the last few weeks) he would be ranked the second best defender, as opposed to eighth for the year.
Zac considers himself a MID and isn't complacent with just being a half back, so if… And I say if he can continue to get a run through the middle in their star studded lineup, he has to be selected. A number of his scores in the second half of the year are out of reach for most defenders with elite midfield performances including 114, 120 and 142… How good would it be watching your back line get a boost like that for the week, especially from a guy priced at 93.
He also got a run in the midfield during the Preliminary Final against the Pies where he was part of the huge upset win following a handy contribution of 25 possessions, six marks, six tackles and a goal for 116.
Why shouldn't I pick him?
You can't take the risk of picking Williams, purely because the chances of him getting midfield time in a star studded line-up including Kelly, Coniglio, Taranto, Ward, Hopper and Whitfield to name a few, let alone the impact that Greene has as well when he goes through there means he will likely just return to his customary role. The likelihood of this is further strengthened by the fact his run and skill level off  half back  is so valuable.
Durability has to be flagged for the former pick 55 in the Rookie Draft given he has never played a full season although, discounting 2018, he has managed a respectable 20 in his last three seasons.
He is an awkward price. Unless you are convinced of upside, it is a lot to pay for a defender that could either maintain or conceivably drop off if playing an unfriendly role.
Deck of DT Rating.
QUEEN
This is certainly a case of high risk, high reward. Williams has always been a favourite of mine and after watching him dominate the second half of the year, he currently sits in my team. I understand the likelihood of limited midfield time at the start of the year, but along with Greene, he is in the mix for first cab off the rank as a replacement when injury strikes. I also feel that he has taken his game to another level now and even as a defender, will force his way into games and end the season as one of the top options in his position.
FOLLOW US  ON TWITTER: @DTTALK for all thing AFL Fantasy (and more). Got something to say about the deck? Use the hashtag… #DeckofDT.