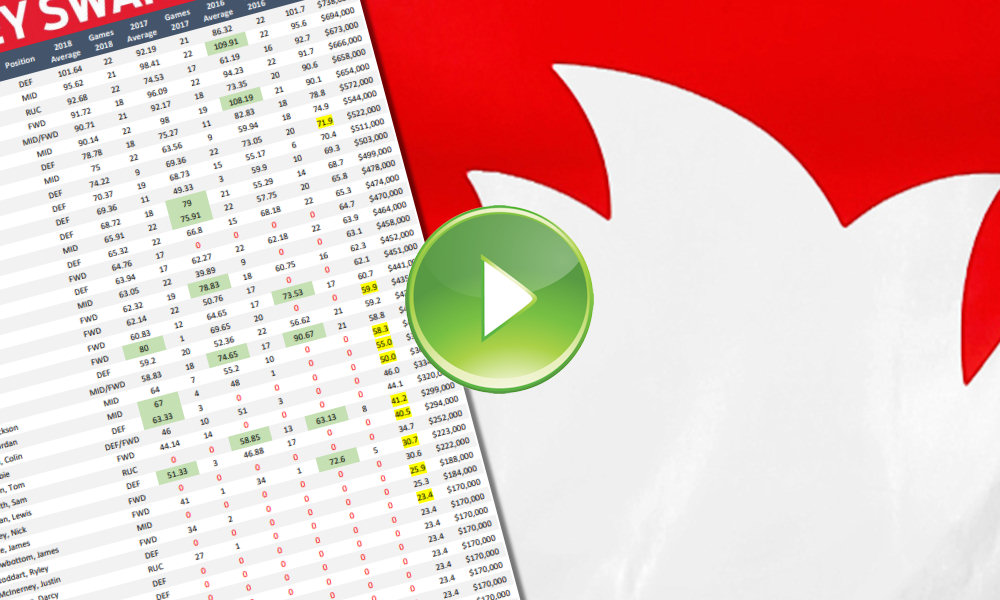 It was an indifferent season for Sydney in 2018, the Swans were 8-2 in all Travel games yet managed just a 5-7 record at the SCG.
Sydney averaged 373.2 Disposals in the 2018 H&A season (Rank 12), the Swans averaged 386.6 Disposals from winning games & 357.0 Disposals from losing games at the SCG (Incl. Finals).
Only 1 player managed to average more than 100pts last season at Sydney (Jake Lloyd 100.5pts Incl. Finals), Josh Kennedy was the only midfielder to average more than 25.0 Disposals in otherwise what was a poor season for the midfield group at the Swans.
As a result of the poor midfield numbers for Sydney last season they conceded 55.4 Inside 50s per game during the H&A season (Rank 15), between Rounds 12-23 the Swans conceded 57.6 Inside 50s (Rank 17) to which Jake Lloyd averaged 105.0pts.
If the Swans continue to concede high Inside 50s in 2019 then expect the defensive group to benefit again.
Click here to download.
Find The Traders' podcast on: Apple Podcasts, Google Podcasts and Spotify.
2019 Potential Targets:
Jake Lloyd DEF $738K
Lloyd averaged a career season high 100.5pts last season (Incl. Finals), he scored 100pts or more in 47.8% of games & 120pts or more in 21.7% of games.
As mentioned above Lloyd benefited from a defensive game plan at the Swans last season, he also recorded a league highest number of Kick-ins with 151 in the H&A season.
Lloyd will likely assume a similar type defensive role again in 2019, he is likely under-priced with the additional recorded Disposals to be added with the introduction of the Kick-in rule in 2019.
Lloyd may be highly owned at Round 1, he is likely worth the investment.
Luke Parker MID $694K
Parker was quite a volatile own last season, he averaged 95.4pts in the H&A season and scored 108pts in an Elimination Final loss to GWS.
Parker scored 100pts or more in 40.9% of games & 120pts or more in 9.1% of games last season, he scored fewer than 80pts in 27.3% of games which was a significant increase compared to the 2017 season (12.5%).
If Sydney can return as a successful club in 2019 then Parker is likely to benefit, he averaged 103.4pts from winning games compared to 85.4pts from losing games last season.
The Swans have a decent early fixture to start the 2019 H&A season, Parker may be an option especially to go along with what is likely to be a low ownership.
Isaac Heeney MID/FWD $658K
With the departure of Dan Hannebery during the recent trade period Heeney could be elevated up the Swans midfield depth chart in 2019, he has averaged in the low 20's for Disposals in the last 2 years in his Mid/Fwd role at the Swans.
The addition of Dan Menzel and the emergence of Ben Ronke last season should alleviate the pressure on scoring, for midfielders such as Heeney next season an increase in midfield usage could see his numbers spike as a result.
Heeney scored 100pts or more in 40.9% of games last season, he did not score 120pts or more in any game.
With his DPP status expect Heeney to be a target for fantasy coaches at Round 1, an increase in midfield usage should see him deliver a healthy 2019 average.
Download prices, positions and stats pdf.
Player
Position
2018
Avg
2018
Gms
2019
Price
Lloyd, Jake
DEF
101.64
22
$738000
Parker, Luke
MID
95.62
21
$694000
Sinclair, Callum
RUC
92.68
22
$673000
Franklin, Lance
FWD
91.72
18
$666000
Heeney, Isaac
MID/FWD
90.71
21
$658000
Kennedy, Josh P.
MID
90.14
22
$654000
McVeigh, Jarrad
DEF
78.78
18
$572000
Cunningham, Harry
MID
75
22
$544000
Mills, Callum
DEF
74.22
9
$522000
Clarke, Ryan
DEF
70.37
19
$511000
Aliir, Aliir
DEF
69.36
11
$503000
Jones, Zak
DEF
68.72
18
$499000
Hewett, George
MID
65.91
22
$478000
Rampe, Dane
DEF
65.32
22
$474000
Ronke, Ben
FWD
64.76
17
$470000
Grundy, Heath
DEF
63.94
17
$464000
Florent, Oliver
MID
63.05
22
$458000
Papley, Tom
FWD
62.32
19
$452000
Hayward, Will
FWD
62.14
22
$451000
Menzel, Daniel
FWD
60.83
12
$441000
Reid, Sam
FWD
80
1
$435000
Smith, Nick
DEF
59.2
20
$430000
Jack, Kieren
MID/FWD
58.83
18
$427000
Thurlow, Jackson
MID
64
7
$423000
Dawson, Jordan
MID
67
4
$399000
O'Riordan, Colin
DEF
63.33
3
$363000
Fox, Robbie
DEF/FWD
46
10
$334000
McCartin, Tom
FWD
44.14
14
$320000
Naismith, Sam
RUC
0
0
$299000
Melican, Lewis
DEF
51.33
3
$294000
Blakey, Nick
FWD
0
0
$252000
Rose, James
FWD
41
1
$223000
Rowbottom, James
MID
0
0
$222000
Stoddart, Ryley
FWD
34
2
$188000
McInerney, Justin
DEF
0
0
$184000
Cameron, Darcy
RUC
27
1
$170000
Maibaum, Jack
DEF
0
0
$170000
Tucker, Durak
DEF
0
0
$170000
Reynolds, Harry
DEF
0
0
$170000
Amartey, Joel
FWD
0
0
$170000
Pink, Toby
FWD
0
0
$170000
Foot, Zac
FWD
0
0
$170000
Bell, James
MID/FWD
0
0
$170000
Ling, Matthew
MID/FWD
0
0
$170000
Wicks, Samuel
MID/FWD
0
0
$170000