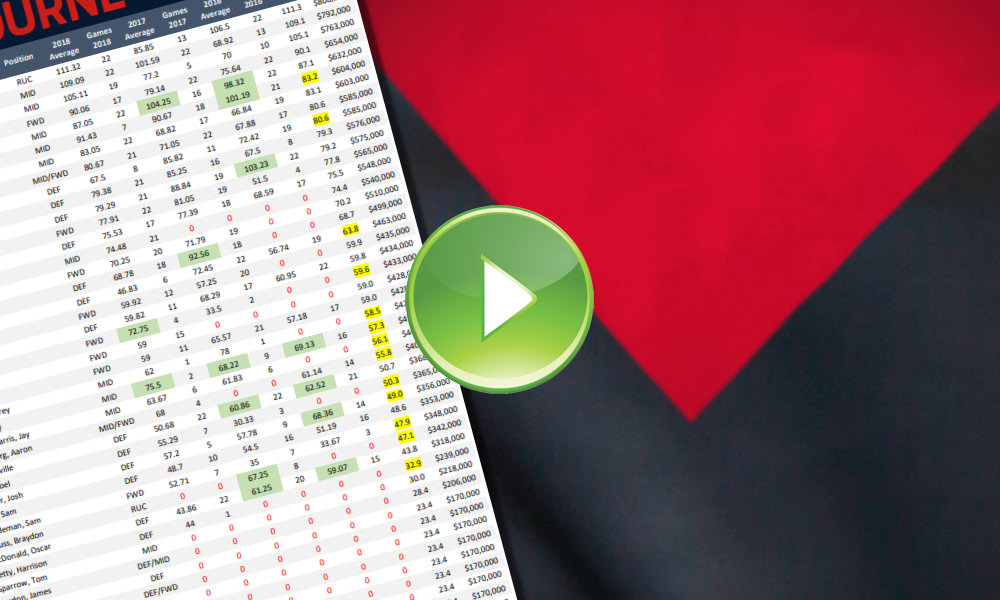 Melbourne started the 2018 season slowly averaging 365.8 Disposals between Rounds 1-6, the Demons averaged 400.4 Disposals from their remaining 16 H&A games (Rank 1).
A total of 3 players averaged more than 100pts last season, Max Gawn was the highest averaging 108.9pts (Incl. Finals). Key Forwards Jesse Hogan & Tom McDonald averaged in the high 80s.
Melbourne were active over the Trade Period acquiring Braydon Preuss which may impact Max Gawn, Steven May & Kade Kolodjashnij also join the Demons which impact the defensive mix along with the return of Jake Lever from an ACL injury.
The loss of Dom Tyson will also impact the midfield mix, the Demons should remain on a positive trajectory but with a different look in 2019.
Click here to download.
Find The Traders' podcast on: Apple Podcasts, Google Podcasts and Spotify.
2019 Potential Targets:
Max Gawn RUCK $808K
Gawn rebounded in a strong way in 2018 after an injury interrupted 2017 season, he averaged a career season high 108.9pts (Incl. Finals).
Gawn averaged 44.8 Hit Outs last season (AFL Rank 1), he scored 100pts or more in 68.0% of games & 120pts or more in 32.0% of games.
The addition of Preuss does raise an instant red flag, Gawn is likely overpriced if Preuss is a regular in the Melbourne team in 2019.
If Preuss is purely a backup Ruck then Gawn is appropriately priced, there is so much more information needed over the pre-season in order to make an informed decision.
Angus Brayshaw MID $763K
Last season was a breakout for Brayshaw, despite missing the opening 3 games of the 2018 season & averaging 66.0pts from his first 3 games the average of 112.4pts from his remaining 16 games is clearly noteworthy.
Brayshaw scored 100pts or more in 54.5% of games & 120pts or more in 27.3% of games last season, he recorded a season high score of 166pts against Adelaide in Round 10.
Ownership could dip on Brayshaw at the start of the 2019 season as he is a MID only, he could be a very good point of difference if he can produce again.
James Harmes MID $603K
Harmes forged his way into the midfield at Melbourne last season, his defensive role increased his contested numbers making him an option very late in the season.
The return of Jack Viney could negatively impact the role for Harmes in 2019, a further breakout could be limited as a result.
Like many others at Melbourne during the pre-season Harmes is a watch during the JLT series for role & midfield usage, he should be considered if his numbers spike in the right direction.
Download prices, positions and stats pdf.
Player
Position
2018
Avg
2018
Gms
2019
Price
Gawn, Max
RUC
111.32
22
$808000
Oliver, Clayton
MID
109.09
22
$792000
Brayshaw, Angus
MID
105.11
19
$763000
McDonald, Tom
FWD
90.06
17
$654000
Jones, Nathan
MID
87.05
22
$632000
Viney, Jack
MID
91.43
7
$604000
Harmes, James
MID
83.05
22
$603000
Petracca, Christian
MID/FWD
80.67
21
$585000
Kolodjashnij, Kade
DEF
67.5
8
$585000
Salem, Christian
DEF
79.38
21
$576000
Lewis, Jordan
DEF
79.29
21
$575000
Neal-Bullen, Alex
FWD
77.91
22
$565000
May, Steven
DEF
75.53
17
$548000
Fritsch, Bayley
MID
74.48
21
$540000
Melksham, Jake
FWD
70.25
20
$510000
Hibberd, Michael
DEF
68.78
18
$499000
Hunt, Jayden
DEF
46.83
6
$463000
Hannan, Mitch
FWD
59.92
12
$435000
Lever, Jake
DEF
59.82
11
$434000
Smith, Timothy
FWD
72.75
4
$433000
Spargo, Charlie
FWD
59
15
$428000
Garlett, Jeff
FWD
59
11
$428000
Maynard, Corey
MID
62
1
$425000
Stretch, Billy
MID
75.5
2
$416000
Kennedy Harris, Jay
MID
63.67
6
$407000
vandenBerg, Aaron
MID/FWD
68
4
$405000
Jetta, Neville
DEF
50.68
22
$368000
Smith, Joel
DEF
55.29
7
$365000
Wagner, Josh
DEF
57.2
5
$356000
Frost, Sam
DEF
48.7
10
$353000
Weideman, Sam
FWD
52.71
7
$348000
Preuss, Braydon
RUC
0
0
$342000
McDonald, Oscar
DEF
43.86
22
$318000
Petty, Harrison
DEF
44
1
$239000
Sparrow, Tom
MID
0
0
$218000
Jordon, James
DEF/MID
0
0
$206000
Keilty, Declan
DEF
0
0
$170000
Walker, Guy
DEF/FWD
0
0
$170000
Baker, Oskar
MID
0
0
$170000
Bradtke, Austin
RUC
0
0
$170000
Hore, Marty
DEF
0
0
$170000
Nietschke, Aaron
MID
0
0
$170000
Chandler, Kade
MID
0
0
$170000
Bedford, Toby
MID/FWD
0
0
$170000
Wagner, Corey
MID
0
0
$170000