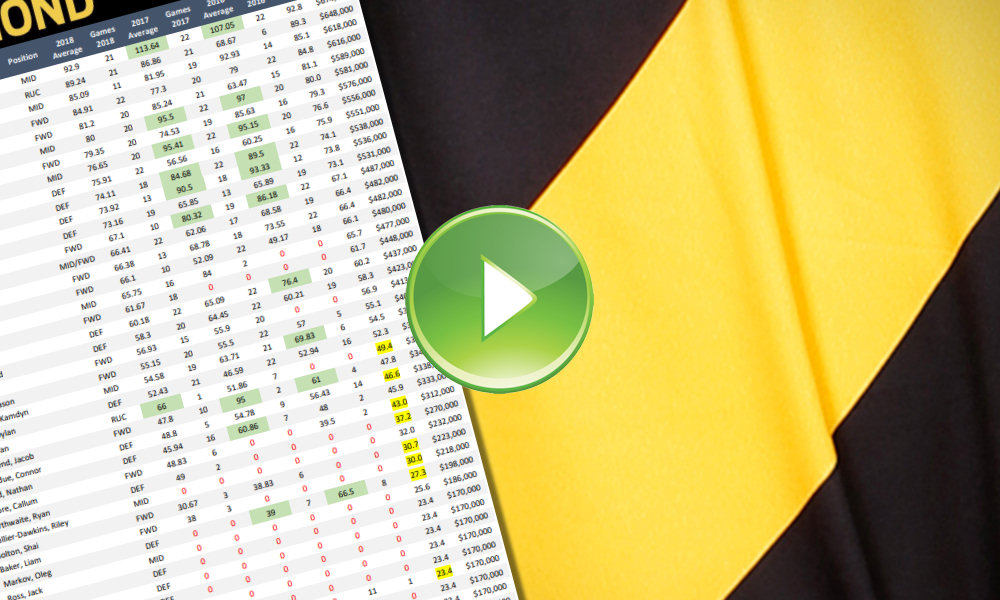 Richmond recorded fewer than 1500pts in 10 games during the 2018 H&A season (Rank 16), the Tigers averaged 368.0 Disposals over the same period (Rank 13).
Only 1 player averaged more than 90pts at Richmond last season (Incl. Finals), Dustin Martin recorded the highest average of just 92.0pts.
Richmond averaged 59.1 Inside 50s during the 2018 H&A season (Rank 2), the low Disposal / more direct approach combined with a high rate of Inside 50s is likely to continue in 2019.
The addition of Tom Lynch will likely make the Tigers a more potent attacking team in 2019, the efficient game plan could see the Tigers rank low again in disposals & fantasy points.
Click here to download.
Find The Traders' podcast on: Apple Podcasts, Google Podcasts and Spotify.
2019 Potential Targets:
Dustin Martin MID $674K
The 2018 H&A season was a disappointment for fantasy coaches who owned Dusty, he clearly lacked fitness (Injury impact) at times during the season and did spend more time Forward as opposed to a 2017 sweeping Half-Back role.
The addition of Tom Lynch likely pushes Martin away from the Forward line, a fully fit Martin at Round 1 could see a spike in average as a result.
Martin scored 100pts or more in 34.8% of games last season, this was a significant regression compared to 2017 in which he scored 100pts or more in 64.0% of games.
Identifying the role for Martin in 2019 will be a critical piece of the puzzle, if he is to return to a more favourable Midfield / sweeping Half-Back role then he is severely under-priced at Round 1.
Jayden Short DEF $551K
The fantasy game for Short started to emerge last season, he increased his average from 56.6pts in 2017 to 75.7pts from 24 games in 2018.
The new kick-in rule will likely advantage Short in 2019, he was clearly ranked No.1 at the Tigers last season for kick-ins.
Keep an eye on the role for Short during the JLT Series and a check on his scoring, he could be in for another increase in average this season.
Tom Lynch FWD $487K
Selecting key Forwards in season long fantasy can lead to significant problems due to the volatility in scoring, but consider the role for Lynch at Richmond in 2019.
Richmond were ranked No.2 for Inside 50s last season and Lynch is likely to be the main target if not close enough to it alongside Jack Riewoldt, the Tigers ran Shaun Grigg out in the Ruck to assist Toby Nankervis last season and that role likely moves to Lynch in 2019.
Lynch is returning from a season ending knee injury in 2018 but there have been no reports of any significant setbacks thus far, at his price & FWD status he might see a significant spike in average in 2019.
Download prices, positions and stats pdf.
Player
Position
2018
Avg
2018
Gms
2019
Price
Martin, Dustin
MID
92.9
21
$674000
Nankervis, Toby
RUC
89.24
21
$648000
Prestia, Dion
MID
85.09
11
$618000
Riewoldt, Jack
FWD
84.91
22
616000
Lambert, Kane
FWD
81.2
20
589000
Cotchin, Trent
MID
80
20
581000
Caddy, Josh
FWD
79.35
20
576000
Grigg, Shaun
MID
76.65
20
556000
Short, Jayden
DEF
75.91
22
551000
Ellis, Brandon
DEF
74.11
18
538000
Houli, Bachar
DEF
73.92
13
$536000
Vlastuin, Nick
DEF
73.16
19
$531000
Lynch, Tom J.
FWD
67.1
10
$487000
Edwards, Shane
MID/FWD
66.41
22
$482000
Weller, Maverick
FWD
66.38
13
$482000
Rioli, Daniel
FWD
66.1
10
$480000
Graham, Jack
MID
65.75
16
$477000
Higgins, Jack
FWD
61.67
18
$448000
Rance, Alex
DEF
60.18
22
$437000
Astbury, David
DEF
58.3
20
$423000
Butler, Dan
FWD
56.93
15
$413000
Castagna, Jason
FWD
55.15
20
$400000
McIntosh, Kamdyn
MID
54.58
19
$396000
Grimes, Dylan
DEF
52.43
21
$380000
Soldo, Ivan
RUC
66
1
$359000
Townsend, Jacob
FWD
47.8
10
$347000
Menadue, Connor
DEF
48.8
5
$338000
Broad, Nathan
DEF
45.94
16
$333000
Moore, Callum
FWD
48.83
6
$312000
Garthwaite, Ryan
DEF
49
2
$270000
Collier-Dawkins, Riley
MID
0
0
$232000
Bolton, Shai
FWD
30.67
3
$223000
Baker, Liam
FWD
38
3
$218000
Markov, Oleg
DEF
0
0
$198000
Ross, Jack
MID
0
0
$186000
Miller, Ben
DEF
0
0
$170000
Eggmolesse-Smith, Derek
DEF
0
0
$170000
Naish, Patrick
DEF
0
0
$170000
Balta, Noah
FWD
0
0
$170000
Coleman-Jones, Callum
RUC/FWD
0
0
$170000
Chol, Mabior
FWD
0
0
$170000
Aarts, Jake
FWD
0
0
$170000
English, Luke
MID
0
0
$170000
Turner, Fraser
MID
0
0
$170000