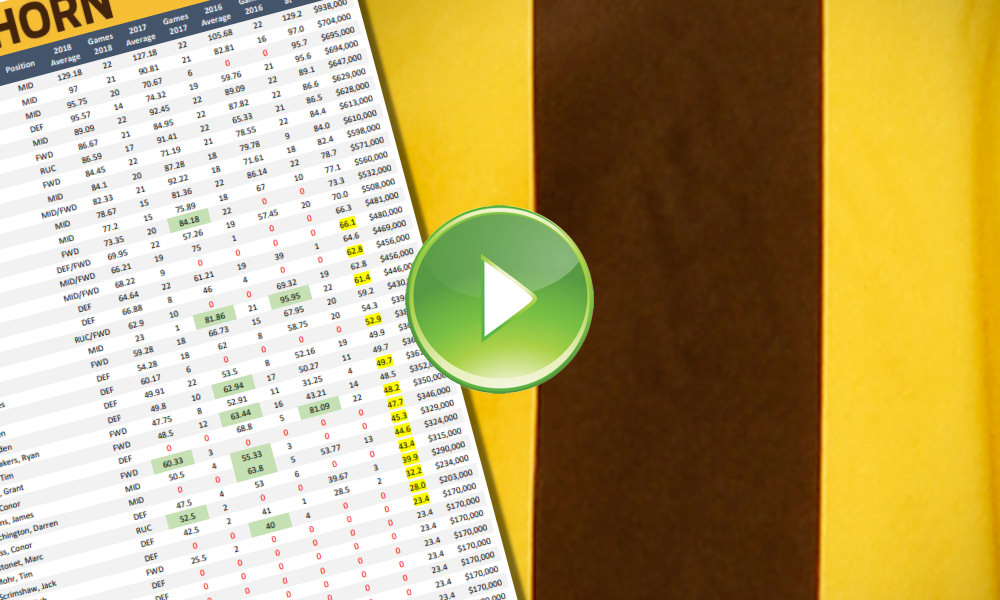 It appeared to be a normal Friday morning with pre-season back in full swing, but on the 11th of January news filtered through that Tom Mitchell had suffered a significant leg injury & will likely miss the entire 2019 season.
All fantasy coaches are no doubt hoping for a full recovery & best wishes for Tom Mitchell, as the news sinks in the attention will turn to a change in strategy for the upcoming fantasy season.
Initially the projected high ownership for Mitchell will be diluted towards other premium options, other coaches may opt for a completely different structure as a result of the Mitchell injury.
Options at Hawthorn have also opened up for the 2019 season, information & a pre-season focus is highly recommended for any potential opportunities.
Click here to download.
Find The Traders' podcast on: Apple Podcasts, Google Podcasts and Spotify.
2019 Potential Targets:
Liam Shiels MID $704K
Despite some inconsistency last season Shiels recorded a fair share of ceiling games, he scored 100pts or more in 47.8% of games & 120pts or more in 21.7% of games in 2018.
Shiels averaged a career season high 23.1 Disposals last season, he also averaged 6.5 Tackles (Hawthorn Rank: 1).
Despite the increase in opportunity for Shiels this season he will likely be lowly owned at Round 1, the Hawks could also regress as a result of the Mitchell injury which may limit the ceiling for Shiels in 2019.
Jaeger O'Meara MID $695K
O'Meara has been in the Hawks system for 2 years now, he increased his games played from 6 to 21 last season after missing a significant period with knee issues at Gold Coast.
O'Meara averaged a career season high 94.7pts last season, he scored 100pts or more in 33.3% of games & 120pts or more in 14.3% of games.
For those looking at a short term point of difference O'Meara could be a target early in the 2019 season, he has the contested game that could easily produce decent scores with the absence of Mitchell.
James Worpel MID/FWD $480K
Worpel is likely impacted the most by the long term injury to Mitchell, he emerged late in the 2018 season averaging 20.0 Disposals from his last 8 games which included a career high 32 Disposals in Round 18 against Carlton.
The Hawks could rely heavily on Worpel entering just his second season and just 11 games, his numbers could be volatile but if given a majority of midfield usage his upside might be tough to ignore.
Take a keen interest in the JLT Series not only for the Hawks but in particular Worpel, if his numbers start to spike then he could slot nicely into your Forward line.
Download prices, positions and stats pdf.
Player
Position
2018
Avg
2018
Gms
2019
Price
Mitchell, Tom
MID
129.18
22
$938000
Shiels, Liam
MID
97
21
$704000
O'Meara, Jaeger
MID
95.75
20
$695000
Sicily, James
DEF
95.57
14
$694000
Smith, Isaac
MID
89.09
22
$647000
Gunston, Jack
FWD
86.67
21
$629000
McEvoy, Ben
RUC
86.59
17
$628000
Breust, Luke
FWD
84.45
22
$613000
Henderson, Ricky
MID
84.1
20
$610000
Wingard, Chad
MID/FWD
82.33
21
$598000
Burgoyne, Shaun
MID
78.67
15
$571000
Howe, Daniel
MID
77.2
15
$560000
Roughead, Jarryd
FWD
73.35
20
$532000
Impey, Jarman
DEF/FWD
69.95
22
$508000
Morrison, Harry
MID/FWD
66.21
19
$481000
Worpel, James
MID/FWD
68.22
9
$480000
Hardwick, Blake
DEF
64.64
22
$469000
Miles, Teia
DEF
66.88
8
$456000
Ceglar, Jonathon
RUC/FWD
62.9
10
$456000
Scully, Tom
MID
23
1
$446000
Puopolo, Paul
FWD
59.28
18
$430000
Frawley, James
DEF
54.28
18
$394000
Mirra, David
DEF
60.17
6
$384000
Stratton, Ben
DEF
49.91
22
$362000
Brand, Kaiden
DEF
49.8
10
$361000
Schoenmakers, Ryan
FWD
47.75
8
$361000
O'Brien, Tim
FWD
48.5
12
$352000
Birchall, Grant
DEF
0
0
$350000
Nash, Conor
FWD
60.33
3
$346000
Cousins, James
MID
50.5
4
$329000
Minchington, Darren
MID
0
0
$324000
Glass, Conor
DEF
47.5
4
$315000
Pittonet, Marc
RUC
52.5
2
$290000
Mohr, Tim
DEF
42.5
2
$234000
Scrimshaw, Jack
DEF
0
0
$203000
Lewis, Mitch
FWD
25.5
2
$170000
Jiath, Changkuoth
DEF
0
0
$170000
Jones, Harrison
DEF
0
0
$170000
Koschitzke, Jacob
DEF/FWD
0
0
$170000
Moore, Dylan
FWD
0
0
$170000
Ross, Jackson
FWD
0
0
$170000
Hanrahan, Oliver
FWD
0
0
$170000
Greaves, Damon
DEF/MID
0
0
$170000
Golds, Will
MID
0
0
$170000
Walker, Mathew
MID/FWD
0
0
$170000