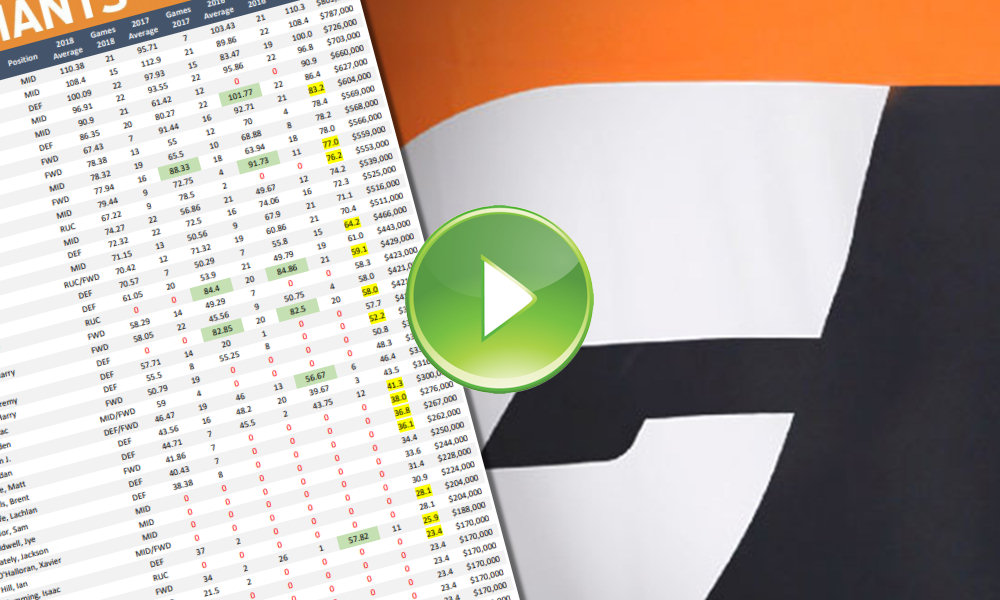 The Giants were up against it trying to deliver a balanced team in 2018, injuries were a major factor to premium players along with a deficiency at the Ruck position.
GWS averaged 379.3 Disposals in the 2018 H&A season (Rank 8), they averaged 385.0 Disposals in the 2017 H&A season (Rank 9).
A total of 3 players were able to average 100pts or more last season (Incl. Finals), Stephen Coniglio was the leader recording an average of 111.3pts from 23 games.
If the Giants are able to complete a healthy upcoming season then expect the midfield group to put up decent fantasy numbers, additionally a few key departures in the off-season has created several opportunities in 2019.
Click here to download.
Find The Traders' podcast on: Apple Podcasts, Google Podcasts and Spotify.
2019 Potential Targets:
Josh Kelly MID $787K
After averaging 116.5pts from his opening 2 games Kelly injured his groin at Round 3 and subsequently missed 6 games, upon returning he averaged 117.1pts from his following 10 games but was slowed again by injuries late in the year in particular a knee injury which forced him to miss a Semi Final.
Despite the injury riddled year Kelly managed to score 100pts or more in 50.0% of games & 120pts or more in 25.0% of games, he scored 150pts or more in 2 games.
Given an injury free pre-season Kelly should be high on the radar to fill a premium spot at Round 1, his ability to put up elite numbers could be a great point of difference in 2019.
Stephen Coniglio MID $801K
Coniglio is coming of an outstanding 2018 averaging 111.3pts (Incl. Finals), he scored 100pts or more in 73.9% of games & 120pts or more in 30.4% of games.
Coniglio provided a good base last season recording 25 Disposals or more in 20 of 23 games (87.0%), he recorded a season high 152pts against Melbourne in Round 23.
Based on his recent fantasy history Coniglio should be set to put up another solid fantasy season, he is definitely worth the investment.
Lachie Whitfield DEF $726K
Whitfield had a semi breakout season in 2018, it was the first time he averaged more than 100pts in a season (Incl. Finals).
Opposition clubs put some time into Whitfield last season, his range of scores were volatile at times but this was offset given his ability to hit a good amount of ceiling games.
Whitefield averaged 114.5 from winning games last season & 86.4pts from losing games, he may be a target for opposition clubs again in 2019.
Whitefield will be a popular target for fantasy coaches with his DEF status, he should be highly ranked in this category next season along with the possibility of picking up MID status.
Download prices, positions and stats pdf.
Player
Position
2018
Avg
2018
Gms
2019
Price
Coniglio, Stephen
MID
110.38
21
$801000
Kelly, Josh
MID
108.4
15
$787000
Whitfield, Lachie
DEF
100.09
22
$726000
Ward, Callan
MID
96.91
22
$703000
Taranto, Tim
MID
90.9
21
$660000
Shaw, Heath
DEF
86.35
20
$627000
Greene, Toby
FWD
67.43
7
$604000
de Boer, Matt
FWD
78.38
13
$569000
Hopper, Jacob
MID
78.32
19
$568000
Cameron, Jeremy
FWD
77.94
16
$566000
Deledio, Brett
MID
79.44
9
$559000
Simpson, Dawson
RUC
67.22
9
$553000
Tomlinson, Adam
MID
74.27
22
$539000
Haynes, Nick
DEF
72.32
22
$525000
Sheridan, Tommy
MID
71.15
13
$516000
Patton, Jonathon
RUC/FWD
70.42
12
$511000
Kennedy, Adam
DEF
70.57
7
$466000
Davis, Phil
DEF
61.05
20
$443000
Mumford, Shane
RUC
0
0
$429000
Lloyd, Daniel
FWD
58.29
14
$423000
Himmelberg, Harry
FWD
58.05
22
$421000
Williams, Zac
DEF
0
0
$421000
Finlayson, Jeremy
DEF
57.71
14
$419000
Perryman, Harry
DEF
55.5
8
$379000
Langdon, Zac
FWD
50.79
19
$369000
Bonar, Aiden
MID/FWD
59
4
$351000
Reid, Sam J.
DEF/FWD
46.47
19
$337000
Corr, Aidan
DEF
43.56
16
$316000
Buntine, Matt
DEF
44.71
7
$300000
Daniels, Brent
FWD
41.86
7
$276000
Keeffe, Lachlan
DEF
40.43
7
$267000
Taylor, Sam
DEF
38.38
8
$262000
Caldwell, Jye
MID
0
0
$250000
Hately, Jackson
MID
0
0
$244000
O'Halloran, Xavier
MID
0
0
$228000
Hill, Ian
MID/FWD
0
0
$224000
Cumming, Isaac
DEF
37
2
$204000
Briggs, Kieren
RUC
0
0
$204000
Buckley, Dylan
FWD
34
2
$188000
Shipley, Nick
MID
21.5
2
$170000
Brown, Callum M.
DEF
0
0
$170000
Stein, Jake
DEF
0
0
$170000
Idun, Connor
DEF/FWD
0
0
$170000
Buckley, Jack
MID/FWD
0
0
$170000
Sproule, Zachary
MID/FWD
0
0
$170000
Flynn, Matthew
RUC
0
0
$170000