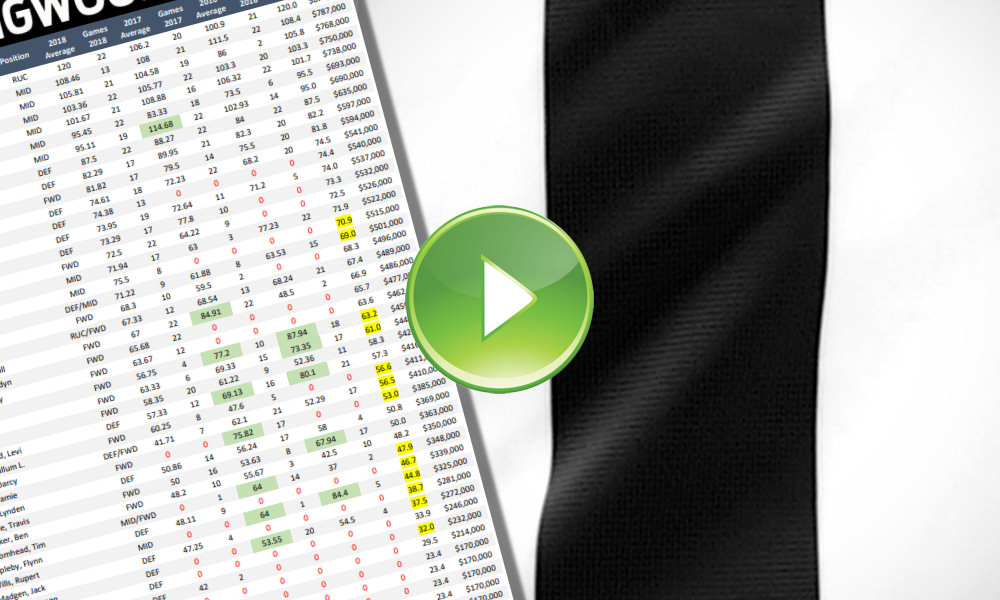 Collingwood were again a dominant fantasy scoring team last season, the Magpies averaged 402.7 Disposals (Rank 1) & 1671.2 Fantasy Points (Rank 1) in the H&A season.
The injury to Adam Treloar last season resulted in a decline, the Magpies averaged 386.8 Disposals & 1612.2pts during his 9 game absence.
The 2019 version of Collingwood could produce even better fantasy results, the Magpies added Dayne Beams to an already stacked midfield.
Selecting the correct Collingwood players in 2019 will be a complex puzzle, their midfield depth chart from a fantasy perspective is likely the best in the AFL.
Unfortunately due to the Collingwood extensive depth some of the scoring may be diluted amongst players, identifying the midfield usage for those at the top of the depth chart will be critical to begin the season.
Click here to download.
Find The Traders' podcast on: Apple Podcasts, Google Podcasts and Spotify.
2019 Potential Targets:
Brodie Grundy RUCK $871K
Ownership will be high for Grundy at Round 1 this season, he has averaged 100pts or more in 3 consecutive years including an average of 119.0pts in 2018 (Incl. Finals).
Grundy scored 100pts or more in 84.6% of games & 120pts or more in 53.8% of games last season, he scored a season high 151pts in Round 15 against Gold Coast.
Grundy averaged 20.2 Disposals last season & 39.9 Hit Outs (Rank 2), it is likely he can reproduce similar numbers again in 2019.
The early H&A fixture is favourable for Grundy, there is not much to think about here.
Scott Pendlebury MID $738K
Pendlebury averaged 112.2pts from his opening 6 games last season, he averaged 98.0pts scoring 100pts or more in 60.0% of games (Incl. Finals).
With the addition of Dayne Beams and the stacked midfield at the Magpies it is likely that Pendlebury could be pushed more to a half back starting position, therefore a potential in obtaining DEF status.
As a MID only Pendlebury is in the mix of players to average around 100pts for the season, as a DEF he automatically rates highly in that category.
This is a speculative selection based on the possibility of obtaining DEF status, there is not much downside if this doesn't occur but the upside of being one step ahead of the field is worth considering.
Isaac Quaynor DEF $246K
Quaynor could be ready for AFL action in 2019, he averaged 16.3 Disposals & 3.8 Marks in the TAC Cup last season.
The talented Half-Back is appropriately sized to step right in at AFL level, however initially breaking into the Collingwood line-up may be difficult.
Quaynor is a must watch during the JLT Series, if he is able to produce with significant game time then he is worth chasing when selected.
*Dayne Beams, Adam Treloar, Steele Sidebottom, Taylor Adams & Tom Phillips are also worth considering.
Download prices, positions and stats pdf.
Player
Position
2018
Avg
2018
Gms
2019
Price
Grundy, Brodie
RUC
120
22
$871000
Treloar, Adam
MID
108.46
13
$787000
Beams, Dayne
MID
105.81
21
$768000
Sidebottom, Steele
MID
103.36
22
$750000
Pendlebury, Scott
MID
101.67
21
$738000
Phillips, Tom
MID
95.45
22
$693000
Adams, Taylor
MID
95.11
19
$690000
Crisp, Jack
DEF
87.5
22
$635000
Howe, Jeremy
DEF
82.29
17
$597000
De Goey, Jordan
FWD
81.82
17
$594000
Maynard, Brayden
DEF
74.61
18
$541000
Murray, Sam
DEF
74.38
13
$540000
Langdon, Tom
DEF
73.95
19
$537000
Scharenberg, Matthew
DEF
73.29
17
$532000
Thomas, Josh
FWD
72.5
22
$526000
Mayne, Chris
MID
71.94
17
$522000
Sier, Brayden
MID
75.5
8
$515000
Aish, James
DEF/MID
71.22
9
$501000
Daicos, Josh
FWD
68.3
10
$496000
Roughead, Jordan
RUC/FWD
67.33
12
$489000
Hoskin-Elliott, Will
FWD
67
22
$486000
Stephenson, Jaidyn
FWD
65.68
22
$477000
Mihocek, Brody
FWD
63.67
12
$462000
Wells, Daniel
FWD
56.75
4
$459000
Reid, Ben
FWD
63.33
6
$443000
Cox, Mason
FWD
58.35
20
$423000
Greenwood, Levi
DEF
57.33
12
$416000
Brown, Callum L.
FWD
60.25
8
$411000
Moore, Darcy
DEF/FWD
41.71
7
$410000
Elliott, Jamie
FWD
0
0
$385000
Dunn, Lynden
DEF
50.86
14
$369000
Varcoe, Travis
FWD
50
16
$363000
Crocker, Ben
FWD
48.2
10
$350000
Broomhead, Tim
MID/FWD
0
1
$348000
Appleby, Flynn
DEF
48.11
9
$339000
Wills, Rupert
MID
0
0
$325000
Madgen, Jack
DEF
47.25
4
$281000
Goldsack, Tyson
DEF
0
0
$272000
Quaynor, Isaac
DEF
0
0
$246000
Murphy, Nathan
DEF
42
2
$232000
Kelly, Will
DEF
0
0
$214000
Brown, Tyler
DEF
0
0
$170000
Tohill, Anton
DEF/FWD
0
0
$170000
Keane, Mark
DEF/FWD
0
0
$170000
Bosenavulagi, Atu
MID/FWD
0
0
$170000
Lynch, Max
RUC
0
0
$170000