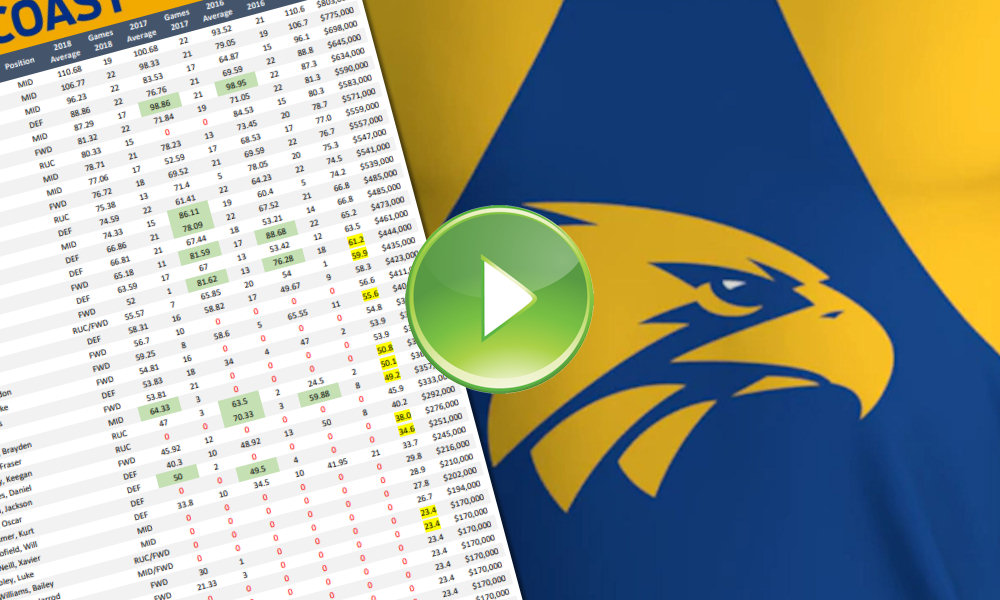 West Coast weren't overly impressive as a fantasy team but the reigning Premiers did provide options last season that were quite significant, Andrew Gaff, Elliot Yeo & Jack Redden all averaged more than 100pts last season.
West Coast averaged 357.1 Disposals in the H&A season (Rank 16), the Eagles averaged 1590.3 Fantasy Team Points over the same period (Rank 8).
The absence of Nic Naitanui for likely the majority of the 2019 season will provide a volatile situation in the Ruck from a fantasy perspective, the Eagles lost Scott Lycett but acquired Tom Hickey & Keegan Brooksby for coverage.
Overall, it appears West Coast should provide a similar outlook again in 2019 with little change except for the Ruck roles.
Click here to download.
Find The Traders' podcast on: Apple Podcasts, Google Podcasts and Spotify.
2019 Potential Targets:
Elliot Yeo MID $775K
Yeo finally delivered on the fantasy promise with a consistent season averaging 106.1pts (Incl. Finals), he scored 100pts or more in 60.0% of games & 120pts or more in 28.0% of games.
The numbers for Yeo to finish the H&A season were elite, he averaged 123.0pts from his final 6 H&A games. Yeo averaged 102.3pts from 3 Finals including 144pts in the first Final for the Eagles.
Yeo recorded a career season high average of 6.7 Tackles in 2018, his role in the midfield is favourable to his fantasy game.
Many could by-pass Yeo at a high starting price at Round 1, as a result he could see a relatively low ownership which could provide a very good point of difference.
Jack Redden MID $698K
After a relatively slow start to the 2018 H&A season Redden finally started to put up decent fantasy numbers, he averaged 66.8pts from his opening 5 games of the year then finished the H&A season with an average of 104.9pts. Redden averaged 129.3pts in 3 Finals.
The return of Andrew Gaff may deter some from selecting Redden, in games without Andrew Gaff he (Redden) averaged 108.0pts and in the 5 games prior to the Gaff suspension his averaged spiked at 122.8pts per game.
Redden has been a prolific scorer in fantasy over the majority of his career, after dealing with injury issues prior to 2018 his game suffered. Ownership could be low-moderate for Redden at Round 1, he is definitely worth consideration.
Luke Foley MID $210K
It is always tough for a first year player to break into a team let alone a Premiership team, Luke Foley (2018 Draft: selection 31) played 1 year in the WAFL Colts for Subiaco after being overlooked in the 2017 Draft.
Foley averaged 17 Disposals & 8 Tackles in the 2018 U18 National Championships, at 188cm he plays as a tall midfield/forward role and can hit the scoreboard.
It is worth monitoring the pre-season for Foley, in 2018 coach Adam Simpson was willing to debut 8 players for the Eagles (AFL Rank: Eq 1).
Download prices, positions and stats pdf.
Player
Position
2018
Avg
2018
Gms
2019
Price
Gaff, Andrew
MID
110.68
19
$803000
Yeo, Elliot
MID
106.77
22
$775000
Redden, Jack
MID
96.23
22
$698000
Hurn, Shannon
DEF
88.86
22
$645000
Shuey, Luke
MID
87.29
17
$634000
Cripps, Jamie
FWD
81.32
22
$590000
Naitanui, Nic
RUC
80.33
15
$583000
Masten, Chris
MID
78.71
21
$571000
Hutchings, Mark
MID
77.06
17
$559000
Darling, Jack
FWD
76.72
18
$557000
Hickey, Tom
RUC
75.38
13
$547000
Sheppard, Brad
DEF
74.59
22
$541000
Sheed, Dom
MID
74.33
15
$539000
McGovern, Jeremy
DEF
66.86
21
$485000
Duggan, Liam
DEF
66.81
21
$485000
Kennedy, Josh J.
FWD
65.18
11
$473000
Jetta, Lewis
DEF
63.59
17
$461000
Smith, Josh
FWD
52
1
$444000
Vardy, Nathan
RUC/FWD
55.57
7
$435000
Barrass, Tom
DEF
58.31
16
$423000
Ryan, Liam
FWD
56.7
10
$411000
Ah Chee, Brendon
FWD
59.25
8
$404000
Waterman, Jake
FWD
54.81
16
$398000
Cole, Thomas
DEF
53.83
18
$391000
Rioli, Willie
FWD
53.81
21
$391000
Ainsworth, Brayden
MID
64.33
3
$369000
McInnes, Fraser
RUC
47
3
$364000
Brooksby, Keegan
RUC
0
0
$357000
Venables, Daniel
FWD
45.92
12
$333000
Nelson, Jackson
DEF
40.3
10
$292000
Allen, Oscar
DEF
50
2
$276000
Mutimer, Kurt
DEF
0
0
$251000
Schofield, Will
DEF
33.8
10
$245000
O'Neill, Xavier
MID
0
0
$216000
Foley, Luke
MID
0
0
$210000
Williams, Bailey
RUC/FWD
0
0
$202000
Cameron, Jarrod
MID/FWD
0
0
$194000
Brander, Jarrod
FWD
30
1
$170000
Petruccelle, Jack
FWD
21.33
3
$170000
Watson, Francis
DEF
0
0
$170000
Rotham, Josh
DEF
0
0
$170000
Allen, Matthew
MID/FWD
0
0
$170000
Brayshaw, Hamish
MID
0
0
$170000
Riach, Brodie
MID/FWD
0
0
$170000
Edwards, Harry
RUC
0
0
$170000
Bines, Patrick
RUC/FWD
0
0
$170000