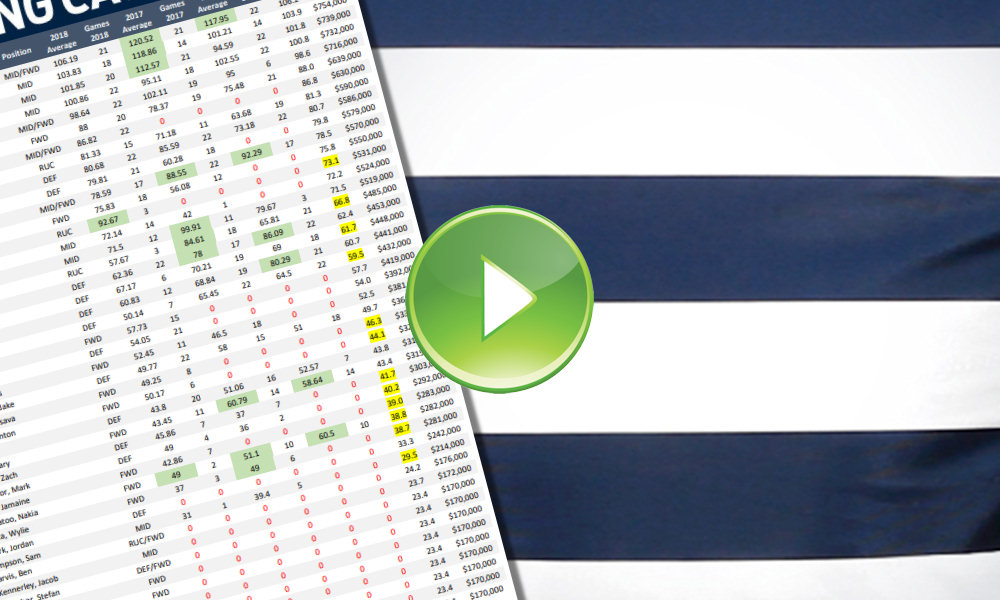 The Geelong midfield was stacked in 2018 with the return of Gary Ablett & the emergence of Tim Kelly, Patrick Dangerfield, Mitch Duncan & Sam Menegola all regressed and players deep on the midfield depth chart found it difficult to make an impact.
The addition of Luke Dahlhaus during the recent trade period further dilutes scoring again in 2019 but that will likely be a minimal impact, Dahlhaus will highly likely play a small pressure forward type role next season along with Gary Rohan.
Geelong averaged 382.7 Disposals in the 2018 H&A season (Rank 6), they averaged 386.7 Disposals at GMHBA Stadium. Geelong were 8-1 at home last season, they averaged 395.1 Disposals from winning games at home.
The Cats have 9 home games scheduled for GMHBA Stadium in 2019, a word of warning for those willing to rely on high numbers at Geelong. Stronger opponents at GMHBA Stadium in 2019 include Melbourne (R2), GWS (R4), West Coast (R6), Sydney (R11) & Adelaide (R15).
Click here to download.
Find The Traders' podcast on: Apple Podcasts, Google Podcasts and Spotify.
2019 Potential Targets:
Patrick Dangerfield MID/FWD $771K
The 2018 season didn't start well for Patrick Dangerfield as he missed Round 1 with a hamstring injury, he averaged 100.3pts from his next 12 games which did not include a game scoring 120pts or more.
After the Round 14 Geelong Bye Dangerfield averaged 114.1pts from his final 9 H&A games, he scored 85pts in an elimination loss to Melbourne.
Ownership will be high for Dangerfield at Round 1 next season if he completes an injury free pre-season, the MID/FWD status likely can't be ignored and will assist in forward line scoring.
Sam Menegola MID/FWD $716K
Alarm Bells were ringing after 2 games last year for Menegola sitting on an average of 59.5pts, he averaged 102.6pts from his remaining 20 H&A games and scored 73pts in an elimination final loss.
After the slow start Menegola averaged 98.9pts at GMHBA Stadium & 105.5pts at all other venues during the H&A season (R3-23), he averaged 100.8pts from all winning games in 2018.
The MID/FWD status is quite beneficial for Menegola, his ownership may be low to start the season with others likely to utilise funds elsewhere. Worth considering to start at Round 1.
Jordan Clark DEF $242K
One to keep a close eye on is Jordan Clark, he looked composed across half back in the U18 National Championships averaging 19.5 Disposals for WA.
Clark might not be an option for fantasy coaches early in 2019, he was recently diagnosed with glandular fever and was a late starter to pre-season training.
Once Clark is ready for AFL level expect him to slot nicely into a half back role as his career progresses, he is worth pursuing once named.
Download prices, positions and stats pdf.
Player
Position
2018
Avg
2018
Gms
2019
Price
Dangerfield, Patrick
MID/FWD
106.19
21
$771000
Ablett, Gary
MID
103.83
18
$754000
Duncan, Mitch
MID
101.85
20
$739000
Selwood, Joel
MID
100.86
22
$732000
Menegola, Sam
MID/FWD
98.64
22
$716000
Hawkins, Tom
FWD
88
20
$639000
Kelly, Tim
MID/FWD
86.82
22
$630000
Stanley, Rhys
RUC
81.33
15
$590000
Tuohy, Zach
DEF
80.68
22
$586000
Stewart, Tom
DEF
79.81
21
$579000
Dahlhaus, Luke
MID/FWD
78.59
17
$570000
Parfitt, Brandan
FWD
75.83
18
$550000
Abbott, Ryan
RUC
92.67
3
$531000
Cunico, Jordan
MID
72.14
14
$524000
Selwood, Scott
MID
71.5
12
$519000
Smith, Zac
RUC
57.67
3
$485000
Blicavs, Mark
DEF
62.36
22
$453000
Henderson, Lachie
DEF
67.17
6
$448000
Guthrie, Cameron
DEF
60.83
12
$441000
Taylor, Harry
DEF
50.14
7
$432000
Fogarty, Lachie
FWD
57.73
15
$419000
Henry, Jack
DEF
54.05
21
$392000
Parsons, James
FWD
52.45
11
$381000
Kolodjashnij, Jake
DEF
49.77
22
$361000
Ratugolea, Esava
FWD
49.25
8
$336000
Narkle, Quinton
FWD
50.17
6
$320000
Bews, Jed
DEF
43.8
20
$318000
Rohan, Gary
FWD
43.45
11
$315000
Guthrie, Zach
DEF
45.86
7
$303000
O'Connor, Mark
DEF
49
4
$292000
Jones, Jamaine
FWD
42.86
7
$283000
Cockatoo, Nakia
FWD
49
2
$282000
Buzza, Wylie
FWD
37
3
$281000
Clark, Jordan
DEF
0
0
$242000
Simpson, Sam
MID
31
1
$214000
Jarvis, Ben
RUC/FWD
0
0
$176000
Kennerley, Jacob
MID
0
0
$172000
Okunbor, Stefan
DEF/FWD
0
0
$170000
Miers, Gryan
FWD
0
0
$170000
Kreuger, Nathan
FWD
0
0
$170000
Tarca, Jake
FWD
0
0
$170000
Constable, Charlie
MID
0
0
$170000
Brownless, Oscar
MID
0
0
$170000
Atkins, Tom
MID
0
0
$170000
Fort, Darcy
RUC
0
0
$170000
Schlensog, Blake
RUC/FWD
0
0
$170000