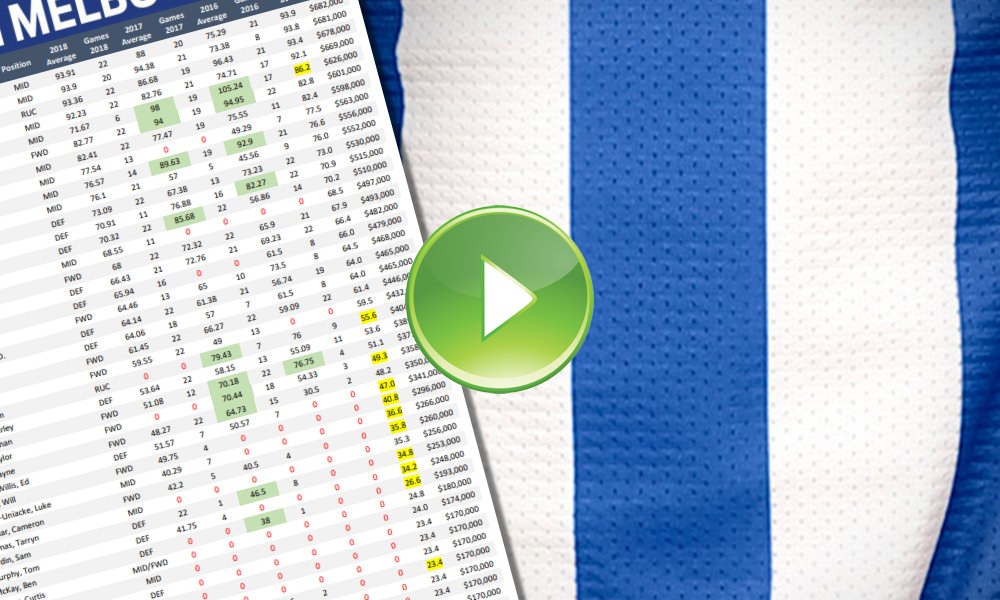 Nth Melbourne were not the most appealing fantasy team in 2018, they averaged 367.8 Disposals (Rank 14) which was comparable to their 2017 H&A season in which they averaged 368.6 Disposals (Rank 14).
No player at the Kangaroos managed to average more than 100pts last season, only 3 players averaged more than 90pts; Ben Cunnington (93.9), Shaun Higgins (93.9) & Todd Goldstein (93.4).
Not being a high Disposal team does make it quite difficult to select fantasy options with any confidence at Nth Melbourne, an influx of quality players during the recent trade period does impact the mix next season but unless there is a game plan change it's difficult to see any improvement from a fantasy perspective.
Click here to download.
Find The Traders' podcast on: Apple Podcasts, Google Podcasts and Spotify.
2019 Potential Targets:
Todd Goldstein RUCK $678K
One player that could see a spike in ownership compared to 2018 is Todd Goldstein, whilst his average of 93.4pts doesn't suggest much his finish to the year was definitely noteworthy in 2018.
Goldstein averaged 104.7pts form his final 10 games of the 2018 H&A season, this included a season low score of 59pts against Brisbane in Round 20.
Goldstein scored 100pts or more in 36.4% of games last season, he scored 100pts or more in 60.0% of his final 10 games.
With many looking to avoid Max Gawn at R2 to begin the season Goldstein will be in the frame as a replacement, Braydon Preuss is long gone and there are no genuine threats at the Kangaroos to impact the Ruck role for Goldy.
Aaron Hall MID $626K
Hall has been a fantasy option for quite some time now, unfortunately his injury history & form has negatively impacted his long term output.
Since the start of the 2015 H&A season Hall has played in only 64.8% of games, he suffered a season ending pectoral muscle injury in Round 11 last season.
Hall averaged 98.2pts in 2017 & 71.7pts from just 6 games in 2018, he moves to low disposal/high disciplined team at Nth Melbourne that may not be suitable for his fantasy game.
The ownership for Hall will be an interesting monitor at Round 1, if he comes off a successful high scoring JLT Series then expect a few to take the plunge on his services.
Luke Davies-Uniacke MID $266K
It was a somewhat indifferent start for Davies-Uniacke last season, the 2017 No.4 overall draft pick averaged 10.4 Disposals for an average of just 40.3pts.
The best part of the below par first year for Davies-Uniacke is that he will be a cheap option again in 2019, one year in the AFL system will likely improve his output which could make him a viable fantasy option.
'He was an above average contested possession & clearance winner' 2018 AFL Prospectus on Davies-Uniacke at TAC Cup level (2017).
"It's always good knowing what you got to do now & how hard you need to train" Davies-Uniacke in mid-November.
Davies-Uniacke should be a must watch over the pre-season, if there is enough to suggest he can score at AFL level then he could turn out to be a decent cash generating player next season.
Download prices, positions and stats pdf.
Player
Position
2018
Avg
2018
Gms
2019
Price
Cunnington, Ben
MID
93.91
22
$682000
Higgins, Shaun
MID
93.9
20
$681000
Goldstein, Todd
RUC
93.36
22
$678000
Polec, Jared
MID
92.23
22
$669000
Hall, Aaron
MID
71.67
6
$626000
Ziebell, Jack
FWD
82.77
22
$601000
Dumont, Trent
MID
82.41
22
$598000
Jacobs, Ben
MID
77.54
13
$563000
Tyson, Dom
MID
76.57
14
$556000
Anderson, Jed
MID
76.1
21
$552000
Macmillan, Jamie
DEF
73.09
22
$530000
Pittard, Jasper
DEF
70.91
11
$515000
McDonald, Luke
DEF
70.32
22
$510000
Ahern, Paul
MID
68.55
11
$497000
Brown, Ben
FWD
68
22
$493000
Tarrant, Robbie
DEF
66.43
21
$482000
Wright, Sam
DEF
65.94
16
$479000
Wood, Mason
FWD
64.46
13
$468000
Thompson, Scott D.
DEF
64.14
22
$465000
Daw, Majak
DEF
64.06
18
$465000
Atley, Shaun
FWD
61.45
22
$446000
Simpkin, Jy
FWD
59.55
22
$432000
Campbell, Tom
RUC
0
0
$404000
Williams, Marley
DEF
53.64
22
$389000
Hrovat, Nathan
FWD
51.08
12
$371000
Garner, Taylor
FWD
0
0
$358000
Turner, Kayne
FWD
48.27
22
$350000
Vickers-Willis, Ed
DEF
51.57
7
$341000
Walker, Will
FWD
49.75
4
$296000
Davies-Uniacke, Luke
MID
40.29
7
$266000
Zurhaar, Cameron
FWD
42.2
5
$260000
Thomas, Tarryn
MID
0
0
$256000
Durdin, Sam
DEF
22
1
$253000
Murphy, Tom
DEF
41.75
4
$248000
McKay, Ben
DEF
0
0
$193000
Taylor, Curtis
MID/FWD
0
0
$180000
Scott, Bailey
MID
0
0
$174000
Watson, Declan
DEF
0
0
$170000
Crocker, Joel
DEF/FWD
0
0
$170000
McKenzie, Tom
DEF/MID
0
0
$170000
Larkey, Nick
FWD
0
0
$170000
Wilkinson, Tom
FWD
0
0
$170000
Murphy, Red Og
MID
0
0
$170000
Hayden, Kyron
MID/FWD
0
0
$170000
Xerri, Tristan
RUC/FWD
0
0
$170000