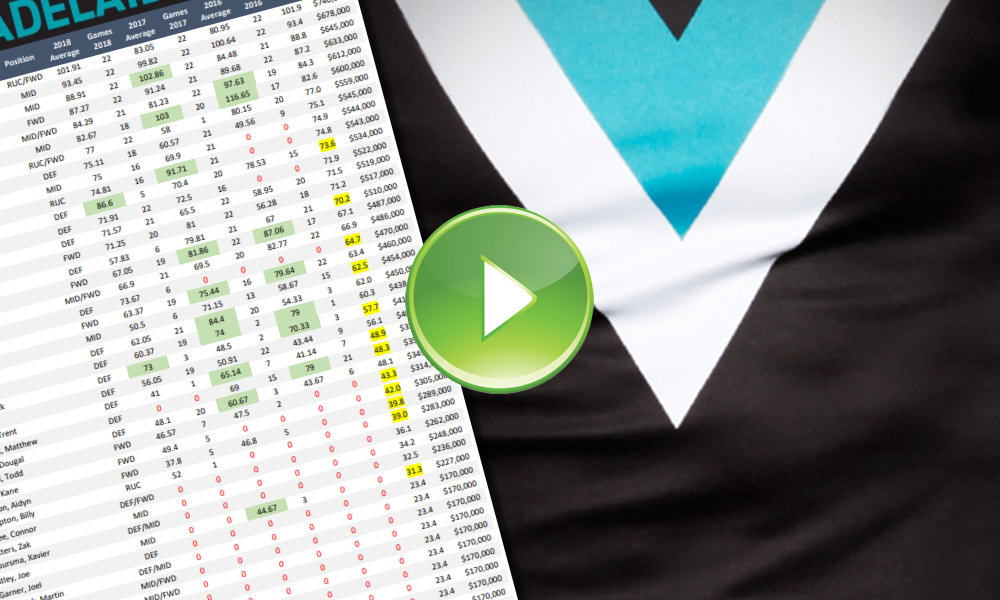 Port Adelaide were limited for fantasy options again last season, Chad Wingard showed some glimpses but he's now gone, Jared Polec provided a few decent ceiling games but he's now gone, Tom Rockliff started the year injured but when fit he was thrown into a tagging role at times, Ollie Wines took his time to get going & the finish to the year for Robbie Gray was not great.
That left us with Justin Westhoff who thrived in a Utility/Ruck/Fwd type role, he was the only player to average over 100pts in 2018 (Ave: 101.6).
Players that have averaged 100pts or more under Ken Hinkley (2013-18) at Port Adelaide have been pretty rare; less than 1 player per year (0.83) have achieved this under Hinkley (2013 Kane Cornes, 2015 & 2017 Brad Ebert, 2016 Ollie Wines, 2018 Justin Westhoff).
Keep this in mind when making a long term decision on Power players, the sample size is large enough.
Click here to download.
Find The Traders' podcast on: Apple Podcasts, Google Podcasts and Spotify.
2019 Potential Targets:
Tom Rockliff MID $600K
Rocky lost his FWD status to begin the 2019 season which will likely influence his ownership level at Round 1, there will be those that are still loyal to the great man and at his reasonable salary have the added reason to start with him.
The role last season for Rockliff severely limited his fantasy potential, gone are the days at Brisbane when he was able to accumulate points with ease & in his first year at Port Adelaide Ken Hinkley used him in a tagging role which imploded his fantasy game.
The departure of Chad Wingard does open up the possibility of increased midfield usage in 2019 for Rockliff, but his ability to play a very good forward role may result in a more split Mid/Fwd type situation for the Power.
Rockliff would become a viable option if he were able to secure DPP status again, hopefully were are able to acquire some more information on his role during the pre-season & JLT series so an informed decision can be made.
Ryan Burton DEF $450K
Burton regressed last season having spent most of his time across half-back at the Hawks, he scored fewer than 80pts in 87.0% of games which was a significant increase from 45.0% in 2017.
Burton was traded from the Hawks during the recent trade period and is likely to assume the same role again in 2019, he averaged 16.9 Disposals in that role at the Hawks in 2018.
The departure of Jared Polec and to a lesser extent Jasper Pittard does push Burton into a prominent role at Port Adelaide, his ball usage should be something that the Power will look to utilise next season.
While it is certainly not a priority to have Burton on top of any watch-list right now, it is worth considering him if he can produce in the JLT Series.
Connor Rozee DEF/FWD $262K
After a pretty thin 2018 U18 National Championships averaging 13 Disposals Rozee finds himself in a decent spot for opportunity in 2019 at Port Adelaide, there needs some pre-season ground work but early games do seem likely for the No.5 overall draft pick.
"Endurance is one of the main things that I think I need to work on to play AFL football next year, so hopefully I can get that up a fair bit before the start of the season".
"Obviously I'm not he biggest boy out there, so I think putting on a little bit of size and getting a bit better at my contested football will help me leading into the start of next year and hopefully I'll get a few games." Connor Rozee in mid-December.
Expectations are high for Rozee at Port Adelaide, having accumulated 24 Disposals & 10 Marks in a North Adelaide Semi Final does raise the level of optimism as a fantasy prospect as early as 2019.
Download prices, positions and stats pdf.
Player
Position
2018
Avg
2018
Gms
2019
Price
Westhoff, Justin
RUC/FWD
101.91
22
$740000
Wines, Ollie
MID
93.45
22
$678000
Ebert, Brad
MID
88.91
22
$645000
Boak, Travis
FWD
87.27
22
$633000
Gray, Robbie
MID/FWD
84.29
21
$612000
Rockliff, Tom
MID
82.67
18
$600000
Lycett, Scott
RUC/FWD
77
22
$559000
Jonas, Tom
DEF
75.11
18
$545000
Powell-Pepper, Sam
MID
75
16
$544000
Ryder, Paddy
RUC
74.81
16
$543000
Hartlett, Hamish
DEF
86.6
5
$534000
Houston, Dan
DEF
71.91
22
$522000
Byrne-Jones, Darcy
DEF
71.57
21
$519000
Dixon, Charlie
FWD
71.25
20
$517000
Mayes, Sam
DEF
57.83
6
$510000
Gray, Sam
FWD
67.05
19
$487000
Motlop, Steven
MID/FWD
66.9
21
$486000
Lienert, Jarrod
DEF
73.67
6
$470000
Watts, Jack
FWD
63.37
19
$460000
Amon, Karl
MID
50.5
6
$454000
Burton, Ryan
DEF
62.05
21
$450000
Bonner, Riley
DEF
60.37
19
$438000
Trengove, Jack
DEF
73
3
$419000
Clurey, Tom
DEF
56.05
19
$407000
McKenzie, Trent
DEF
41
1
$355000
Broadbent, Matthew
DEF
0
0
$351000
Howard, Dougal
DEF
48.1
20
$349000
Marshall, Todd
FWD
46.57
7
$314000
Farrell, Kane
FWD
49.4
5
$305000
Johnson, Aidyn
FWD
37.8
5
$289000
Frampton, Billy
RUC
52
1
$283000
Rozee, Connor
DEF/FWD
0
0
$262000
Butters, Zak
MID
0
0
$248000
Duursma, Xavier
DEF/MID
0
0
$236000
Atley, Joe
MID
0
0
$227000
Garner, Joel
DEF
0
0
$170000
Frederick, Martin
DEF/MID
0
0
$170000
Patmore, Jake
MID/FWD
0
0
$170000
Drew, Willem
MID/FWD
0
0
$170000
Pudney, Kai
MID
0
0
$170000
Ladhams, Peter
RUC
0
0
$170000
Hayes, Sam
RUC
0
0
$170000
Grundy, Riley
DEF
0
0
$170000
Hewett, Cameron
MID
0
0
$170000
Woodcock, Boyd
MID/FWD
0
0
$170000
Cox, Tobin
MID/FWD
0
0
$170000