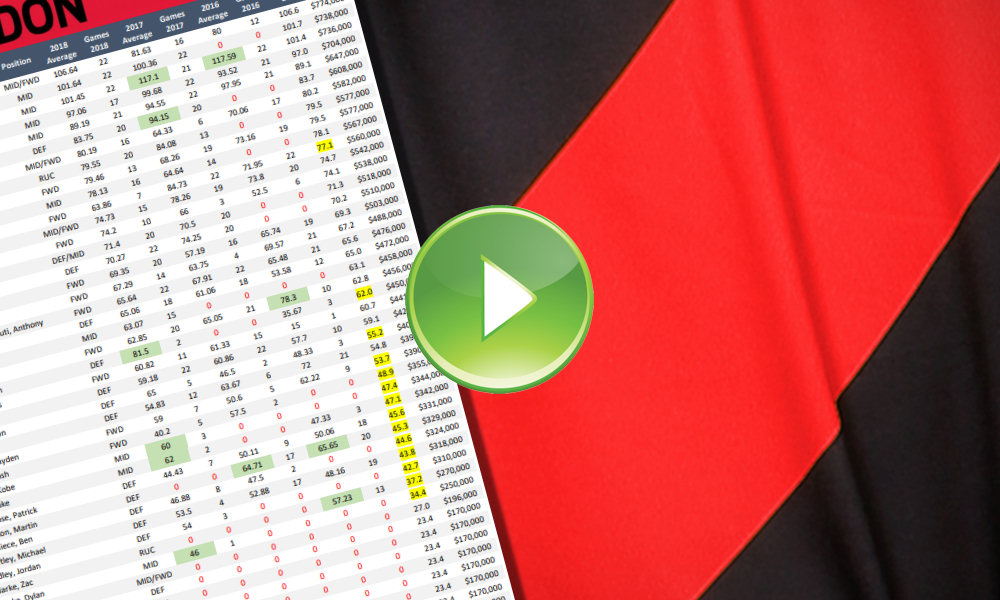 After a poor start to the 2018 H&A season Essendon were able to make adjustments mid-year for improvement, after averaging 374.5 Disposals between Rounds 1-12 the Bombers averaged 390.2 Disposals post their Round 13 Bye (Rank 3).
Essendon won 8 of their final 11 games of the 2018 H&A season, they averaged 392.0 Disposals from winning games & 379.3 Disposals from losing games over the same period.
Many expect the Bombers to be successful next season, an increase in the overall numbers would be likely if that comes to fruition.
Last season only 4 players made their debut at the Bombers, none debuted between Rounds 12-23. The Bombers ranked last on games played once a player made a debut, whilst this is not a definitive indicator from year-year it does provide a bit of perspective on the short leash at Essendon for rookies.
Click here to download.
Find The Traders' podcast on: Apple Podcasts, Google Podcasts and Spotify.
2019 Potential Targets:
Zach Merrett MID $736K
Removing the concussion related Round 1 & subsequent low scores in Rounds 2 & 3 for an average of just 53.7pts Merrett responded by averaging 109.0pts from his final 19 games of the season, he scored 100pts or more in 73.7% of games & 120pts or more in 31.6% of games between Rounds 4-23.
The addition of Dylan Shiel does provide a different mix on the outside at the Bombers next year, the 2 game JLT Series may be too small of a sample size to gauge any possible negative impact for Merrett next season.
Merrett is value based on his previous fantasy history, he will likely have a high ownership at Round 1 next season which is something to consider.
Devon Smith MID/FWD $774K
After averaging 93.6pts in his opening 7 games last season Smith excelled at his new club averaging 112.7pts from his final 15 games which included an average of 120.9pts from his final 8 games.
Smith scored 100pts or more in 54.5% of games & 120pts or more in 27.3% of games in 2018, he scored 100pts or more in 70.0% of games & 120pts or more in 50.0% of games post the Round 13 Bye.
Smith averaged a career season high 8.5 Tackles last season (AFL Rank: 1), this was a significant increase from his previous average season highs of 4.5 Tackles in 2015 & 2017 at the Giants.
Smith thrived as an inside midfielder in his first year at the Bombers, his role will likely remain the same in 2019 and as a result similar numbers would be expected.
Zac Clarke RUC $270K
This choice is more about the opportunity for Clarke to play in 2019, Tom Bellchambers has played in only 75.6% of games in the last 2 years while Shaun McKernan has also been utilised in the Ruck.
Spending up from a rookie Ruck with little to no opportunity to a veteran Ruck could be rewarding if Clarke were to be elevated to the No.1 spot in the right situation, it does save an in-season trade and could result in a small edge against other coaches less willing to do so.
Obviously as the pre-season evolves we will get a clearer grasp on the Ruck situation at Essendon and the chances of Clarke playing in 2019, until then keep him on your watch-list as a possible bench option to start the year.
Download prices, positions and stats pdf.
Player
Position
2018
Avg
2018
Gms
2019
Price
Smith, Devon
MID/FWD
106.64
22
$774000
Heppell, Dyson
MID
101.64
22
$738000
Merrett, Zach
MID
101.45
22
$736000
Zaharakis, David
MID
97.06
17
$704000
Shiel, Dylan
MID
89.19
21
$647000
Hurley, Michael
DEF
83.75
20
$608000
Langford, Kyle
MID/FWD
80.19
16
$582000
Bellchambers, Tom
RUC
79.55
20
$577000
Fantasia, Orazio
FWD
79.46
13
$577000
Myers, David
MID
78.13
16
$567000
Daniher, Joe
FWD
63.86
7
$560000
Parish, Darcy
MID/FWD
74.73
15
$542000
McKernan, Shaun
FWD
74.2
10
$538000
McGrath, Andrew
DEF/MID
71.4
20
$518000
Hooker, Cale
DEF
70.27
22
$510000
Stringer, Jake
FWD
69.35
20
$503000
Brown, Mitch
FWD
67.29
14
$488000
McDonald-Tipungwuti, Anthony
FWD
65.64
22
$476000
McKenna, Conor
DEF
65.06
18
$472000
Guelfi, Matt
MID
63.07
15
$458000
Baguley, Mark
FWD
62.85
20
$456000
Redman, Mason
DEF
81.5
2
$450000
Stewart, James
FWD
60.82
11
$441000
Saad, Adam
DEF
59.18
22
$429000
Francis, Aaron
DEF
65
5
$401000
Dea, Matt
DEF
54.83
12
$398000
Laverde, Jayden
FWD
59
7
$390000
Begley, Josh
FWD
40.2
5
$355000
Mutch, Kobe
MID
60
3
$344000
Long, Jake
MID
62
2
$342000
Ambrose, Patrick
DEF
44.43
7
$331000
Gleeson, Martin
DEF
0
0
$329000
McNiece, Ben
DEF
46.88
8
$324000
Hartley, Michael
DEF
53.5
4
$318000
Ridley, Jordan
DEF
54
3
$310000
Clarke, Zac
RUC
0
0
$270000
Clarke, Dylan
MID
46
1
$250000
Mosquito, Irving
MID/FWD
0
0
$196000
Zerk-Thatcher, Brandon
DEF
0
0
$170000
Houlahan, Jordan
FWD
0
0
$170000
Lavender, Luke
FWD
0
0
$170000
Mynott, Trent
MID
0
0
$170000
Draper, Sam
RUC
0
0
$170000
Ham, Brayden
FWD
0
0
$170000
Gown, Noah
FWD
0
0
$170000
Jok, Thomas
MID
0
0
$170000